Pho Ga: Vietnamese Chicken Noodle Soup
You haven't experienced wild until you've lived in the heart of Hollywood. My little duplex was squished in between movie-star wannabes, the homeless pushing shopping carts piled 8-ft high with trash treasures and gold-chained pimps proclaiming to the world, "GIRLS! GIRLS! GIRLS! Right over here!"
The location was by choice and I had a very good reason for living 2 blocks from the golden sidewalk stars. It was called, "just so I can say that I did." I know. I was young. But seriously, where else can I shimmy into CFM boots, don an electric pink wig and just blend in without getting mistaken for $25? When the sun sets and street-level neon gas flows, Hollywood is pure freedom of expression.
After a night of clubbing 2 blocks south, my friends and I would walk 3 blocks east to a small, rinky-dink Vietnamese noodle shop to fill up on pho. Asian girly posters littered the walls and the same bad karaoke DVD played over and over. Thank goodness the steaming, hot, intoxicating bowl of pho drowned out the awful Chinglish rendition of, "Baby Got Back." That soup was un-pho-king believable.
I don't know what secret family recipe they followed, but after all these years, I finally mastered that bowl of chicken pho in my home kitchen, boots not required.
Believe it or not, I'm actually more crazy and bold now that I'm in my mid-thirties. When I was younger, I cared deeply about what people thought of me.ย  Now I live in a very tame, sorta Stepford Wives-ish, suburban neighborhood (well, I guess any place is tame compared to Hollywood Blvd.) I kind of feel its my duty as an Official Ambassador of Chaos & Confusion to cause a little bit of trouble, you know, stir the pot a bit, just to make sure that my house doesn't get sucked into the vortex of boring, bland and god-forbid…NORMAL.
My Modern Asian version of Pho Ga, Vietnamese Chicken Noodle Soup, takes everything that I learned from T's Mom, Into the Vietnamese Kitchen and simplifies it just a bit for the home cook, but still as wonderful and authentic as it can be.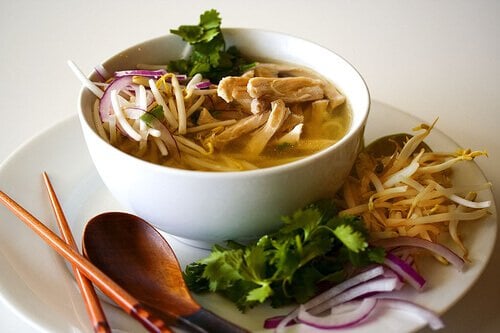 Pho Ga - Vietnamese Chicken Noodle Soup Recipe
Servings: 4
Prep Time:
Cook Time:
You can judge how good a Pho soup is by how much concentrated flavor is packed in the broth while still retaining a clean, uncloudy, clear broth. I like my Pho without Sriracha hot sauce or Hoisin sauce....I really enjoy the purity of the chicken broth without anything to hide its flavor and aroma.
There are 2 very important steps to a clear but intense broth - 1) parboiling the chicken to get rid of the impurities 2) charring the ginger and onion for a naturally sweet, robust flavor.
A note on fish sauce - I prefer the Three Crabs brand. Choose a fish sauce light in color...it should look like brewed tea. Anything darker than that (looking like Coca Cola) is inferior quality. Three Crabs fish sauce contains gluten, please check labels if you are making GF substitutions.
Ingredients:
1 whole organic chicken (4-5lbs)
1 whole onion, unpeeled and cut in half
3-inch chunk of ginger, unpeeled
(A) Broth spices
2 tbl whole coriander seeds
4 whole cloves
2 whole star anise
2 tbl sugar (or rock sugar)
2 tbl fish sauce
small bunch of cilantro stems only, tied in bunch with twine
(B) Accompaniments at table
1 lb dried rice noodles (about 1/4" wide)
2 cups bean sprouts, washed & tails pinched off
cilantro tops - leaves and tender stems
1/2 cup shaved red onions
1/2 lime, cut into 4 wedges
Sriracha hot sauce
Hoisin sauce
sliced chili


Directions:
Place ginger and onion on a small baking sheet. The top of the onion should be about 4" from the oven's heating element. Set to broil on high for 15 minutes. Turn the onion and ginger occasionally, to get an even char. The skin should get dark and the onion/ginger should get soft. After cooling, rub to get the charred skin off the onion and use a butter knife to scrape the skin off the ginger. Slice ginger into thick slices.
In a large stockpot, fill with water and boil. With a sharp cleaver, carve the chicken breast meat off and reserve. With the rest of chicken whacking hard through the bones to get sections about 3" big. The more bone that is exposed, the more marrow that gets in the broth (translation: rich, flavorful). You can even whack several places along the bone just to expose more marrow. When the water boils, add chicken sections (not breast) and boil on high for 5 minutes. You'll see lots of foam and "stuff' come up to the surface. Drain, rinse your chicken of the scum and wash your pot thoroughly. Refill with about 4 quarts of clean, cold water.
Add chicken, chicken breast meat, onion, ginger and all of (A) in the pot and cover. Turn heat to high - let it come to boil, then immediately turn heat to low. Prop lid up so that steam can escape. After 15 minutes, remove the chicken breasts, shred with your fingers when cooled and set aside (you'll serve shredded chicken breast with the finished soup). With a large spoon, skim the surface of any impurities in the broth. Skimming every 20 minutes ensures a clear broth. Simmer a total of 1-1/2 hours. Taste and adjust seasoning with more fish sauce and or sugar.
Strain the broth, discard solids. Prepare noodles as per directions on package. Ladle broth, add shredded chicken breast and soft noodles in each bowl. Have (B) ingredients set at table for each person to add to their bowl.