Some of my most peaceful moments in my life was when I lived in San Francisco. I had a four-level rickety home that was built in 1929, and as you walked along the floors, the creak of each wooden plank reminded you it was built in 1929. My boyfriend at the time and I gutted the entire house and remodeled, ripping out the dark wooden cabinets from the '50s; the Astroturf on the floor in part of the kitchen that used to be the foyer to the front door from the late '70s (yes. for real. Astroturf was in my kitchen); and broke down the suffocating walls to let light in. Underneath the dirty slime-green shag carpeting was hot-pink carpeting (no joke), and underneath that were glorious wood floors, original from when the house was built.
My favorite part of the remodel was when we created a garden in the back. Because the garden was on the ground floor (obviously) and the main living space was 3 floors above that, it was quite a dangerous walk every morning down those wet, slippery, rotting planks that we called "stairway to lawsuit" if any of our guests tried to venture down.
We hadn't gotten to replacing the deck and stairway yet, something called '$20,000' got in the way.
But every early morning, I'd put on my gardening gloves (to keep my hands warm but more importantly to provide me with a good holding grip as I went down those stairs) and tend to the herbs, vegetables and the most ginormous arugula monster ever seen. That thing was so big that I joked it provided shade for the entire house.
Each morning was my alone time. I did my own garden-meditation thing and all was peaceful.

I want you to meet Margaret Roach, my garden guru, though I bet most of you know her already. She's the publisher of Away to Garden and former editorial director for Martha Stewart magazines, books and internet.
She knows peace, but it wasn't until she one day just dropped everything, quit her job and returned to her "home," the garden.
I've been friends with Margaret for the past couple of years, she inspired a yearly Summer Fest and Fall Fest which I was a part of the first year.
Margaret has just come out with her second book, "and I shall have some peace there" where she details her journey from "Marthaville" to just "Margaret"
To celebrate her book launch, I thought I'd make soup. Because reading her book just makes me want to make warm, comforting, peaceful garden soup.
Specifically, Roasted Tomato Soup, loaded with other vegetables from the garden, onion, bell pepper and a bit of jalapeno to give it a nice kick.
The tomatoes are from my friend, Patsy's garden, another master gardener who lives near me.
Margaret, here's to you, my friend.
Roasted Tomato Soup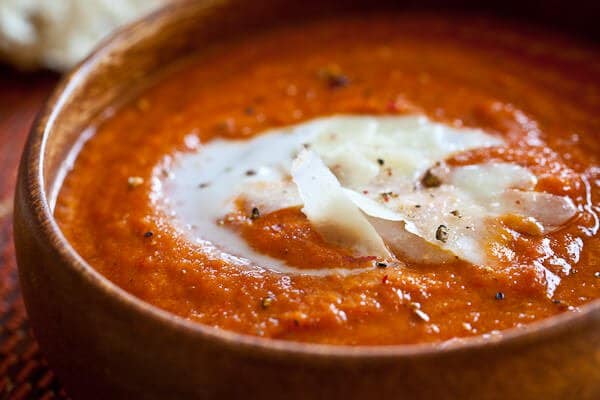 The trick to roasted tomato soup is to NOT make it taste like warm marinara. I'd rather have my marinara on pasta than in a bowl!
So there are certain herbs that I don't use – oregano and basil. Instead, I use smoked paprika to enhance the roasted tomato flavor, giving it a little smoky boost.
I also add half a seeded jalepeno, onions and bell pepper to the roasting pan. All gets blended after roasting.
Absolutely beautiful tomatoes, fresh from Patsy's garden.
Roasted Tomato Soup Recipe
Some tips: If you are lucky to have very, very ripe tomatoes, you might want to just cut them in half instead of slicing. If your tomatoes aren't quite as sweet, you might want to balance out the flavors of your soup with just a good pinch of sugar to counter the acidity of the tomatoes. Normally, I'd substitute yogurt for the heavy cream, but in this case, because the soup is made of mostly tomatoes, yogurt is almost too sour to use. I'd keep with the heavy cream, creme fraiche or just leave it out.
Ingredients
5

large tomatoes, cut into 3/4" slices

few tablespoons of heavy cream or creme fraiche (optional)

1

onion, cut into 1/2" slices

1/2

jalapeno, cut in half lengthwise, seeded

2

bell peppers, seeded, cut into 4 pieces

olive oil

1/4

teaspoon

smoked paprika

1/2

teaspoon

garlic powder

3/4

teaspoon

salt (or to taste)

freshly ground black pepper

2

cups

vegetable broth

1/4

cup

grated parmesan cheese (plus additional cheese for garnishing)
Instructions
Preheat oven to 375F. Arrange all vegetables on baking sheet. Drizzle olive oil all over. Roast for 20 minutes.
For immersion blender:
Roughly chop all vegetables. Add all vegetables, smoked paprika, garlic powder, salt, pepper, vegetable broth and grated cheese to pot large enough so that when you use your immersion blender, it doesn't splatter all over the place. Blend in pot until you get a nice puree. Bring to simmer, taste and adjust seasoning.
For Vitamix or Blendtec:
Add all ingredients to blender and set on your "Soup" setting. Taste and adjust seasoning.
For standard blender:
Add all ingredients to blender, blend until smooth puree. Taste and adjust seasoning. Pour into pot and heat to serve.

Garnish with additional parmesan cheese, a turn of the pepper mill and serve with crusty bread.
More Roasted Tomato Soup Recipes
Roasted Tomato Soup – 101 Cookbooks
Roasted Tomato Soup – Gluten Free Goddess
Roasted Tomato Soup – Healthy Green Kitchen
Roasted Eggplant and Tomato Soup – Simply Recipes
Roasted Tomato Soup with Grilled Cheese Croutons – Cafe Chocolada