Normally, when I make curry dishes, whether Indian or Thai, I start with a shortcut – a ready-made curry spice paste that I can find in most grocery stores. But making the curry spice paste from scratch is just as easy, tastes infinitely fresher and the flavors of the aromatics really shine through in the coconut milk, instead of just being "spicy hot" like normal ready-made pastes.
The extra 5 minutes spent on grating the onion, ginger and mincing garlic is definitely worth it. This recipe is from Entice with Spice by Shubhra Ramineni. It's her first book and published by Tuttle Publishing, the same company that published my own Steamy Kitchen book. It's filled with simple Indian family recipes (and beautifully photographed dishes) that are perfect for busy families. This Indian Fish Coconut Curry is a fine example. Beginning to end, it took less than 20 minutes to make.
The ingredients are simple: garam masala (a very warm Indian spice blend), cayenne chili powder, coconut milk, chopped tomatoes, fresh fish fillets, ginger, fresh chilies (optional), garlic and half an onion).
Instead of chopping the onion, grate it using the large holes of a box grater. This way, you'll get very fine onion that forms the basis of the curry spice paste.
I also grate the ginger this way too.
Cut the fish fillets into nice big chunks. This is fresh swordfish, but you can use any firm fish fillet.
The first step is to cook the aromatics very slowly – the onion, garlic and ginger go in first.
As you cook, you'll see the aromatics turn to a soft golden color.
Add in the tomatoes.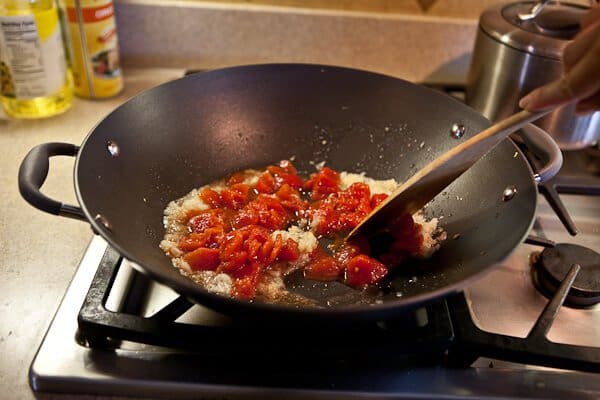 And let that cook down too – as it cooks down, you'll see that it forms a soft, paste-like consistency.
Add in the spices and seasonings.
Coconut milk and water.
Drop in a fresh halved chili pepper if you'd like.
Let the curry come to a boil and then add in your fish to cook. Four minutes later, it's done!
Serve this with basmati rice or any Indian flatbreads.
Indian Fish Coconut Curry Recipe
Adapted from Entice with Spice by Shubhra Ramineni.
Use any type of firm fish fillets - salmon, swordfish, red snapper, catfish, grouper, etc. You can even add other types of seafood in this curry - shrimp, mussels would both be wonderful in addition to or in place of the fish.
Ingredients
1

pound

boneless, skinless fish fillets

1

tablespoon

vegetable oil

1/2

onion, grated on large holes of box grater

1

teaspoon

grated fresh ginger

2

cloves

garlic, finely minced

1

fully ripe tomato, diced or 1 1/2 cups canned diced tomatoes

1

teaspoon

garam masala

1/4

teaspoon

chili powder (cayenne)

1/2

teaspoon

salt

freshly ground black pepper

1

cup

coconut milk

1/4

cup

water

1-2

fresh chili peppers, cut in half lengthwise (optional)
Instructions
Wash the fish and pat very dry. Cut the fish into 2-inch pieces.

Heat a medium saucepan over medium heat and swirl in the oil. When the oil is heated, add the onion, ginger and garlic. Turn the heat to medium-low and let the aromatics cook slowly. Saute until very fragrant, about 5 minutes. Take care not to let it burn!

Add the tomato and saute for another 3 minutes, stirring frequently. Use your spatula and smash the tomatoes a bit, to break them up.

Add the garam masala, chili powder, salt and pepper. Stir to combine and cook for 2 minutes. This is the masala (spice base).

Turn the heat to medium-high. Pour in the coconut milk and the water. Add in the chili pepper if using. When the mixture comes to a good boil, add in the fish and cook for 4 minutes or so, until the fish is cooked through.