Wednesdays are the craziest days in our household. Not only do the boys get out of school 2 hours early each week, but Tae Kwon Do classes start at 5:45pm. Because the boys take separate classes, they normally don't get out until 7:30pm which means dinner has to be eaten before class. In the afternoons, juggling my own work, homework, cooking, cleaning and then class is nuts.
So you can imagine why I opt for dinners that only take 15-minutes to make, like this Scallops and Peppers dish. The scallops only take 5 minutes to cook – any longer than they they would turn tough and rubbery anyways.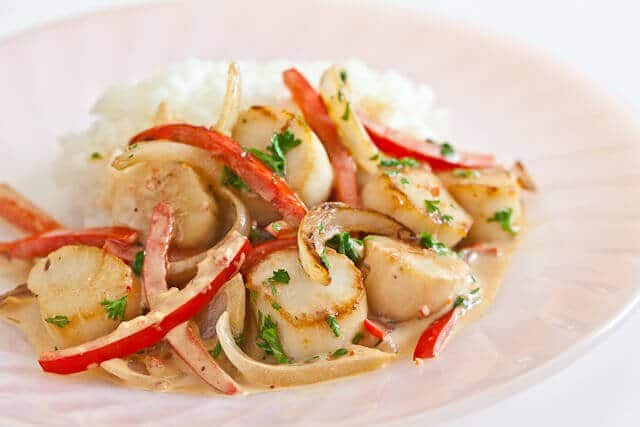 The tip to the best scallops is to buy the right kind. Look for scallops that have been "dry packed" – meaning they are not sitting in a preservative solution. The clue? If the scallops at the market are swimming in milky, watery solution, pass on them. Instead, get shrimp and make this same dish.
If you're getting frozen scallops, look for "dry packed" on the package and check the ingredients, which should just simply say, "scallops".
Before cooking, pat them very dry and add them to a large, hot skillet. Make sure they don't touch, otherwise they'll end up "steaming" rather than searing.
**NOTE The written recipe serves 4, however my photos below depict cooking for 2 people.
Give them plenty of space – you might want to do this in two batches. 1 1/2 minutes each side is all you need in this step, just to get a good sear.
Remove the scallops for now, they'll finish cooking in the sauce.
In the same skillet (no need to clean), add the onions and pepper and saute for a couple of minutes.
Next add some wine. glug glug glug.
And here's my secret weapon – Philadelphia Cooking Creme, Santa Fe Blend. You can use any flavor – including Original, Italian Cheese & Herb and Savory Garlic. It's made from real cream cheese, but designed especially to be used as a ready-made creamy sauce. It easily melts in the pan and is already infused with herbs and spices for that 'one-stir, dinner's ready' sauce.
As a substitute for the Cooking Creme, you can use 6 ounces of cream cheese + 1/2 cup vegetable broth + salt and pepper to taste.
Add the scallops back in and cook for 1 minute (or 2 minutes if you're using very large scallops).
Throw in the parsley and stir. That's it!
Dinner's ready. Serve over rice or pasta.
Seared Scallops with Creamy Sauce Recipe
This recipe works great with any type of protein - shrimp, beef, chicken or pork - just adjust cooking times. If you are using the smaller bay scallops, shorten cooking time as they cook very quickly.
Feel free to use any Philadelphia Cooking Creme flavor, I've used Santa Fe Blend.
If you'd like to use cream cheese instead of the Philadelphia Cooking Creme, substitutions are below.
Serve over rice or pasta.
Ingredients
2

tablespoons

olive oil, divided

1

pound

dry-packed sea scallops

1 or 2

red bell peppers, sliced

1

onion, sliced

1/4

cup

dry white wine

1

EITHER: 1 10oz package of Philadelphia Cooking Creme OR: 1 6oz light cream cheese, softened + 1/2 cup vegetable broth + salt/pepper to taste

1

tablespoon

minced fresh parsley
Instructions
Pat the scallops very dry. Heat a large saute pan or skillet over high heat. When hot, swirl in just 1 tablespoon of the olive oil. Add the scallops to the hot pan, try to keep them from touching each other. Give 'em room to sear! Sear 1 1/2 minutes on each side. Remove scallops to plate.

In same, now empty skillet, add in the remaining 1 tablespoon of olive oil and turn the heat to medium-high. Add the pepper and onions and saute for 2 minutes until softened.

Pour in the wine and let simmer for 1 minute. Mix in the cooking creme (or substitution of the cream cheese+vegetable+salt/pepper). Bring to simmer, stir until sauce is evenly mixed.

Add the scallops back into the sauce. Cook for 1 minute. Turn off heat, stir in the parsley. Serve immediately.