Grilled Fish Tacos with Roasted Corn and Pepitas
I'm currently in Mexico at the beautiful ClubMed Ixtapa resort with my good friend, Diane of WhiteOnRiceCouple and my brother. It would be silly to call this a "work trip," since we've done more relaxing, napping, eating and drinking than actually working, but I guess that's the whole point of ClubMed, right? They're hosting us for a wonderful Food and Wine festival and I'll be posting more when I return. In the meantime, enjoy this recipe for Grilled Fish Tacos with Roasted Corn and Pepitas.
***
All my friends from "not-Florida" and are gushing about their cozy Fall dishes, how it's time to break out the dutch oven and that finally, they can start wearing boots without looking like a summer fashion faux-pas. And I'm just here loungin' in my swimsuit, sipping iced tea, toes dangling a $3 flip-flop and beaming from ear to ear, gently shaking my head.
Don't get me wrong, I love long braises and warming stews, but Fall is just starting to breeze in and it's still too damn hot to turn my kitchen into a sauna. Fall is finally grilling time. Oh, sure, we grill plenty during the summer, but pity the poor person with grilling duty outside in the middle of the sweltering, suffocating summer heat, which usually is my husband. It's worse especially when we have a dinner party and I have to hand him his sunglasses, hat, sunscreen and a mountainous platter of foods to be grilled.
I get the glare. He heads outside.
And then we air-conditioned folks feel all guilty for leaving the lone man outside (but not guilty enough to join him), huddle right in front of the patio sliding glass door and give him the occasional smile-nod and thumbs up to make him feel like he's still part of the party.
Fall is time when that dinner party heads outside, guests hover around the smoking grill, husbands gets the congratulatory slaps on the back, beers are passed around and all is well and dandy. That is…until I am forced back inside the very lonely kitchen to finish off a dish on the stovetop that couldn't be grilled and to assemble that salad last minute so it can be served chilled.
My husband strolls towards the glass door, entourage behind him, raises his drink towards me and smirks.
***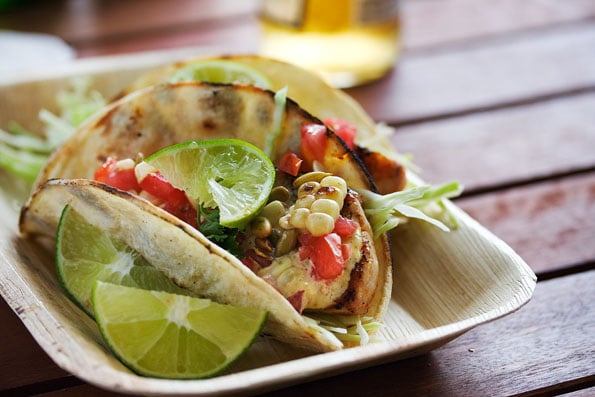 Grilled Fish Tacos with Roasted Corn and Pepitas Recipe
Buy firm fleshed fish at leat 3/4″ thick, otherwise the fish will come apart on the grill. If using thinner fillets, cook the fish in a frying pan. You can still stay outdoors – just use your frying pan directly on the grill grates. To prevent the fish from sticking to the grill grates, make sure your grates get a good scrubbing. You can also pour a little oil on a wad of paper towels and wipe on the grates. The fish will be coated in some olive oil to also prevent sticking. This recipe was inspired by Jim of The Lucky Pelican in Lakewood Ranch, where I had the best fish tacos outside of San Diego.
Recyclable plates made of pressed fallen leaves from Verterra. These biodegradable plates are so cool – they are oven, microwave and dishwasher safe. Time.com has a slideshow on how they are made.
1 1/2 pounds firm fleshed fish fillet, 3/4 inch thick (I like grouper or mahi-mahi)
3/4 teaspoon garlic salt
1/2 teaspoon paprika
2 teaspoons olive oil
1 ear corn, shucked
1 large tomato, 1/4″ dice
1/4 teaspoon salt
1 tablespoon finely chopped cilantro
8 corn tortillas
1/2 cabbage, shredded
2 limes, cut into wedges
1/4 cup pepitas or roasted pumpkin seeds
For the sauce (stir together)
1 cup light sour cream
1/2 teaspoon paprika
1/2 teaspoon garlic salt
1/4 teaspoon ancho chili powder (substitute with regular chili powder)
Preheat your outdoor grill. Cut the fish into 8 thick strips, about 1″ wide x 4″. You'll be using 1 fish fillet per taco, 2 tacos per person. On a plate or bowl, toss the fish with the garlic salt, paprika and olive oil. Brush a bit of the oil onto the corn on the cob. Grill the corn on the grill over direct heat, rotating a few times.
Three minutes after starting the corn, it's time to grill the fish for 2-4 minutes each side, depending on thickness of the fish. During the last 2 minutes of grilling, throw the corn tortillas on the grill, flipping halfway. The corn, fish and tortillas should be ready around the same time.
Use a serrated knife to cut the kernals off the cob. Toss with the tomato, salt and cilantro. Assemble tacos with cabbage, a piece of fish, a spoonful of sauce, grilled corn/tomato, a squeeze of lime and a sprinkling of pepitas.
Serves 4