For our family, if there ever was a PERFECT cut of steak, it would be the bad-boy Porterhouse steak. It's big. It's massive. One giant hunk will feed our family of four.
But before I get into our love for Porterhouse (because I'll get carried away and will forget about anything else I was supposed to tell you), a word about the Whiskey Mushroom Sauce:
Simply. Must. Make.
Of course, you don't have to just use this sauce on Porterhouse – any cut of steak will do. Even pork tenderloin, chicken breasts, grilled tofu….whatever your little heart desires. Promise me you'll make it.
Oh and bonus: just wanted to mention that this is a one-pan + one piece of tin foil meal!*
Anatomy of the Porterhouse Steak
This summer, I'm beef gal for Sweetbay Supermarket – a Florida based supermarket chain, known for its amazing Black Angus Beef (best job ever, right!?)
Now, back to the Porterhouse. The Porterhouse steak has two very distinct sections on either side of the bone.
Image credit: Savio D Silva (check out more beef cut diagrams + many more other diagrams on wide variety of subjects!)
For sake of simplicity, I'll boil this anatomy of a Porterhouse Steak down to easy terms to relate to. Many of you know what a filet mignon, T-bone and strip cuts are, so we'll use these terms to describe the anatomy of a Porterhouse. There are so many different cuts of beef that it can get incredibly confusing.
The left side, or the smaller side is part of the tenderloin, the most tender steak cut (pssstt…..it's what butchers and restaurants call "filet mignon.") Now the larger side on the right is the strip (pssstt…..the "strip cut.") The middle? Well, that's the bone – you can call that the "t-bone" because it's shaped like a "T."
You can also think of it this way. A T-Bone steak and Porterhouse steak are very, very similar and found right next to each other. A Porterhouse steak is just a larger T-Bone steak 🙂
What's great about Porterhouse is that it's a great deal, especially when you can find a piece that has a very large tenderloin section. Also, for families like ours, it's the absolute perfect cut. My husband, Scott is a filet guy – he loves the tender tenderloin cut. My kids love the big beefy flavor of the longer "strip" side.
So where does that leave me? Well, let's take a look at what's left…the meat close to the bone! It's crazy-tender, full of flavor and for the evening, I'll ditch all my table manners and bite off all that meat. I swear I was a dog in a former life. Though, I should tell you that I'm also a lover of blue crab, crawfish, chicken wings and ribs….basically I like to work for my food!
The bone that's left is for our dog, Coco. I try very hard to leave Coco some of the meat on the bone, but when steak is this good…I simply can. not. resist.
Okay, so now that we've got the anatomy of the Porterhouse out of the way, let's focus on the recipe!
As you can see, this Porterhouse is pretty thick. This one steak will feed the four of us for dinner tonight. Well, five if you count the dog too.
Preheat the oven to 375F. The first step is to rub the steak with a little bit of cooking oil. I like doing this instead of oiling the pan. You'll use less oil this way.
My instructions here are for cooking on the stove and oven….feel free to grill this on your BBQ grill as it's the perfect weather for grilling now!
Heat a cast iron pan (or other oven-safe pan) on high heat – get it very hot! When it's hot, lay the steak on the pan. Let it cook, undisturbed for 5 minutes. After 5 minutes, let's flip it over.
Let the other side cook for 5 minutes. Then we'll put the entire pan in the oven to cook for 7 minutes for medium rare (for a 1 3/4″ steak) or 5 minutes if you've got a 1-inch steak.
While the steak is in the oven, let's cook the mushroom sauce. Heat butter in a saute pan and add the onions and the mushrooms. We'll let that cook on medium for a few minutes.
Once the onions and mushrooms get soft, we'll pour in 3/4 cup of chicken broth.
And stir in 1 tablespoon of grainy mustard, season with salt and pepper.
The sauce includes whiskey, but please feel free to leave the whiskey out if you prefer.
Glug…glug…glug…about 2 tablespoons of whiskey**.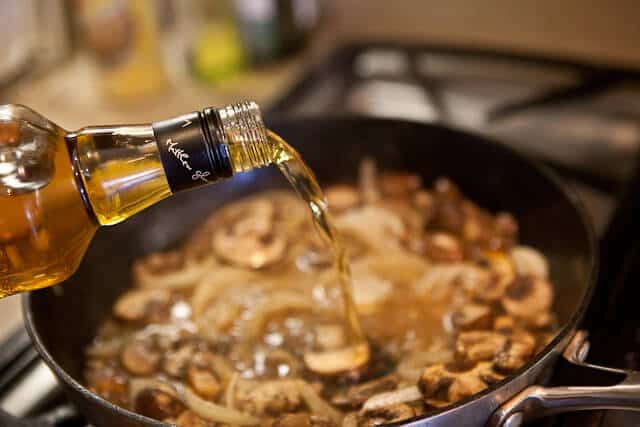 Let everything cook for a minute more.
And pour on top of the steak once it's done.
Porterhouse Steak Recipe with Whiskey Mushroom Sauce
Ingredients
1-2

Porterhouse steaks

salt and pepper

cooking oil

2

tablespoons

butter

8

ounces

sliced mushrooms

1

onion, sliced

3/4

cup

chicken broth

1

tablespoon

grainy mustard

2

tablespoons

whiskey (or bourbon)
Instructions
Preheat oven to 375F. Season the Porterhouse steak on both sides with salt and pepper. Let steak rest at room temperature for 15 minutes. Rub both sides of the Porterhouse steak with cooking oil.

Heat a oven-safe pan (cast iron preferred) over high heat. When very hot, add the Porterhouse steak to the pan and let cook for 5 minutes. Flip steak and cook an additional 5 minutes. Place entire pan into oven to cook for 5-7 minutes, timing depends on thickness of steak and desired temperature.

For 1-inch thick steak, I recommend 5 minutes and then check internal temperature of the steak.

For 1 1/2 inch Porterhouse steaks, I recommend checking temperature at the 7 minute mark.

125-130F = rare

130-140F = medium rare

140-150F = medium

150-155F = medium well

160-212F = well-done

While the steak is the oven, let's cook the mushroom sauce. Heat a saute pan over medium-high heat with the butter. When the butter starts bubbling, add in the mushrooms and the onions. Stir and cook until onions are fragrant and softened.

Pour in the chicken broth, mustard, whiskey and season with salt and pepper to taste. Turn heat to low and let simmer for 2 minutes. Just before serving, pour over the steak.
***
*BONUS: I'll give you a couple of side dish ideas that will complete the meal with no additional pans – just a piece of tin foil.
1) Oven roasted tomatoes: Slice tomatoes in half, drizzle olive oil on top. Let them cook in the oven at the same time that the steak is cooking. Usually 10 minutes is all it takes.
2) Edamame: Find these healthy Japanese beans already cooked and shelled in the produce section, right next to the tofu. After you've made the mushroom sauce and have poured it on the steak, don't wash that pan yet! Return the pan to the stove and turn the heat to medium. There's plenty of flavor still in the pan and just add in the edamame. Stir and when the edamame is warmed through, it's done!
**A piece of nifty advice here, if your husband is a Single Malt Scotch Whiskey lover, don't try to grab any ol' bottle to cook with. Especially the one that says, GlenFarclas 1968 Family Cask.
More Steak Recipes
Simply Recipes: Steak Fajitas
Leite's Culinaria: Steak au Poivre
White on Rice Couple: Whiskey Flat Iron Steaks