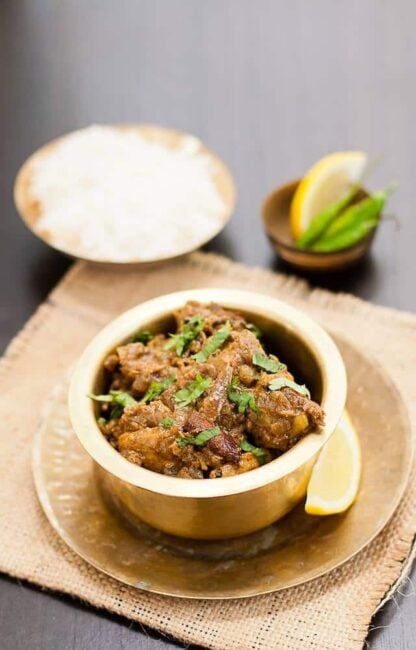 *waving hello!* Hey guys! I'm still in the middle of getting the new house ready and packing boxes in our old house. We're almost done painting every single wall, baseboard and ceiling trays. Three more days until the big move! I'll post some photos later today. Lots of love, Jaden
We are so thrilled to introduce you to Prerna, from Indian Simmer. Today, she is sharing her recipe for Chicken Vindaloo, one of our absolute favorites, packed with flavor from chilies, garlic, cardamon, cinnamon and more. We know you will love Prerna and her blog, with photography that inspires, charged with brilliant and bold colors, and recipes from the heart, like Chicken Tikka Masala and Cumin scented Green Peas Pulao or Matar Paneer. Enjoy! – adam and joanne
A few weeks back I got a message from someone with the email address jaden at steamykitchen.com and it said will you "guest post for me?" My first reaction was to check whether that it was really written to me. Why? Because never in my wildest dreams would I expect that JADEN from STEAMY KITCHEN would ask little me to guest post on her blog. And even when I found out that it was actually Jaden, I was in complete disbelief! Just like millions of other bloggers and food lovers, I have always been inspired by Jaden. It is an honor to be featured on Steamy Kitchen and thanks so much Jaden for the opportunity!
When asked about what I should be cooking for her, Jaden said she loves Chicken Vindaloo and would love to share its recipe with her readers. So Chicken Vindaloo it is! It is a dish which, if not most popular, must be one of the most popular Indian dishes in the world. Vindaloo is a popular curry that hails from a tiny little state of Goa in India. Portuguese had their colony in Goa for decades and so the state has a great influence from Portuguese culture. It is believed that the name Vindaloo was also derived from Portuguese dish where "vinho" means wine and "alhos" is garlic. Usually the recipe asks for pork and wine along with garlic. In course of time Vindaloo evolved and cooks started making it with chicken or lamb and wine was substituted with vinegar.
I am sure you will always notice that the Chicken Vindaloos served in restaurants have potatoes in them. Aloo in hindi means potatoes and since Vind- aloo has aloo in it, I assumed that potatoes are a must in the dish. But after doing a little bit of a research I found that potatoes are not really an essential ingredient. A traditional Vindaloo just asks for meat, garlic, wine or vinegar and lots of chilies in it. So the potatoes you see in the Vindaloo they serve at your favorite Indian restaurant are probably because they either want to make the gravy thicker or increase the volume but definitely not because the recipe asks for it!
Most important part of a Vindaloo masala (spice mix) is the chilies in it. The dish is mostly fiery hot because Vindaloo masala is a chili based preparation and that is where it gets all its flavors. In my recipe I used the dry whole red chilies found at Indian markets. You can make it milder to your taste and use Kasmiri Mirch (a mild form of red chili). This will help make the curry red and pretty but still not very hot.
So here's the recipe for Chicken Vindaloo. Again, you can tweak the amount of spices and heat according to your taste. Also if you want, you can add diced boiled potatoes in the curry but if you do so, do it right after the chicken is almost cooked and you are giving it a final boil.
Chicken Vindaloo Recipe
Ingredients
1 1/2

pounds

chicken thighs (cut into cubes)

1

cup

diced onions

4-5

whole red chilies

6-7

cloves

garlic

1

inch

ginger

1/4

cup

white wine vinegar (add more if you like)
For dry spice mix:
1

teaspoon

cloves

3-4

whole cardamoms

1

teaspoon

cinammon powder

1/2

tablespoon

peppercorns

1

tablespoon

cumin

1

teaspoon

turmeric powder

1 1/2

teaspoons

mustard seeds

2

cups

diced potatoes (optional)

4

tablespoons

olive oil

Salt
Instructions
Soak whole chilies, garlic cloves and ginger in the white wine vinegar for about half an hour. Grind and make a paste of it.

Marinate chicken in the chili paste and let it sit in a refrigerator for at least an hour.

For the dry spice: mix cloves, cumin, cardamom, cinnamon, turmeric and peppercorn. Grind them in a spice or coffee grinder. Set aside.

Heat oil in a thick bottom pan, add mustard seeds.

Once they start to pop, add onions and fry them in oil until they turn light golden brown.

Add marinated chicken with all the juices and stir fry for a few minutes.

Add dry spices along with salt, mix it all together and cover the pan with a lid.

Let it simmer and cook until the chicken is done and curry is thick (stirring in between from time to time).

Garnish with chopped cilantro and serve hot with rice or your choice of bread.