Happy Friday Steamy Kitchen fam!
The theme for today's. giveaway is make the bed.
Making your bed every morning instills a sense of pride and accomplishment within.
This is great energy head into the day with. So try it! Make your bed every day for a week and see how you feel.
If you'd like, share your experience with us in the comments down below.
For one week we challenge you to make your bed every day.
You can post it on social media with the #makeyourbedchallege and check out Goalcast's Make Your Bed Challenge for more inspiration!
Uozzi Bedding 3 Piece Reversible Colorful Quilt Set
DESIGN DETAILS
A Side -Gray dots and Cross style with B side Blue white dots style, most suitable for your bedroom, guest room, children's room, holiday house, dormitory,etc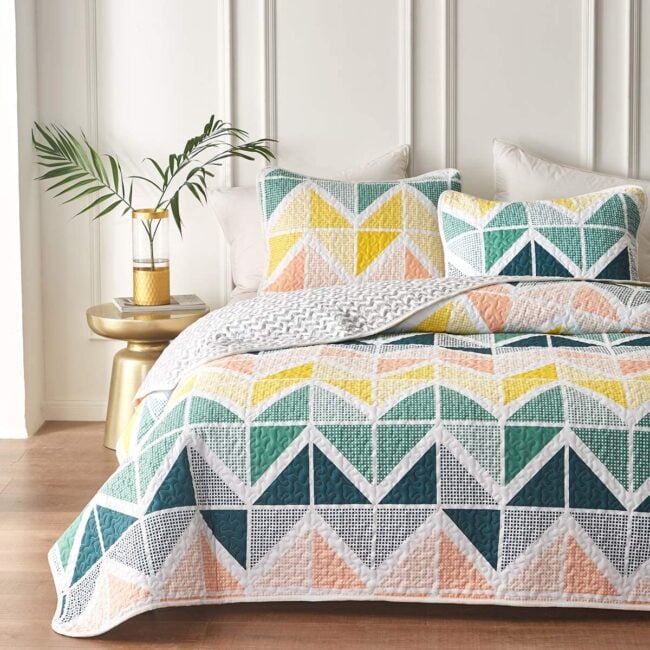 BEST FOR YOUR BED
Easily cover all sides and end of your bed, even with extra layers of padding(If you need a quilt that drapes all the way to the floor, you may have a low bed or choose a larger size)! Try our quilt set, you will sleep on a luxurious beautiful and cute bed
MULTI-PURPOSE USAGE
Perfect coverlet quilt for spring or the coming summer or warmer weather, a little cool feeling for the hot weather, also can use in winter as a blanket. Order 1 set and use all season. Use as quilt,bedspread, comforter set, blanket,bed cover.
Make The Bed! 3 Piece Quilt Set Giveaway
Enter the giveaway below!
Slow Your Scroll!
Tell us in the comments why you would want to win this 3 Piece Quilt Set for yourself or a family member!