Hi there Steamy Kitchen family!
Today we are giving away a prize that is suitable for almost all ages.
Everyone needs to brush their teeth–may as well do it with the best technology possible!
Enter to win the Electric Duo Toothbrush Set!
AquaSonic Duo Dual Handle Ultra Whitening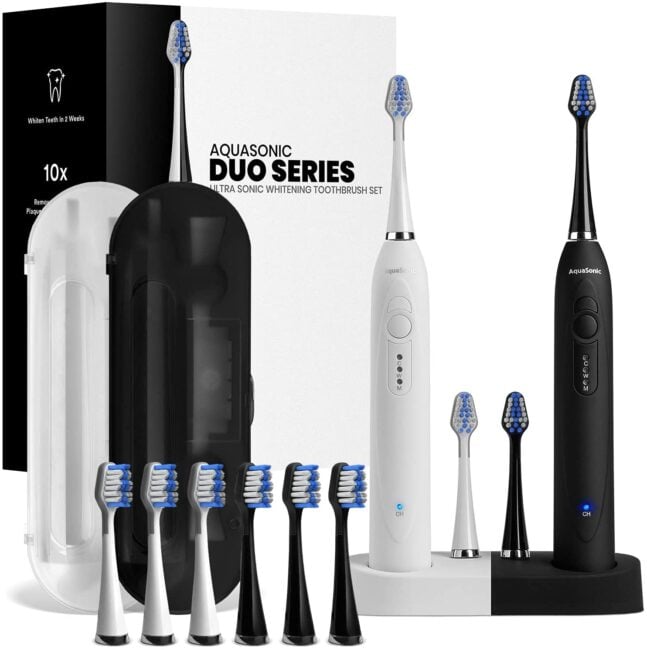 Complete Oral Care for 2
AquaSonic Duo provides complete oral care in one simple countertop setup. Duo features 2 modern smart toothbrushes with the latest oral care technologies including ultrasonic 40,000 vibration per minute motors, true wireless charging, 4 unique modes including modes for whitening teeth and gum health, 30 day battery life, in sleek midnight black and optic white brush handles.
Modern Technology For A Healthier Smile
Each Duo toothbrush bring your oral health routine into modern times with its built in enhanced features. Super fast wireless charging, 3 distinct brushing modes and a smart vibrating notification timer are some of the enhanced features built in to the sleek and ergonomic waterproof black and white satin handles.
Convenient Modern Home & Travel Set-Up
Duo is perfect for couples, kids or anyone in between. A simple dual wireless charging dock takes up a few inches of countertop space while adding a sleek modern element to your bathroom. Duo's 30 day battery life means it's also perfect for travel – simply put your duo in its included travel case and take it on the go while leaving the charger at home.
All The Extras
Every DUO set comes with 10 brush heads engineered by world famous DuPont; a world leader in quality & materials science. Also included are 2 convenient color coded custom hard shell travel case made of BPA Free plastic with space for two brush heads. No need to buy expensive brush head refills or extra accessories. It's already in the box.
Electric Duo Toothbrush Set Giveaway
Enter the giveaway below!
Slow Your Scroll!
Tell us in the comments what is your favorite toothpaste flavor and ways to keep your teeth feeling fresh?