Hello and happy Monday once again Steamy Kitchen fam!
In this recipe for Chinese Sweet Coconut Buns Recipe, besides the sweet coconut filling, what is the second type of bun filling Jaden makes?
Today we have terrific tips for spending time with family and a new giveaway.
Enter to win a TCL 40-Inch Smart TV! Start planning fun movie nights with the fam!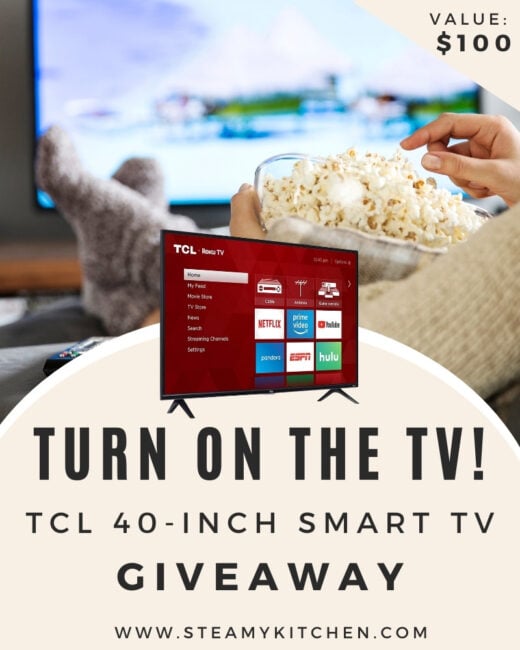 To kick off this Monday, we will start with tops tips for spending time with family.
Family has always got your back, no matter what. It pays to nourish those relationships and never take family for granted.
Spending Time with Family
When was the last time you dedicated time to spending with family? I enjoy going on walks, painting in the park and making dinner for my loved ones!
Movie Night
Dedicate a day once a week to movie night! Everyone in the house wears PJ's, pop up the pop corn and choose a movie to watch together. Make a fort or throw all of the pillows in the house onto the living room floor for maximum comfiness and fun.
Dinner Ritual
Start with eating dinner together.
If you already eat together every night, go a step further by making an occasion of cooking meals, prepping the table and cleaning up together.
Dedicate even more time to family by creating an after dinner ritual such as going for a walk, playing a board game or enjoying a bowl of ice cream.
Travel Somewhere Together
Plan a trip or staycation somewhere with the fam! It's fun to experience a little family adventure. Many memories and unforgettable moments are bound to be made.
Stay at a hotel with a pool and spa, find an airBnB near the beach or a lake or find a lodge with outdoor hiking adventures.
A Call Away
I know you have that one family member you never talk to. They are just a click away! Whether it's a parent, grandparent or cousin, you can rekindle that relationship–call and ask how they're doing, it just might mean the world to them.
Pick up the phone or schedule a zoom meeting now!
Dance Party
Have daily dance parties! Blast some tunes in your home to sing and dance to together. Get the energy up and let loose around the people you have the most fun with.
You could also opt to play a few rounds of "Just Dance" with the fam!
TCL 40-inch 1080p Smart LED Roku TV
The 3-Series Full HD TCL Roku TV puts all your entertainment favorites in one place, allowing seamless access to over 500,000 movies and TV episodes, your cable box, gaming console, and other devices—all from your simple, intuitive interface.
The super-simple remote and dual-band Wi-Fi make it fast and easy to access your favorite content in Full HD. Connect all your favorite devices with the three HDMI inputs.
Simply Smart
The 3-Series TCL Roku TV delivers all your favorite content with over 500,000 movies and TV episodes, accessible through a simple, intuitive interface in a sleek, modern design.
Powerful Mobile App
Transform your smartphone or tablet into a full-function Roku remote with voice control, the ability to browse and add new channels, even listen to TV audio on headphones connected to your mobile device.
Easy-to-Use Remote
The super-simple Roku TV remote has only 20 buttons to make navigating easier. With around half the buttons of a traditional TV remote, you won't have to struggle to find the button you need.
About TCL
With a lineup of award-winning televisions, audio products, mobile devices, and appliances, TCL delivers meaningful experiences through thoughtful design and the latest technology, helping you enjoy more of the things you love.