Food Blog Forum Nashville
We're doing it again! After the last Food Blog Forum in Orlando, Lindsay of Purr Design (my web designer) insisted that the next FBF event should be in Nashville — and so I listened to her (like I always do — I'm a good design client) and here we are, getting ready for an October 8th event. Pre-sale tickets are $99 each person – which includes all-day seminar and two parties. If you're in the area — come have some fun with us?! Buy tickets here. ~Jaden
***
Food Blog Forum Nashville Agenda
Saturday, October 8, 2011
8:30 AM – 4:30 PM (CT)
We're excited to announce our fourth Food Blog Forum event – this time in Nashville! The event is a full-day seminar on Saturday, October 8, 2011 for online food publishers and food bloggers in Nashville and surrounding areas.
This event is produced by Food Blog Forum with Jaden Hair of Steamy Kitchen, Todd & Diane of White On Rice Couple, Lindsay Landis of Love & Olive Oil, Beth Sachan of Eat.Drink.Smile., and Leah Short of So How's it Taste.
Food Blog Business | Food Styling & Photography | Food Blog Design | Technology
Join us for a full-day seminar on Saturday, October 8, 2011 designed specifically for food publishers and food bloggers.
We'll be covering the most relevant topics for food bloggers, including food styling and photography, recipe writing and development, blogging etiquette, and public relations for food bloggers.
In addition to the information and skills you'll be able to immediately implement, we'll have several networking and social opportunities throughout the weekend.
Schedule
Friday, October 7, 2011
Nashville Farmers Market
900 Rosa Parks Blvd, Nashville, TN 37208
View Map
6:00 – 8:00pm – "A Taste of Nashville" Pre-Party Hosted by Nashville Farmers Market
Hors d'œuvres and drinks provided.
A sampling of delicious local products, including:
Olive & Sinclair, Mista Dale's, Goo Goo Clusters, Corsair Artisan Distillery, Yazoo Brewing Company, and more!
Chef Demo featuring Top Chef Season 7 contestant and Nashville native, Arnold Myint!
Saturday, October 8, 2011
Lipscomb University Ezell Center
Off of Belmont Blvd.
View Map
8:30am – Doors Open
Coffee and pastries will be available
9:00am – Introduction
9:30 – 10:30am – PRspectives
Jaden Hair, Arianna Bastianini, & Maris Callahan
A lesson in PR 101, from various perspectives. This panel brings together bloggers, brands and PR professionals to give you an inside look into the process of working with brands and forming relationships that can benefit both the bloggers and companies they work with.
10:45 – 11:45am – Breakout Sessions
TRACK 1: Recipe Writing & Development
Alison Lewis & Kelly Senyei
Learn what it takes to develop professional-quality recipes, from concept to completion.
TRACK 2: Blogging Etiquette
Amanda Bottoms & Jenny Flake
Learn about proper blogging etiquette, including recipe/photo credit and attribution, copyright (and what to do if your work is stolen), link exchanges, commenting, best practices, and more.
12:00 – 1:00pm – LUNCH
Visit the Food Truck Court for a delicious sampling of our city's best mobile vendors, including Riffs Truck, Yayo's OMG, and more!
1:15 – 2:30am – Food Styling & Photography
Todd Porter & Diane Cu
Learn how to understand and utilize your available lighting situations. You'll learn basic food photography and styling techniques, how to effectively understand the fundamentals of lighting and getting a good exposure for the great food photograph.
2:45 – 4:20 – Experts Round Table
Dive deeper into the topics that interest you most. We'll have our speakers and other experts available to you during a series of four 20-minute "speed-networking" sessions. Ask questions and get advice from our experts in a more personal setting. Explore topics such as Social Media, Technology and Design, Food Styling and Photography, Working with TV and Media, Recipe Development, The Business of Blogging, and more.
4:30 – Closing
6:00 – 8:00pm – Afterparty
Sponsored by The Patterson House
Hors d'œuvres and Drinks will be provided.
The schedule as well as sessions and speakers subject to change.
Speakers

Jaden Hair is a television chef, food columnist and award-winning food blogger at Steamy Kitchen. You can watch her cook twice a month on Daytime Show, syndicated in 120 markets. Jaden is a food columnist for Discovery Health, TLC and for Tampa Tribune. Jaden is a cookbook author of The Steamy Kitchen Cookbook. With 90,000 followers, Jaden is one of the most influential people in food on Twitter. She has been featured on the Today Show, CBS Early Show, Martha Stewart Living Radio, Oprah.com, and Parents Magazine. Jaden was recently named one of the hottest women in food by SlashFood and also one of the best food bloggers on Forbes.com. Twitter: SteamyKitchen

Todd Porter and Diane Cu are professional photographers, food stylists and filmmakers who specialize in food, travel, special events and portrait work. They are founders of EvoMultimedia.com, based out of Los Angeles. Fueled by their love of local people and culture, they strive to document powerful food stories from around the world. Diane and Todd share their personal food stories and other behind-the-scenes snippets of their professional work on their award-winning food and photography blog, WhiteOnRiceCouple.com.

Kelly Senei is Associate Editor for Gourmet Live, a Condé Nast digital experience that lets users express, share and explore their passion for food and food culture in a brand new way. She is also the creator of the food blog Just a Taste and is the author of the forthcoming Food Blogging For Dummies (Wiley, 2012). In addition to her published work in Gourmet Live, Kelly has written for FoodNetwork.com, Recipe Zaar, Food2.com and Glamour.com. She has also externed in the Food Network Kitchens, where she cross-tested recipes, prepared food for TV productions and photo shoots and had the opportunity to cook in a practice battle of Iron Chef America. When she's not busy blogging or keeping up with the latest food media news and trends, Kelly can be found in her kitchen in New York City, experimenting with ingredients and creating recipes.

Alison Lewis is a nationally known Magazine and Internet Journalist, Recipe Developer, Cookbook Author, Television and Social Media Food Spokesperson and Consultant, Food Educator, and President of Ingredients, Inc., a Food Media Consulting company in Birmingham, Alabama. She is known for creating healthy, family-friendly recipes that are easy to prepare, and she offers great entertaining ideas on her blog, http://ingredientsinc.net. Her first cookbook, 400 Best Sandwich Recipes: From Classics & Burgers to Wraps & Condiments, was published by Robert Rose Books in April of 2011. Her second cookbook, "Best of Ingredients, Inc." is also in the works (date TBA). Alison's professional Journalism work has appeared in Cooking Light Magazine, Better Homes & Gardens, Southern Living, Coastal Living, Diabetic Living,, Clean Eating, Oxygen, Julep Online, Relish Magazine and many others.

Amanda Green Bottoms is the author and photographer of Kevin & Amanda. What started as a small blog to keep in touch with friends and family quickly became a collection of her photography tutorials, favorite recipes, and original kitchen creations. Among the diverse content of her site, you'll also discover her favorite fashion finds, home decor projects, and even the free handwriting fonts she makes from her readers' submissions. Amanda loves interacting with her online audience and works hard to make Kevin & Amanda an entertaining place to visit, learn, and check in on her life and adventures.

Maris Callahan is a seasoned public relations professional with five years of experience in consumer brand marketing and lifestyle public relations. She launched Maris Callahan Public Relations in January 2011 and prior to that, worked for global agencies including Edelman and Burson-Marsteller where she helped lead media and blogger relations efforts for brands including Starbucks, Canon USA and Quaker Oats. Maris is an active member of the food blogging community at In Good Taste and she offers a fresh, behind-the-scenes perspective on blogger relations and consumer engagement. Maris is also a freelance writer and recipe developer for Diets In Review, Fabulous Living, Craft Magazine, Yahoo Shine and Shape.com.

Jenny Flake is the author of the family friendly food blog titled Picky Palate. She is a self-taught home cook and an on the go mom to 2 little boys and wife to her high school sweetie. Before Jenny started writing Picky Palate she was a Registered Dental Hygienist, a Certified Pilates instructor and participated in cooking contests all over the country. She's been on Food Network's Build A Better Burger, The Ultimate Recipe Showdown, The National Chicken Cook-off and The Pillsbury Bake-Off. Creating original recipes and capturing food photography is Jenny's new passion and she loves sharing her journey with her readers. Jenny is thrilled to be writing her first cookbook that will be available in 2012. Picky Palate has been featured on sites such as Saveur.com, BettyCrocker.com, Finecooking.com and Shine by Yahoo. Jenny was born and raised in AZ but now lives in Sunny Southern California with her Disneyland loving, picky eating beach bums!
Arianna Bastianini manages Brand Communications for OXO (bio to come).

Arnold Myint (our Friday night Celebrity chef demo) is the Executive Chef and Owner of three popular restaurants in Nashville, TN: PM, Cha Chah, and Suzy Wong's House of Yum, all of which have been recognized locally on numerous occasions as the "best of". He also recently opened a fourth business, a gourmet grab 'n go, cleverly named AM @ FM, inside the Market House at the Nashville Farmers' Market. Arnold was recognized by GQ Magazine in 2009 as one of the nation's most inspired bartenders. In 2010, Arnold competed on the 7th Season of the popular television program Top Chef. In addition to Arnold's contribution to the food scene, he is also a savvy event planner and skilled mixologist. Outside of the kitchen, Arnold is very active in the community, supporting charities and the growth of Nashville's independent dining scene.
Additional Round Table Speakers include:
Lindsay Landis – Web/Graphic Designer and Food Blogger – Purr Design / Love & Olive Oil
Tami Hardeman – Food Stylist – Running with Tweezers
And more to be announced!
Your Ticket Includes:
Friday Pre-Party – "A Taste of Nashville" at the Nashville Farmers' Market
Hors d'œuvres and Drinks will be provided.
Saturday All-Day Seminar – Morning coffee & pastries and Lunch will be provided
Lipscomb University – Ezell Center
Saturday Wrap-up Party Sponsored by The Patterson House
Hors d'œuvres and Drinks will be provided
You'll receive a fabulous swag bag full of food and cooking goodies. Exactly what we can't tell you yet, but you won't be disappointed! Travelling from afar? Leave room in your suitcase. 🙂
We are also making available "companion" tickets, for spouses or friends who may want to tag along to the evening festivities, but not attend the conference itself.
Interested in sponsoring this event? For sponsorship opportunities please contact Leah Short at leah@sohowsittaste.com.
Accommodations
We have secured a special group rate of $119 per night at the Hilton Garden Inn hotel, located at 1715 Broadway in Nashville.
This hotel is a convenient 10 minute drive from the conference location (driving directions here), and walkable to the cocktail party location on Saturday night.
Reservations for individuals can be made by calling 615-369-5900 or 877-245-8854
or online at http://www.nashvillevanderbilt.hgi.com
Please mention group code FBF.
Reservations need to be made by Wednesday, September 7th. After this date the group rate will no longer be available.
If you would like to stay elsewhere, hotels in the Downtown/Vanderbilt/Belmont areas will be convenient to the conference location.
FBF Banners
Display this banner on your blog to tell the world you'll be in Nashville on October 8th!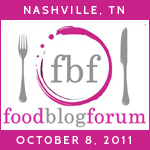 ***
Food Blog Forum Nashville Tickets
Buy tickets at Eventbrite!