I've had the Simply Zov Cookbook: Rustic Classics with a Mediterranean Twist for the past couple of months, right here on my desk, simply because I can't bear to retire it the bookshelf. We've made 3 of the recipes so far, and all 3 have become part of our regular rotation – just last night we enjoyed a Watermelon Salad with cucumbers, feta and tomatoes <– recipe!
It turns out that I actually got to meet Zov at the IACP Conference in Austin – she was sitting right next to me, attending an SEO roundtable discussion I was teaching! I asked Adam and Joanne to choose a recipe from the book to make, this Bananas Foster French Toast called out to them immediately. Enjoy! ~Jaden
***
Bananas Foster French Toast
Technically, this recipe serves 6, but we loved it so much, we finished all 6 servings in one day, just between the two of us, seriously.
To make the French Toast, start with the banana sauce, which is so simple, but so good! You will need bananas, brown sugar (we used dark brown sugar) a whole stick of butter and just a touch of water.
Banana Sauce Ingredients
We chose a pan with a lid then melted the butter over medium heat.
Next, we added the brown sugar and whisked it into the melted butter, within a minute the sugar dissolved into the butter, giving us the base of our sauce.
Now, just to smooth things out even more, we added a couple tablespoons of water.
Then, we covered the sauce, took it off the heat and set it aside while we made the French toast.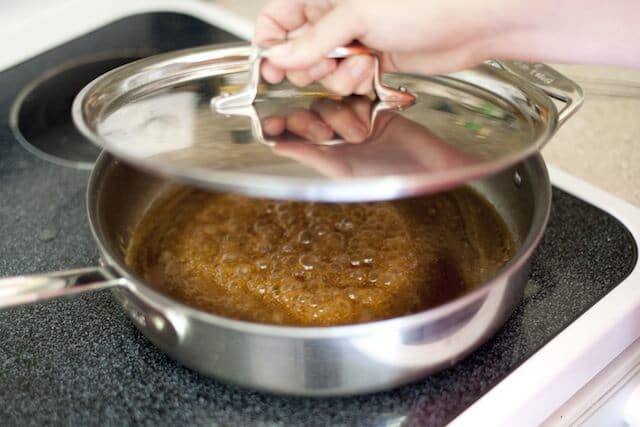 Now for the French toast: We used a loaf of brioche, a rich bread with high egg and butter content. Another great choice would be Challah Bread. You will also need eggs, egg yolks, milk, cream, vanilla extract and more butter when cooking.
French Toast Ingredients
We soaked slices of the brioche in a custard, here is how we made it. First, add 3 whole eggs.
Then, 3 egg yolks.
Whisk both the whole eggs and yolks until smooth.
Now, add a 1/2 cup of milk and 1/4 cup of cream.
Next, one teaspoon of vanilla extract goes in.
Whisk everything together, then prepare the brioche. Slice the bread into 1/2-inch-thick slices.
Next, we found a pan large enough to fit the slices of bread. This just helped with keeping clean. Line the slices up so they are ready for the custard.
Now pour all of the custard over the slices of brioche. Allow the bread to soak up the custard, flipping the bread slices to make sure both sides of the bread are covered.
Melt a tablespoon of butter in a non-stick pan over medium heat.
Add a slice (or two, depending on pan size) of the bread. Cook for about 3 minutes or until golden brown.
Flip and cook another 3 minutes, or until golden brown and cooked through.
Since we were cooking each slice one-by-one, we kept our oven at 200 degrees F in order to keep each slice warm once cooked. This is a good trick for pancakes, too!
Now that all the bread has been cooked, we finish the sauce. Slice four bananas pretty thick so when added to the sauce they will not fall apart.
Add the bananas to the sauce from earlier. Place the pan over medium heat and cook for a few minutes.
Serve and enjoy!
So Good!!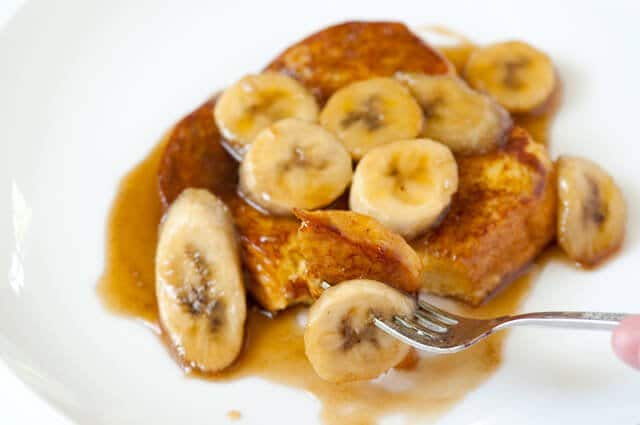 Bananas Foster French Toast
Ingredients
Banana sauce:
4

ounces

(1 stick) unsalted butter

1/2

cup

(packed) dark brown sugar

2

tablespoons

water

4

bananas, peeled and cut diagonally into 1/2-inch-thick slices
French toast:
3

large whole eggs

3

large egg yolks

1/2

cup

whole milk

1/4

cup

whipping cream

1

teaspoon

vanilla extract

6

slices

(3/4-inch thick) brioche or challah bread

3

tablespoons

(about) unsalted butter

Whipped cream (optional)
Instructions
Make the banana sauce:
Melt the butter in a large stainless-steel skillet with a lid over medium heat. Add the brown sugar and whisk until it melts into the butter. Add the water and whisk until smooth. Cover and set aside while you prepare the French toast.
Prepare the French toast:
Whisk the whole eggs and egg yolks in a large bowel to blend. Gradually whisk in the milk, cream and vanilla. Dip the bread slices into the egg mixture, turning to coat and soak until they are completely moistened with the custard.

Heat a heavy, large griddle pan over medium heat. Melt 1 tablespoon of butter on the griddle. Working in batches, transfer the soaked bread to the pan with a slotted spatula and cook until golden brown and cooked through, about 3 minutes per side. Add more butter as needed for each batch.

To serve, add the banana slices to the sauce and cook until the bananas are almost tender, tossing gently, about 3 minutes. Transfer the French toast to plates. Top each with the banana sauce and whipped cream, if desired.