There are times when I should just shrug my shoulders in defeat, lay the camera down and just go make myself a Bloody Mary. Only after the first sip would I grab a blank sheet of paper, a black sharpie marker and just draw you a picture of my dish. Because there is no such thing as a good-looking dead fish:
This yellowtail snapper just doesn't look so happy. Ok. I know, I know. He's not chipper because he's fucking dead. But I'd like to think that in my cheerful little sunshiney world, my food wants to be eaten. Am I so arrogant to believe that this fish wiggled its little tail for years, dreaming of the perfect blend of spices that would enhance his natural sweetness? Debating with his schoolmates on which cooking technique brings out his nutty flavor and flaky texture: grilling or steaming?
Well, I hope I made this little guy proud – I opted for simple, smoky and grilled. After cleaning the whole fish, I stuffed him with fresh herbs from the garden and a generous sprinkling of Maldon Sea Salt, a gift from Melinda and Dani (which by the way is now the favorite salt in the Steamy Kitchen. poor Kosher got knocked up by Cumin in a scandalous threesome orgy with Paprika. they have all been punished and are banned to the back of the cupboard until further notice. Pepper's pretty pissed.)
Grilling the whole fish on the banana leaf does 2 things:
Prevents the fragile fish from sticking to the grill grates
Adds a mellow smoky, sweet flavor to the fish
You can purchase banana leaves at most Asian and Latin supermarkets – look for them in the frozen section. If you don't have banana leaf, you can simple use a couple sheets of tin foil.
Grilled Whole Fish on Banana Leaf
Ingredients
1

whole fish

sea salt & pepper

a handful of fresh herbs (I used Thai basil and cilantro)

1

tablespoon

cooking oil

1-3

banana leaves (about 3x larger than your fish) or double layer of tin foil

twine

lemon wedges
Instructions
Preheat your BBQ grill on high for 15 minutes.

If you are using frozen banana leaf, defrost in sink in warm water, unfold.

Clean your whole fish: Have your fishmonger scale and gut the fish for you. Its a messy business to scale a fish in your home kitchen sink! Even though your fishmonger gutted the fish for you - here's an important tip. The lining of the gut area is very fishy tasting and smelling. Usually, the thin membrane is still attached. Just use the tip of the knife to scrape the tough membrane lining and pull it out. Sometimes the color is white, sometimes it is pinkish. After cleaning, with sharp knife, slash fish diagonally 3 times per side to allow it to cook more evenly (which I totally forgot to do in my photo).

Season & stuff the whole fish: Season fish inside with sea salt and freshly ground pepper. Stuff with fresh herbs - stems and all. Use twine to tie the fish so that the herbs don't fall out during grilling. Brush both sides of fish with cooking oil. Season outside with sea salt and pepper.

Grill: When the grill is hot, lay the banana leaf on the grate and gentlly place fish in the middle of the leaf. You can use multiple layers if you want. The leaf will curl and char into a wonderfully smoky brown color. Grill 6-10 minutes then carefully flip fish with a large spatula and grill another 6-10 minutes. My 1.5 pound fish took about 8 minutes per side. Check doneness by checking the thickest part of the fish - meat should separate easily and be flaky. Serve with lemon wedges.
***
Back home!

Riding the bus in Beijing traffic was a scary experience so Scott (husband) decided it was best we arranged our own ride.
It's good to be back home after 14 days of adventure, 10 airplanes, 9 buses, 4 hotels, 1 cruise ship and a canoe.We had the most amazing and memorable times – I can't wait to share photos with you! Still sorting through my 1,000+ photos (thank goodness for a digital camera!). I'll quickly share one moment with you – The Great Wall. The climb up was easy. We were warned not to be "heroes" and climb too far up.
"Aw…that warning is for wimps! I want to take a picture at the top!" So off I went up, up, up.
What the tour guide left out was the reason for the warning….you've gotta come all the way back down!
The steps were uneven and steep – which made it really hard. I had to hold the handrails and go slowly all the way back down.
Small tiny steps….GOOD!
Big fat steps….BAD!
Halfway down, I got tired and got passed by an older lady who let go of the railing to pass me and then looked back at me totally annoyed. Scott was there to capture the moment.
OUCH! I got pwned by that lady! WTF?!?!
***
Missing Saffron Winner?
Threemilechild….you have 24 hours to contact me with your address before I pick another Saffron winner! All of you who entered the contest – stay tuned – you could be the alternate winner!
Our next drawing is for Vanilla Beans! Start thinking of your favorite recipe that includes vanilla. Easy, huh? I'll post the contest in the next couple of days.
PBS Show
Was soooooo good! Had a party 6 hours after we landed – thank you to everyone who came to watch the show!! Can't wait to post the clip. Thank you to WEDU PBS and The Gulf Coast Journal with Jack Perkins for making one of my dreams come true!! Onward to the next adventure!
***
More seafood recipes:
Chinese Steamed Fish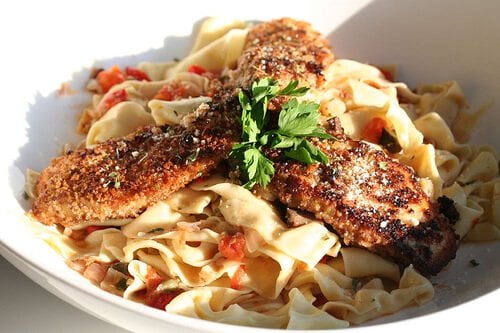 Pecan Crusted Tilapia with Honey Glaze
Killer Cajun Shrimp