I know it's a little early to think about Thanksgiving leftovers, but believe me, time goes by so crazy fast! Once the big meal is over, even after the late-night refrigerator raid (you sneak in and pick at the turkey in the refrigerator too, right?!), we'll always have more than enough leftover turkey for Turkey Gumbo.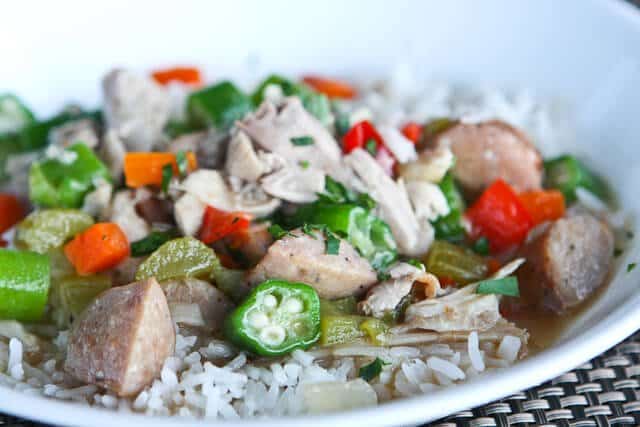 About This Recipe
Since Thanksgiving is such a big, heavy dinner, I created this recipe with restraint in mind. It's a lighter, milder version of gumbo than what you may be used to, a little more broth-y and no mouth-burning cayenne pepper or hot sauce, since the little kids will be enjoying this too (but feel free to douse your version with as much hot chili pepper as you like!)
While the ingredient list may look long, let's face it–they're ingredients that you'll probably have on hand anyways from cooking your Thanksgiving meal. Leftover turkey meat is stirred into the gumbo at the end, just to heat through.
The slow-simmered, richly flavored Turkey Gumbo served over steaming hot rice may just break the monotony of leftover turkey sandwiches this year for you too.
Making the Roux for Turkey Gumbo
Roux is cooking fat and flour over low heat to create a nutty thickener used in much of Southern cooking. It's a simple, essential step for the gumbo, but takes a little patience as you have to cook the roux over low heat and stir frequently.
Traditional recipes call for 1:1 ratio of fat to flour, but I've found that I could use less fat and still achieve the same results, though I think Paula Deen would heartily disagree with me.
I like using butter as my fat, for the most flavor. You can also use bacon drippings (yay!) or even lard (double-yay!).
4 tablespoons of butter + 6 tablespoons all purpose flour. For gluten-free version, many have recommended using potato starch or rice flour.
Use a heavy-bottomed pot for best results. Thin pots = more likihood for burned roux. Once the butter starts bubblin' a bit, sprinkle in the flour and stir.
Stir until the flour is totally incorporated. I use a silicone rubber spatula – here's why: I'm not patient enough to stand over the stove constantly stirring nonstop. So I leave the silicone spatula in the pot. It doesn't burn nor does it get hot. Every 30-40 seconds or so, I'll stir. In the meantime, I'm choppin' vegetables on a cutting board right next to the stove.
After a nearly 10 minutes, it will look smooth and the color of peanut butter. This is where I stop. By this time not only am I bored to tears, but a lighter roux makes a lighter gumbo. Feel free to keep cookin' the roux if you have nothing else to do!
I've got onions, celery, green pepper, smoked sausage and whatever bits and pieces of vegetable I have in the refrigerator, basically any unused vegetables (like carrots, red bell pepper) from cooking Thanksgiving dinner.
Everything gets simmered with a can of tomatoes and chicken broth for an hour or so.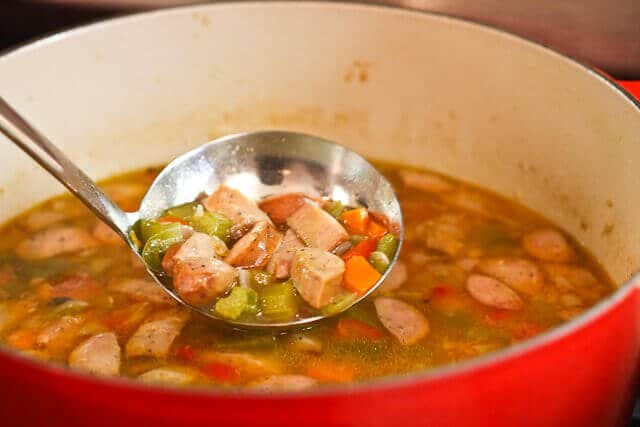 In goes the frozen (no need to defrost) or fresh okra.
At the end, stir in the cooked, leftover turkey.
Serve over rice. Isn't this Turkey Gumbo better than your 48th turkey sandwich!??
Turkey Gumbo Recipe (with leftover Thanksgiving turkey)
Don't worry about the long ingredient list, most of the ingredients are things you'll have in your refrigerator anyways, from cooking Thanksgiving feast! For gluten-free Turkey Gumbo, use rice flour, corn flour or potato starch in place of the flour.
Ingredients
4

tablespoons

butter

6

tablespoons

all-purpose flour

2

bell peppers, diced

2

stalks

celery, diced

1

onion, diced

5

cloves

garlic, minced

2

bay leaves

1/2

teaspoon

each: dried oregano, dried thyme

1

14-oz can diced tomatoes

1

pound

kielbasa, smoked or polish sausage, cut into bite-sized pieces

1

quart

chicken or vegetable broth

8

cups

water

2-3

cups

frozen or fresh okra

2

cups

cooked, shredded leftover turkey

salt and pepper to taste

small handful fresh parsley, chopped

cooked rice
Instructions
Heat a large stockpot with the butter over medium heat. When the butter begins to bubble a bit, use a whisk or wooden spoon to add in the flour, a little at a time. Continue stirring for a 2 minutes, until the flour is fully incorporated into the butter. Turn the heat to low and cook for 10 minutes, stirring every 30 seconds or so, until the roux has turned into the color of peanut butter. Make sure that the roux does not burn - stay close by!

Return heat to medium and add in the bell peppers, celery and onion and cook for 5 minutes. Add in the garlic and cook another minute or so until fragrant. Add in the bay leaves, oregano, thyme, tomatoes, smoked sausage, broth and water. Bring to a boil and let simmer for 1 hour.

Add in the okra, cook 2 minutes, then add in the cooked turkey. Taste and season with salt and pepper. Stir in chopped parsley. Serve over cooked rice.