This idea was so popular last year that I'm reposting it again! Happy New Year everyone! ~Jaden
I always say that time goes by too fast. Every. single. year. Other than this blog, I don't keep a family journal (lazy at writing with a pen and too shy to spill all our personal family stuff on Steamy Kitchen), so every year, I'm always stuck with wondering, "what happened this year?!?"
Of course, all the big memories are never forgotten, but it's the little joys, the teensy things that tend to get forgotten. This year, we've started a new tradition to do just one thing – remember the little joys all year long in a memory jar.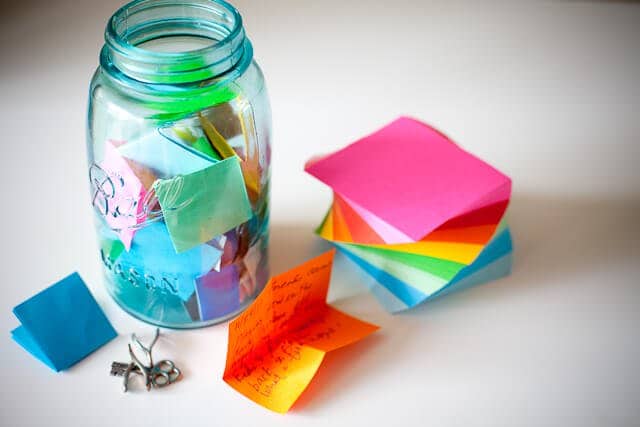 Memory Jar
We keep this vintage pale blue canning jar on the kitchen counter with a stack of colorful paper and a marker. Every few days, one of us will jot down something that made our family laugh or smile. On New Year's Eve, we'll be emptying out the jar, unfolding each paper and reading them one by one.
Next year, a new jar to begin again — and the best part is we can bring out past jars anytime to remember the little things that shaped our lives.
A memory jar is more fun than a journal – as anyone in the family can contribute to it. The best is when one of us secretly writes memory and quietly slips it into the jar. I can't wait to read some of the notes my kids have written all year long.
Inside the jar, we also keep little silver trinkets and charms. Sometimes one of us will have a bad day, need a little extra reminder for compassion or a good luck charm on a spelling test. These are little enough to put into your pocket to serve as a extra oomph of support for the day. We used to have a small heart too – I carried around the small silver heart one day and ended up giving it to a stranger I came across, who needed a little love.
The charms are indeed magical – and I encourage my kids to give them to a friend or stranger who could use a bit of magic.
If you'd like to create a memory jar, here's what I used:
Vintage mason jar – quart size: you can find these on eBay or Etsy. Try to get one with a lid so you can store each year's memory jar on a shelf. The photo below is from Mason Galore on Etsy.
The colorful notepad is from Staples – even though it looks like a Post-It note, there is no sticky backing. Just a pretty spiral of colorful paper. $3.79 for 600 sheets.
You can also use scrapbook paper and cut them into 4″x4″ squares. I love the ones that come in a giant pad from Michael's.
The silver charms were bought at a local gift shop near my home. There are so many gorgeous handmade ones on Etsy: sterling silver wishbone, faith angel wing, dragonfly word charms, copper pocket heart.
From Cartelle $28:
Another great idea I picked up from Pinterest (are you addicted as much as I am?) is to create a memory box full of index cards. Each card is stamped with Month and Day. Everyday, write a one or two liner of something that happened that day or a wonderful little memory. The key is to keep going year after year, writing the next year's memory on the the next line on the same card. So everyday, you'll be able to see what you did each year on that day.
From Design Sponge:
From Wit and Whistle –
Photos
While we're at it, here are a few more ideas that I plan on incorporating in the near year. I have way too many photos, but unfortunately, all of them are either on the camera or on my hard drive. There's just no excuse not to display them.
Printing is easy, it's the framing that's tedious. Here's a great idea that uses an empty frame, wire and clothes pin. It's so easy to change out photos and put up new ones.
I probably take more photos with my phone than my camera. Sticky Gram turns your Instagram photos into magnets. How cool. I haven't used their service yet, but I certainly plan to. Turn your refrigerator into a memory board! We have a massive magnetic dry-erase board in the craft/homework room, which will be perfect to display the photos.
Art
The kids' artwork that comes home from school normally gets displayed on the magnetic dry-erase board (I'm not a fan of sticking stuff on the refrigerator) but after seeing these ideas, I'm going to have to change it up! The kids' artwork are masterpieces and should be displayed for everyone to see!
From Oh Dee Doh A $30 project: curtain wires and clips from Ikea:
Less Than Perfect Life of Bliss says that "Home is Where Your Art Is" and I agree. She uses empty frames from the discount store and a clip to display her kids artwork. I love it.
An even better idea is to buy several large art canvases and host an outdoor art party! How cute is this!???? From J and J Home:
The last idea for today is from Fifth Wizardry: a cheap, clear shower curtain taped to the kitchen floor + markers and kids = adventure. I'd hang this in the kids' bathroom!
Would love to hear more ideas from you on how to incorporate more memories, photos and art into your life!