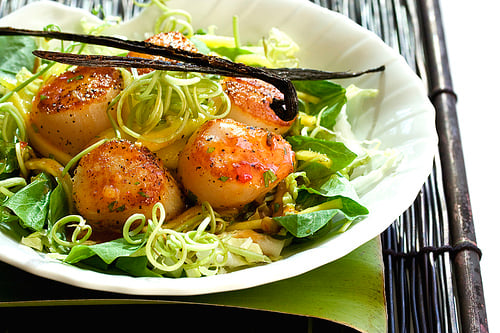 Andrew and I arrived home safely late Monday night. Our trip to Los Angeles was full of Mom's home cooking – we had Chinese hot pot, fried garlic chili crab, chicken noodle soup with rice noodles, homemade XO chili sauce, and Hainan steamed chicken. Oh it was heavenly and I ate like a madwoman. These trips back to Mom are essential to restoring my inner Asian balance.
Our flight to Los Angeles left super early from the Tampa airport, which is about an hour away. Since we rushed out of the house at 5am, I left dishes unwashed in the dishwasher from the night before. All my energy was focused on getting to the airport on time and making sure that I didn't pack my normal purse contents of hand lotion, hair spray, bottled water, weed killer, self-inflating rafts, bacterial cultures, bleach and rodent poison.You know, anything that could potentially be used as a weapon.
Back off, bucko, I can hurt you with my hand lotion. It's LAVENDER SCENTED WITH EXTRA ALOE.

Curiously, a book of matches and a lighter are permitted on flights. Hmmmm…..I wonder which government employee had a bottle of scotch under his desk while writing the rules?
So anyways, every night in L.A. at 8pm, I'd call back to talk with Scott and say goodnight to Nathan over the phone. Being the resident cook and nutritionist in the household, I naturally would ask Scott what he fed our little child while I was gone. Scott would rattle off a list of food items, and made extra effort to tell me about the
bounty of food items that were a color other than BEIGE.
"Ahhh….good. Well, I'm happy that you are feeding Nathan well," and with that, I had happy dreams of my husband in the kitchen, cooking a wonderful meal for himself and my precious 3-year old. They would sit down together at the dinner table every evening with soft Christmas music playing, eating wholesome foods and discussing the highlights of the day, like
what animals did you learn about at school.
Monday night when I arrived at home, I noticed the kitchen was spotless. No dirty dishes in the sink, no clean dishes that needed to be put away. Totally spotless. I smiled smugly, thinking, "What a loving husband…making sure that I came home to a clean house."
I opened the dishwasher and GASP!!!  The dishes in the dishwasher were dirty and THE EXACT SAME DISHES USED FOR DINNER THE NIGHT BEFORE I LEFT.
So, giving my dear husband the benefit of doubt, I'm going with 2 options here.
SCENARIO A: Scott and Nathan had for dinner the exact same menu that we had a week ago. A menu that included:
2 steak knives, one of them used to smear butter, the other to cut steak
4 large plates, each with a trace of homemade demi-glace and port reduction
6 glasses, one with red lipstick
3 salad plates, one with an arugula leaf stuck to the back
whisk coated with my special homemade poppy seed salad dressing
SCENARIO B: They ate out every single night.
hmmmmm……because I can totally see Scott, whose 'default' food is takeout pizza and microwaved chicken nuggets, standing over the hot stovetop, making demi-glace.
Well, next time I think I leave town, I might just pre-make food, freeze them in individual servings, wrap in colorful cardboard with directions to nuke. 😉
Scallop Salad with Sweet Vanilla Chili Dressing
This salad dressing recipe was adapted from a book called Asian Tapas by Christophe Megel and Anton Kilayko. I'm so in love with this dressing that I made it for my
Fried Green Tomato Salad and then added just a touch of vanilla to it for this recipe. Sweet chili sauce and vanilla is an unexpected pairing, but WOW, does it work well together. Add scallops to the salad and you have a nice, light and healthy meal.
***
Los Angeles Cooking Classes
Thank you Epicurean School of Culinary Arts for hosting my classes!! And a big thank you to all the students who attended, especially Jenny who came to both classes. I had a blast meeting so many of you in person. If you're in Los Angeles, stop by Epicurean on the corner of La Cienega and Melrose and pick up a class schedule. Owner Tina and her staff are so incredibly warm and welcoming. They've asked me to come back and teach in a couple of months – I'll keep you posted.
OMG! I'm now only 1 degree away from
Rocco. He's been to Epicurean to shoot something for TV!
***
Thank you for your votes!
at Well Fed, but sadly, I didn't win the Best New Blog (sniff sniff) but congrats to French Laundry at Home for winning both Best New Blog and Best Humor! Go check her out! Anyone who can cook an entire foie gras and shaved truffles certainly deserves a round of applause!
As for the other categories that I *really* didn't deserve to be in, like Best Photography (I mean, who could go against Bea at La Tartine Gourmande, my photog idol?!) and Best Writing (I so heart Bittersweet Blog's colorful knitting!), well maybe next year.
But still, I'm celebrating anyways and buying myself a new pair of hot-red 4″ hooker heels so that I can dance like this because I am THIS CLOSE TO A REALLY COOL ANNOUNCEMENT. And no, I'm NOT pregnant.