Hello Everyone! Welcome to our new and delightful Celestron Portable Telescope Giveaway!
This Celestron Portable Telescope is ideal for beginners. Setting up the telescope is a breeze and will have you observing in no time. Even on your first time out, you can assemble the telescope and its accessories in just a few minutes.
Read more about this Celestron Portable Telescope and enter below: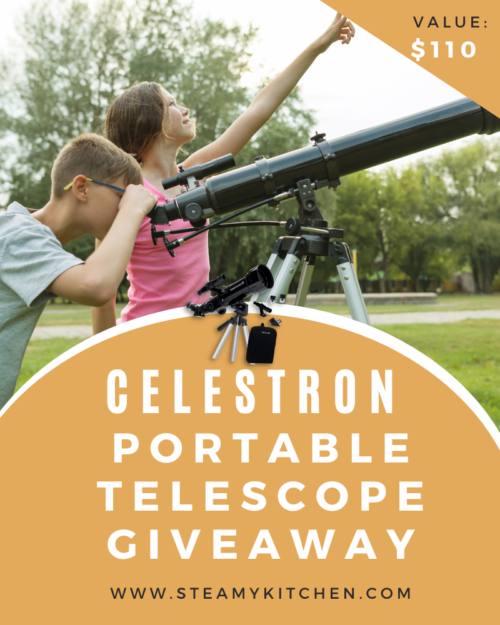 About the Celestron Portable Telescope
70mm refractor telescope with fully coated glass optics and a lightweight frame.
Custom backpack included to store your telescope and accessories comfortably.
Observe in no time with a quick and easy, no-tool setup.
Accessories include: two eyepieces (20mm and 10mm), 45° erect image diagonal, and 5×24 finderscope.
Pan handle Alt-Az control with clutch for smooth and accurate pointing.
Adjustable height tripod.
A custom backpack comes with your telescope for you to store your optical tube, tripod, eyepieces and accessories comfortably. With the telescopes' backpack, traveling with your telescope is a breeze; all the components fit inside of the backpack snuggly.
This Portable telescope can view the planets, moon, star clusters and brighter deep sky objects like the Orion Nebula and Andromeda Galaxy at night and with the erect image star diagonal makes the optical tube ideal for using as a spotting scope during the day.
Thank you for supporting Steamy Kitchen!
Starting your Amazon shopping at this link helps our small family business! We get a small commission from Amazon and it helps keep this site running free. Thank you! Jaden
Celestron Portable Telescope Giveaway!
Enter the giveaway below