Get ready to take your sewing skills to the next level with our latest giveaway – a brand new Singer Sewing Machine that will help you bring all your creative visions to life!
Read more and get a chance to win this amazing Sewing machine!
About the Singer Sewing Machine
Sew fashions, piece quilts, create crafts or do simple mending with the reliable SINGER M1500 sewing machine. Includes stitches for key sewing techniques: straight stitch, zigzag, blind hem stitch, multi-step zigzag, decorative scallop and a four-step buttonhole.

Stitches are clearly displayed on the Stitch Selector Dial. Just turn the dial to select your stitch.

Choose the stitch you want to sew, and you're ready to go. Stitch length and stitch width are preset for you, eliminating guesswork – perfect for the beginner!

Buttonhole sewing is a simple four-step process, clearly marked on the Stitch Selector Dial to help you make the buttonhole the size you need for your project.

Simple-to-follow threading guides for winding the bobbin and threading the upper thread are conveniently marked directly on the machine.

This internal rigid metal support keeps your machine stable and helps ensure long lasting durability.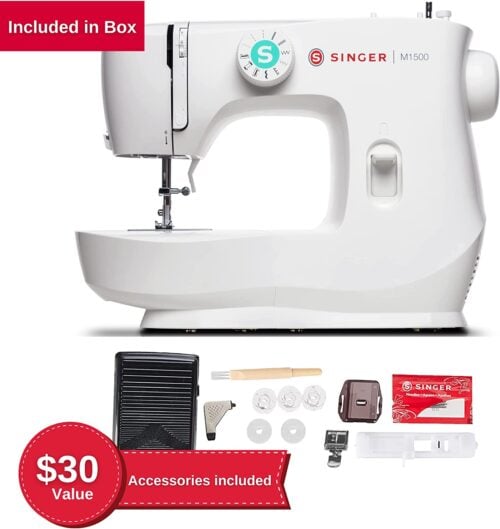 The SINGER® M1500 sewing machine is lightweight and portable, making this one a great choice for taking to sewing class or for sewing in smaller spaces. The SINGER® M1500 includes 57 Stitch Applications from zig zags to a blind hem, providing you the essential stitches for your sewing and mending projects. Thanks to the preset stitch length and width, even beginners will find this machine easy to use. Sew fashions, piece quilts, create crafts or do simple mending – you can do it all!
Thank you for supporting Steamy Kitchen!
Starting your Amazon shopping at this link helps our small family business! We get a small commission from Amazon and it helps keep this site running free. Thank you! Jaden
Singer Sewing Machine Giveaway
Enter to win below.