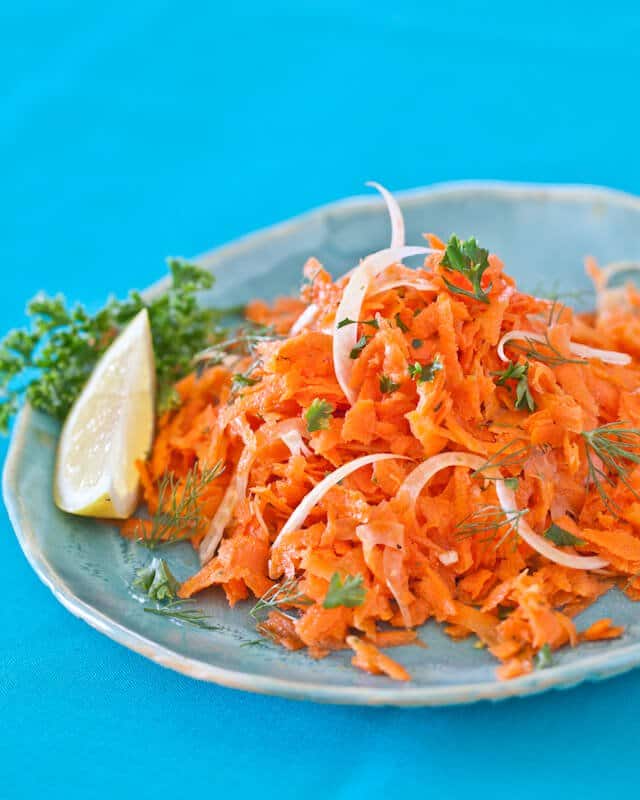 I've known Béa, author of La Tartine Gourmande blog, ever since I first started blogging. The first time I saw her blog, I was just blown away – every photo made me daydream that I was on some kind of gorgeous picnic in heaven! (they do have picnics in heaven right?!)
All these years of corresponding with Béa via email, blog, twitter and facebook, it was only last year that I finally got to meet her in person. We were both in London to speak at Food Blogger Connect – Béa brought her family along and I got to squeeze the baby toes of sleeping Lulu. Sweetness!
Béa just came out with her book, La Tartine Gourmande Cookbook and it's every bit of picnic in heaven as her blog. There are so many fresh and healthy recipes that I want to try: Beet and Quinoa Tabouli, Potato Nests with Gingered Crab and Crustless mini Quiches, just to name a few. All the recipes are gluten-free.
The dish I chose to make first is crazy simple – French Carrot Salad is grated carrot tossed with lemon juice and olive oil. I've added fresh shaved fennel from my garden and plucked a few fennel fronds to add to the salad.
It's absolutely refreshing. Picnic in heaven food.
French Carrot Fennel Salad
Fennel in my garden:
Have a taste of the fennel fronds (the green stuff) and it's amazing – AH-MAZE-ING raw in salads. Don't throw it away! In fact, I grown the fennel in the garden specifically for the fronds. Every time I make salad, I just pinch one little stem off and mince for the salad.
The bulb, shaved and added to a salad gives an nice crunch and light anise flavor.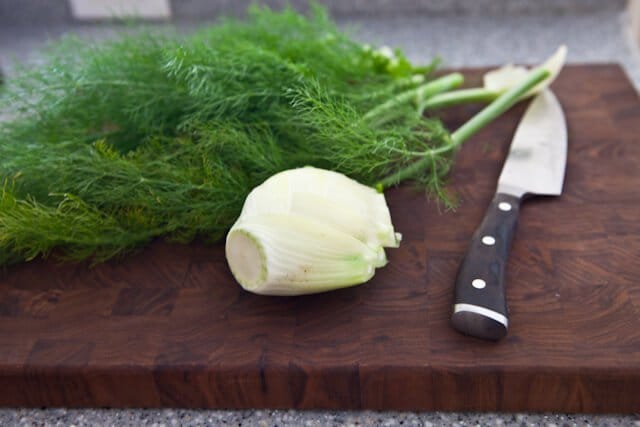 Slice the bulbs very thinly – I used a mandoline, but feel free to just use a sharp chef's knife.
Whisk together the dressing ingredients – lemon juice, salt, pepper, olive oil, fresh parsley and a few pinches of fennel fronds.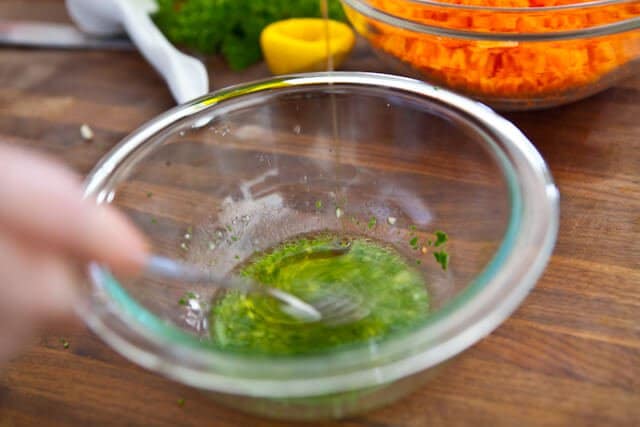 Toss with grated carrots and fennel bulb.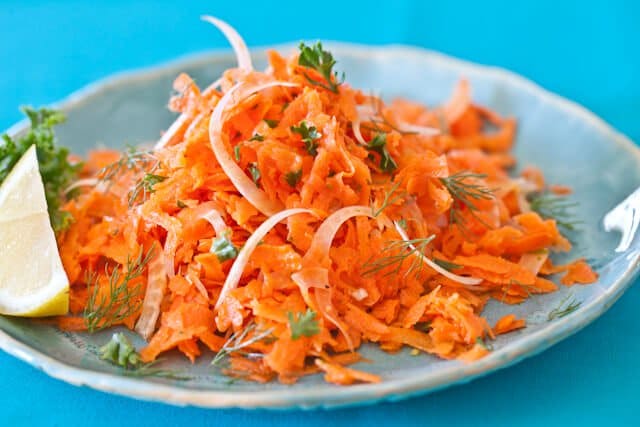 French Carrot Fennel Salad
From La Tartine Gourmande Cookbook by Bea Peltre
Ingredients
1/2

fennel bulb + fennel fronds

1

tablespoon

chopped fresh parsley

sea salt and pepper

1/4

cup

fresh lemon juice (about 1 large lemon)

1

clove

garlic, minced

6

tablespoons

olive oil

3-4

large carrots, peeled
Instructions
Pick a few fennel fronds to make 1 tablespoon. In a bowl, whisk together the fennel fronds, parsley, salt, pepper, lemon juice, garlic and olive oil. Set aside.

Use the large holes of the box grater to grate the carrots. Use a mandoline to shave the fennel bulb (or slice very thinly with chef's knife).

Toss together the carrots, fennel bulb with the dressing.