I've known Giuliano, Lael and the girls since their early days of the blog. The Hazan's live in Sarasota, Florida, just a few minutes hop down the interstate from us. If you're not familiar with Giuliano, I'm sure you've heard of his mother, Italian cooking doyenne, Marcella Hazan, whom I was lucky enough to spend time with a couple of years ago.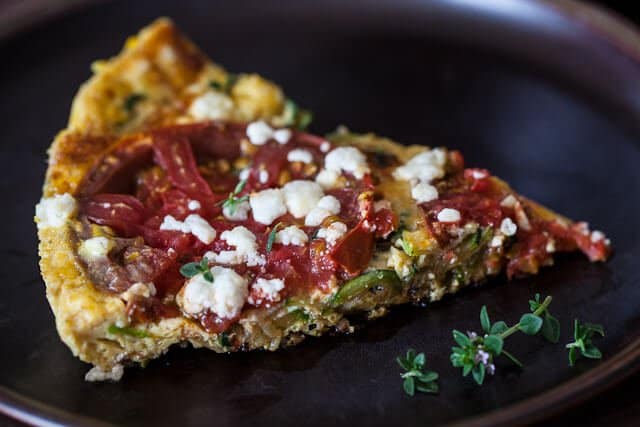 Giuliano, Lael and I have crossed paths many times, though usually it's is a quick "hi!" at the IACP conferences or other blogging conferences. We've dined at their house and they at ours – I'm in love with their girls, Gabriella and Michela, who love their pastas almost as much as their papa.
Giuliano just came out with a new book, Hazan Family Favorites, featuring recipes from his childhood and new recipes that he loves to make at home with the girls. The dishes are unfussy and simple to prepare – most recipes have just a handful of ingredients and 3 steps. My favorite part of the book was reading the family stories and watching Giuliano grow up with Marcella and Victor through photos!
This morning's eggs from our hens and a giant zucchini from the garden went into the Frittata with Zucchini. We added a super-ripe heirloom tomato, also from our garden and finished it off with goat cheese crumbles (sadly, not from our homestead, though one day….maybe…a goat or two)
Zucchini Frittata Recipe
The zucchini is best sliced on a mandolin – the one I *love* is the handheld mandolin by Oxo for $14.99. It's lightweight, under $15 and requires no setting up.
Gorgeous heirloom tomato from my garden – I don't remember the name of this tomato, but it ripens to a deep dark red/black color.
The onions are caramelized with just a pinch of sugar. The sugar helps speed up the caramelization by half the time.
Sliced zucchini is added to the pan and cooked until soft.
Those pretty eggs are from the hens – we used 5 of them. Whisk the eggs well.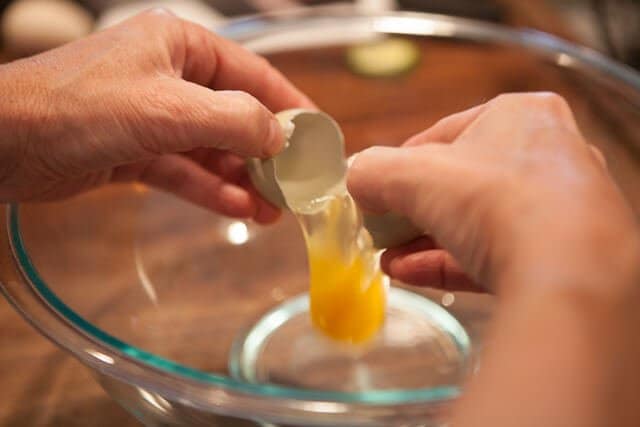 In the pan, pour in the eggs, throw on the tomato slices and dot with crumbled goat cheese. Bake.
Great for breakfast, brunch, lunch or dinner.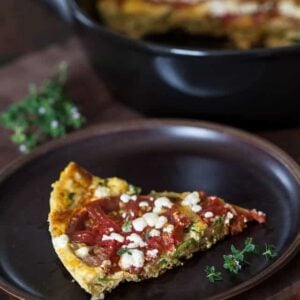 Zucchini Frittata Recipe
Recipe adapted from Hazan Family Favorites by Giuliano Hazan. Adding just a pinch of sugar to the onions will speed up the caramelization. After the frittata is cooked, let it cool before cutting into it -- it's easier to cut nice, clean slices when the frittata has had a chance to cool. I like to serve frittata warm (not hot).
Ingredients
1

onion, sliced

3

tablespoons

butter

1/8

teaspoon

sugar

12

ounces

zucchini (1 large zucchini or 3 small zucchini)

salt and freshly ground black pepper

5

eggs

sprig of fresh thyme (or 1/4 teaspoon dried thyme)

1

tomato

4

ounces

goat cheese
Instructions
Heat a nonstick pan over medium heat and add the butter. When the butter starts bubbling, add the onion. Sprinkle in the sugar. Saute the onion until carmalized, about 8-10 minutes. Take care not to burn the onions.

While the onion is sauteeing, slice the zucchini very thinly (1/8" thick) using sharp chef's knife or a mandolin. Cut the tomato into 1/4" slices. When the onion is ready, add the zucchini and season with salt and pepper. Cook, stirring occassionally until zucchini is tender and has just started to brown.

In a large bowl, beat the eggs with the thyme; Preheat the broiler and set the rack to about 8-10 inches below the heating element.

Once the zucchini is cooked, pour in the eggs. Top with sliced tomatoes and dot with crumbles of goat cheese. Cook for 6 minutes.

Place pan under broiler for 2-3 minutes until the top is lightly browned. Let cool for 10 minutes before slicing. Serve warm or at room temperature.