Braised Tofu with Ground Pork
I must be feeling a little homesick lately, I've been making Chinese homestyle dishes that my Mom would cook. Tofu has always been a regular staple at our house, Mom would serve it about once a week. Tofu USED to be inexpensive years ago – but that was before it was being marketed to the American market. Tofu companies never had to "market" to the Asian crowd – we have always loved it!
At some Chinese markets (and all of Asia), you can buy freshly made tofu – large blocks would be submerged in water, and you scooped out what you wanted.
Did you know that not all tofu tastes the same? There are big differences in taste and texture (I know some of you are saying, "what, not all tofu is BLAND!?") My favorite brand  that is easily found in most regular grocery stores is Nasoya. Here's Serious Eat's Tofu Taste Test.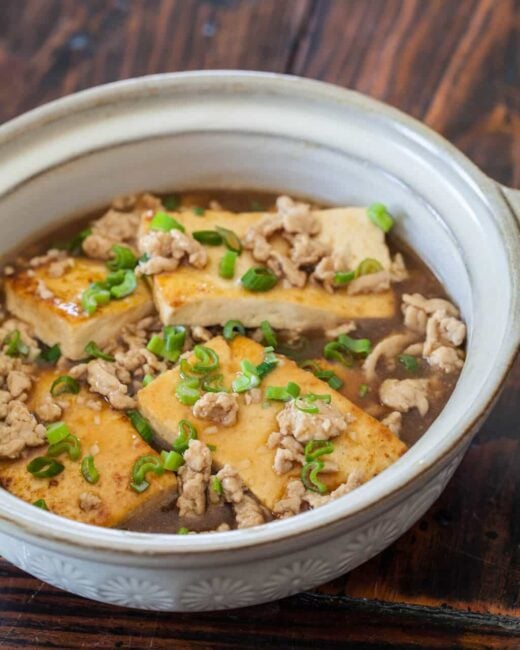 For this recipe, make sure you buy Firm or Extra Firm Tofu. Anything softer will fall apart in the dish.
Chinese Braised Tofu with Ground Pork Recipe
Servings: Serve 4
Prep Time:15 minutes
Cook Time:15 minutes
Ingredients:
1 block firm or extra firm tofu
salt and freshly ground black pepper
1 tablespoon cooking oil
1 pound ground pork, beef, turkey or chicken
1 clove garlic, very finely minced
1 teaspoon grated fresh ginger
1 cup chicken broth
2 tablespoons oyster sauce
1 tablespoon soy sauce
1/4 cup cool water
1 teaspoon cornstarch
1/2 stalk green onion, chopped


Directions:
1. Drain the tofu and place on towels or paper towels. To get rid excess water in the tofu, place another towel on top of the tofu, then place something flat and heavy (like a cutting board or a cast iron frying pan) on top. You can weigh the cutting board down by putting a couple of cans of soup on top. Let sit for 10 minutes. Cut the tofu into several slices 3/4" thick. Season on both sides with salt, pepper.
2. Heat a wok or large saute pan over medium-high heat. When hot, swirl in the cooking oil. Very carefully and slowely slide in the tofu slices in one layer. Fry for 1 minutes, then flip to fry the other side for 1 minute until both sides are browned. Remove the seared tofu to a clean plate.
3. To the same wok, add in the ground meat. Saute until browned, about 2 minutes. Add in the garlic and the ginger and stir fry for 30 seconds.
4. Add in the chicken broth, oyster sauce and soy sauce. In a small bowl, whisk together the water and the cornstarch. In the wok, stir in the water and cornstarch mixture and bring everything to a simmer. Add the cooked tofu back in the pot. Lower the heat to medium-low. Let simmer for 5 minutes, until thickened. Mix in green onion. Serve with rice.