Grilled Chicken with Blackberry Sweet and Sour Sauce
We don't get many choices in Chinese restaurants in my town – all the joints are a jumbled mish-mash of Americanized Asian food and they all serve sushi (because it sells really well with high profit margins).
Last week, we went to one for lunch and Andrew ordered Sweet and Sour Chicken. The chicken was deep fried and the sauce served on the side was neon orange. There is no food item that I can think of that should come in this blinding shade of orange. My iPhone buzzed and flickered when the plate came to the table. I should have tested it for radioactivity.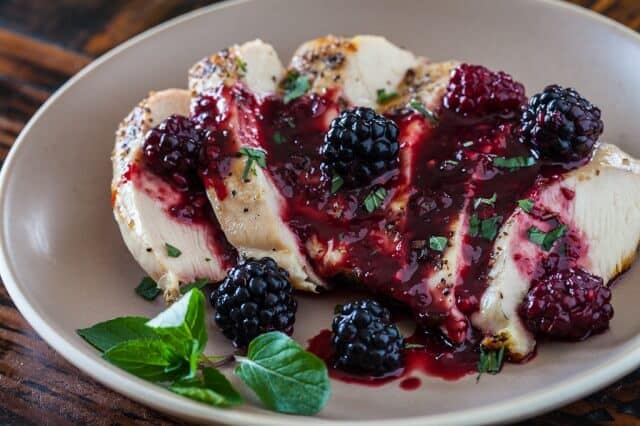 Unfortunately, Andrew loved it (he's his Father's son) and asked me to make it at home. So here's my version of a healthier, fresher Sweet and Sour Chicken with a delicious sweet, tangy sauce made with fresh blackberries.
The recipe was inspired by my friends at Driscoll's Berries, who had invited Scott and me to Northern California to sample some fresh berries straight from the field. I promised to create a recipe using their plump blackberries! (see below the recipe for more photos from our trip)
Chicken Breast Tip
I'm a big fan of brining chicken breast and lean pork for grilling. It helps the lean meat stay super-moist and tender. Normally, I'll place the meat in a brine mixture overnight, but I've also had very good results in just an hour. If I'm short on time, I'll make sure that my chicken or pork is cut no more than 1″ in thickness. For chicken breast, I'll butterfly the breast.
To brine for this recipe – Grab a big bowl (or use a soup pot) dissolve 3 tablespoons sugar + 4 tablespoons kosher salt* in 1 cup of boiling water. Once the salt and sugar have dissolved, fill the bowl with cool water and ice cubes – enough to make 8 cups of water total. Once the brine mixture is ice cold, add in the chicken. Refrigerate at least 1 hour or up to overnight.
*If you are using regular table salt, use 2 tablespoons instead. Kosher salt is about 2x the size of table salt.
Grilled Chicken with Blackberry Sweet and Sour Sauce Recipe Video
 ***
Grilled Chicken with Blackberry Sweet and Sour Sauce Recipe
Servings: 4
Prep Time:5 minutes
Cook Time:15 minutes
Driscoll's Visit!
we got married at Pebble Beach 10 years ago!
Our tour of the Driscoll's HQ was so fun! Scott and I got a chance to sneak away for a few days to California. Our tour included stops at various facilities and farm operations. We walked the rows of the strawberry fields and tasted different varieties of strawberries that they were testing.
One of the most important things that learned was all the effort Driscoll's puts into food safety. Because their berries come from contract farms from all over the world, they have very strict guidelines and checks to ensure that the berries are in the best condition and are safe. What I loved most: the berries are only touched ONCE. The picker packs directly into the clamshells.
As big as Driscoll's is, they are very family focused – in fact, their vision is: "to become the world's berry company, enriching the lives of everyone we touch." 
Part of our adventure was at a location that Scott and I are very fond of – Pebble Beach Resort. Ten years ago, we got married there! The resort hosted the annual Pebble Beach Food & Wine Festival and we were treated to an entire afternoon of sips and nibbles.
Oh – and look who I got to hang out with!!! Cutie patootie Caleb.