*I recently posted this recipe with the LG Oven Giveaway (hey, I'm giving away an oven!!!) and updated this recipe to include a video on how to make these yummy ribs. ~Jaden
The nearest good Korean BBQ restaurant is over an hour drive away, simply too far when the best accompaniment to Korean BBQ is several super-cold OB beer alternating with sips of chilled soju (Korean rice alcohol, like Japanese sake).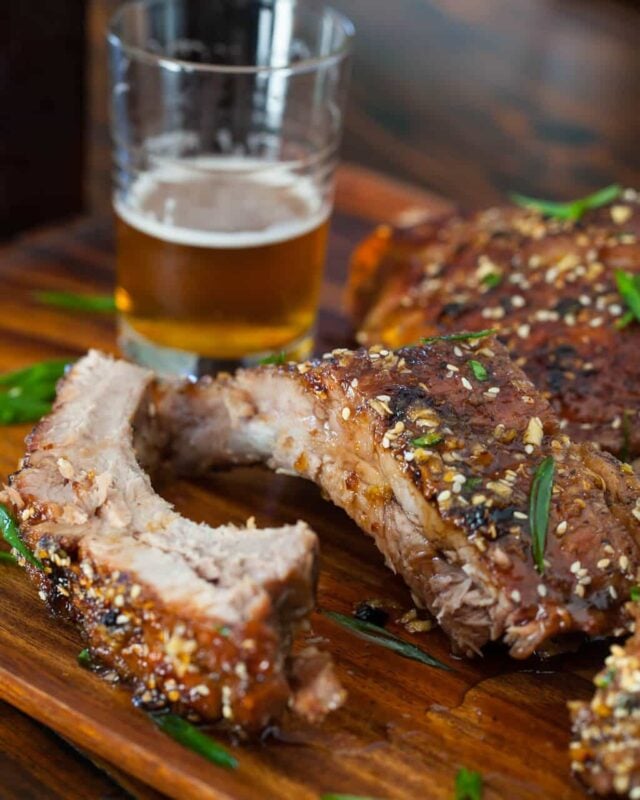 That's why we love making Korean food at home, but it also means that I have to modify ingredients and cooking methods a bit. You might be more familiar with Bulgogi, a popular Korean BBQ dish that features shaved rib-eye beef slices marinated in mixture of soy sauce, brown sugar and sesame seeds. But the lesser known dish is Kalbi, or thinly sliced bone-in beef short ribs flavored in a similar marinade. Bulgogi and Kalbi are both cooked over an open flame – usually hot charcoal set in the middle of the table!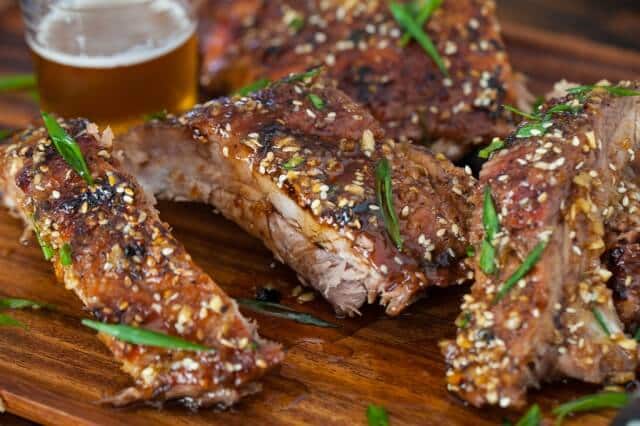 I've modified the Kalbi recipe to use pork baby back ribs, since my grocery store doesn't carry the short ribs cut like this. Regular beef short ribs that are available are too chunky and clunky to eat by hand. Baby back ribs are perfect – tender, flavorful and simple to cook.
Oh, and I'm not about to carve out the middle of my dining table to install a charcoal grill, so we're going with a simpler technique – the oven.
To avoid a big mess in your oven, use a roasting pan that's at least 2″ tall and also use tin foil, which keeps the juices in with the ribs.
Korean Kalbi Baby Back Ribs Recipe Video
Korean Kalbi Baby Back Ribs
Ingredients
6-7

pounds

baby back ribs

salt & freshly ground black pepper

1/2

onion, grated

3

cloves

garlic, finely minced

2

teaspoon

grated fresh ginger

2

tablespoons

honey

1/4

cup

brown sugar

1/4

cup

soy sauce

1

tablespoon

sesame seeds

1

teaspoon

dark sesame oil

1

stalk

green onion, chopped

2

tablespoons

rice vinegar (or white/cider vinegar)
Instructions
(optional) Using a butter knife to pry it up, separate the membrane from the back of the ribs and discard.

Generously season both sides of the ribs with salt and pepper. Wrap the ribs in foil, meaty side up and seal completely. Bake for 90 minutes.

To make the Korean Kalbi sauce, mix together the remaining ingredients in a bowl.

After the ribs are cooked, remove from the oven and carefully open up the foil -- be careful of the hot steam! Slather 3/4 of the Korean Kalbi sauce on the tops of the ribs. Place the oven rack in the top third of the oven and heat the broiler to high.

Put the ribs back in the oven, foil still open, and broil until the sauce bubbles and carmelizes, about 3-5 minutes. Keep a watch on the ribs – it's so easy to burn them! Just before serving, pour the remaining Korean Kalbi sauce on top of the ribs.