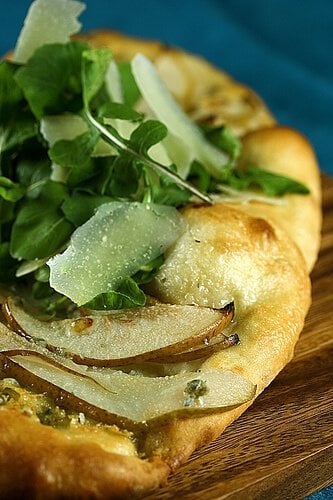 Opportunity Cost…Revised…
I've written about opportunity cost of eating out last year, and re-wrote the post with a brand new recipe for my newspaper food column this week…
Before we had children, my husband and I used to eat out no fewer than 3 times a week. Our evenings wouldn't even start until Seinfeld ended, and it wouldn't be uncommon for us to have dinner reservations at 10pm. We'd easily spend $300 in an evening for just the two of us, because that's just the kind of thing that irresponsible yuppies living large during the dot-com boom did. I'm not ashamed of the thousands of dollars that we threw in the entertainment bucket, because short of stumbling upon a long lost millionaire father, this kind of lavishness won't come around for another 15 years, 4 months and 27 days. And that's only if my youngest graduates high school on time.
I love my 2 chubby-cheeked dumplings very much, but the truth is, the financial responsibilities of parenthood suck. Date night with husband is now a very different reality. It's the expense of dinner plus gas plus cost of babysitter. Cha-ching! $190 is easily spent in just a few hours, and really, was the trio of fancy flatbreads, gelato, so-so service and 2 glasses of house wine really worth it?
In case you recall high school economics, let's calculate my opportunity cost: For $190 I could have bought: each kid a pair of new sneakers, 2 killer shredded pork burritos from the Burrito Stand, a frozen CPK barbeque chicken pizza, a pair of summer flip flops for each of us, a quart of pistachio gelato, fresh roasted coffee beans shipped from Caffe Roma in SF, a trip to the library, giant bottle of Bariani olive oil, a week's supply of organic vegetables from the farmer's market, gummy bear vitamins, 2 McDonald's Happy Meals, a day pass to Sarasota's Jungle Gardens and a bucket of worms. These are all favorite things that we cherish, make us giggle with delight and gladly fork over hard-earned money for.
As for the fancy flatbreads that I had ordered at the restaurant, it was easily duplicated at home. Sure, I didn't have an inattentive waiter at my beck and call, but the joy of a spontaneous pizza dough sling-fest in the middle of the kitchen with the kids was definitely priceless.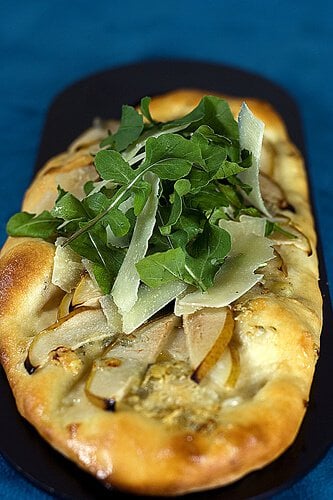 This dough recipe is from
Artisan Bread in Five Minutes a Day
, definitely the most used book in the Steamy household in 2008! You don't have to make the dough yourself – if you're short on time, grab some fresh pizza dough from your supermarket or favorite pizzeria.
If you haven't bought this book, grab it now! It's been on backorder forever due to it's popularity and finally the book is in stock! This No-Knead Pizza Dough is just one of over 100 recipes (all dough recipes are No-Knead). Best part of the dough is that you can make a batch, keep in refrigerator for up to 2 weeks and pinch off a chunk of dough for a spontaneous flatbread. The ingredients for flatbread can be as simple as a brush of olive oil and a sprinkle of sea salt.
No Knead Pizza Dough (Olive Oil Dough Master Recipe)
My notes: I love the flavor of the dough when it has the chance to chill out in the fridge at least overnight. I also use only half the yeast – the longer you let it sit in the fridge, the less yeast you need to use. So, if I'm looking to make the flatbread same day as I make the dough, I use the full 1 1/2 tbl yeast. If I am making the dough and letting it hang in the fridge, I'll only use half the yeast. Half the yeast will be sufficient when you give it time to do it's thing, and it will taste less "yeasty."
From Artisan Bread in Five Minutes a Day
Makes 4 1lb loaves. This recipe is easily doubled or halved
2 3/4 cups lukewarm water
1 1/2 tbl granulated yeast
1 1/2 tbl salt
1 tbl sugar
1/4 cup extra virgin olive oil
6 1/2 cups unbleached all-purpose flour
1. Mix the yeast, salt, sugar and olive oil with the water in a 5-qt bowl, or a lidded (not airtight) food container
2. Mix in the flour without kneading, using a large wooden spoon.
3. Cover (not airtight) and allow to rest at room temperature for about 2 hours. You can use the dough at this point, or refrigerate and use over next 12 days. If you refrigerate at least overnight, you'll develop better flavor in the dough. If you only want to make 1 flatbread, just pinch off a grapefruit sized piece of dough to use…keep the remaining covered loosely in the refrigerator. You can freeze the dough as well…but I haven't tried it, because honestly, it's so good that the dough never goes unbaked for more than 4 days.
Pear and Gorgonzola Flatbread with Baby Arugula and Shaved Parmesan
If you have a pizza peel and a quick wrist, feel free to use that to shuffle the pizza into the oven. I'm not that coordinated – hand-eye coordination gene missing.. The key to great flatbreads to stretch the dough thin, a light hand in toppings and very fresh ingredients. It's important to pre-heat your oven and your baking sheet – the hot baking sheet will help cook the dough faster. If you have a baking stone, the flatbreads will cook more evenly and faster.
For my GF friends, substitute the pizza dough with your choice of GF friendly dough, tortilla or flatbread.
Makes 4 large flatbreads
1 lb fresh pizza dough
2 pears, sliced thinly
1/2 cup gorgonzola cheese
a nice chunk of good quality Parmigiano Reggiano, shaved with vegetable peeler
1 cup baby arugula leaves
¼ cup extra virgin olive oil
flour, for dusting
Dust surface of dough with flour. Divide dough into 4 equal pieces. Stretch surface of dough on each side and tuck under, creating a round, ball with a taut surface. Flatten dough ball a little. Keep the dough covered until ready to use. If using cold, refrigerated No Knead Olive Oil dough (above), let the dough balls relax and warm up for 30 minutes on the counter before trying to roll or stretch out (it's hard to stretch cold dough.) If using room-temp pizza dough, you may proceed to next step.
You'll bake 2 at a time. Dust surface of dough and work surface with flour. with your hands, carefully stretch into a long, thin, oval shape, about 16″x 6″. The thinner you can get the dough without tearing, the better. You can use rolling pin (esp if your dough is still a little cold). If dough is difficult to stretch or roll, let it sit and relax for 10 minutes. Repeat with remaining. Cover loosely with towel.
20 minutes before you want to bake you'll want to preheat your oven and your baking sheet. Crank up your oven to its highest setting (usually most ovens go up to 500F) and insert an inverted baking sheet.
Remove the hot baking sheet from oven and set your flatbreads on top, side by side. Work quickly and carefully. Brush surface with olive oil and layer pears and gorgonzola on top. Bake in oven for 7-10 minutes (keep your eye on the flatbread!) until top and bottom of flatbread is golden brown. Remove and repeat for remaining 2 flatbreads. Top with baby arugula and shaved parmesan.
***
The Original No Knead Bread
No-Knead Sticky Pecan Caramel Cinnamon Rolls
No Knead Nutella and Roasted Hazelnut Challah