My new obsession: vegetable spiralizers! My friend Cheri from The Watering Mouth introduced me to this amazing recipe for Zucchini Pasta with Creamy Avocado Sauce and ever since we've been pulling out all my different spiralizers that I've collected and we've finally done a really thorough comparison.
You can get a great idea of what they all do and which one might fit your needs. Below are some affiliate links below so you can purchase one yourself if you've found one that you'd like to try!
Spiralized vegetables like carrots, zucchini, radishes or potatoes are a really great way to get in your vegetables in a much more creative way. (Sometimes we need all the help we can get!) You can substitute these for pasta in your favorite recipe to make a lower carb, lower calorie, more nutritious version, or you just deep fry them for a naughtier, fun treat!
Spiralizer Comparison Video
Update: Paderno just released a new spiralizer – called Paderno 4-Blade Spiralizer. Watch this video first and I'll give you my thoughts on the new version below.
Spiralizer Product Update
10/1/14 update: The new Paderno 4-Blade Spiralizer just came out and I had a chance to demo it my Daytime TV segment yesterday. It works similarly as the 3-blade version, but comes with an extra rod that lets you make those fancy potato chip spirals that you buy at carnivals.
Includes four blades that cut flat ribbons or spiral noodles in three widths, from thin angel hair spirals to thick spirals, plus a piercing rod to make accordion-style cuts
The price on Amazon is $49.95 (vs. $34.95 for the 3-blade version). This one is just as easy to use wastes less vegetable. Before, when you made zucchini noodles "zoodles" the core of the zucchini would be wasted (see in the video above).
The new 4-blade version has a different vegetable holder at the end (right next to the blade to hold the zucchini still) so there is very little waste – the core is used in the spiral. However, smaller vegetable holder means the zucchini slips out very easily. The older version has a larger holder – it grabs the zucchini better.
Is this new Paderno 4-Blade Spiralizer worth an extra $15?
Do you like skinny spirals? The extra blade is the "angelhair blade" great for carrots, daikon and cucumber to eat raw in salads or toss in a stir-fry.
Do you like carnival spiral potato chip thingies?
If yes, then get the Paderno 4-Blade Spiralizer.
If no, then one more question. Fat or skinny zucchini? If you are lucky to find fat zucchini, the older, 3-blade version holds the zucchini in place better with its wider holder (next to blade). However, the wider holder means the core of the zucchini ends up as waste (see the video above). It's no big deal for me, I just eat it or chop the core for a salad. The core that's wasted is about 1/2″ diameter. Get the Paderno 3-Blade.
If you normally use skinny zucchini (less than 2″ diameter) then it might be worth it to get the Paderno 4-Blade machine, so you don't get any core waste.
Types of Spiralizers
The new Paderno 4-Blade Spiralizer:
The Paderno 3-Blade Spiralizer:
NEW: Mastrad Veggie Spiral Slicer
Makes thinner spirals, works just like a "pencil sharpener" but I don't think it cuts as well as the Paderno. The zucchini noodles are wide, but too thin.
Yummy Spiralized Veggie Recipes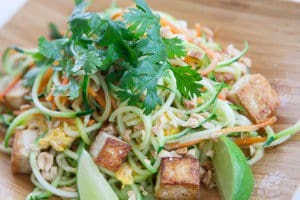 Pad Thai Zoodles by Steamy Kitchen
Lemon Cucumber Noodles with Cumin from the Civilized Caveman
Zucchini Pasta with Sweet Pepper Marinara from OhSheGlows.com
Garlic-Zucchini Pasta from Kansas City Mamas
Roasted Carrot Pasta with Beets from ATX Gluten Free
Raw Pad Thai from Fragrant Vanilla Cake
Zucchini Noodles with Pesto from Green Plate Rule
Zucchini Pasta with Creamy Avocado Sauce from The Watering Mouth