It's no secret that good Pho broth requires a gazillion hours of simmering time. Time that I just don't have. Tony, a boyfriend from a lifetime ago, told me his Dad used to simmer giant vats of pho broth overnight for his little pho restaurant in Houston. So, one day, I thought it would be really genius to do the same. Dump a bunch of beefy, tendony, knuckley, marrowey bones into the largest stockpot that I have and let it simmer away while I slept.
It didn't quite work out as I had intended:
11:30pm Initial hard boil of the bones to get all the yuck, guck and scum off. Char ginger and onion.

11:38pm Dumped out water, added clean water, the clean bones, spices, ginger and onion. Let the dance begin.

11:45pm Nighty-night

12:35am Is the flame low enough? Maybe I need to check to see.

1:23am Hmmm…I smell something funny. Go check.

2:41am What if it boiled over? Go check.

3:24am What if there's a gas bubble in the pipe and the the stove spontaneously bursts out in big flames? Maybe I should sleep on the couch closer to the kitchen.

4:45am Gosh I'm hungry. Sneak a big spoonful of Ben & Jerry's Pistachio Ice Cream.

4:51am Did I forget to put ice cream back in freezer? What if the gas bubble really does happen and stove spontaneously bursts out in flames? Then sleeping on couch is a dumbass idea. Crawl back to bed.

6:00am Kids wake up. Jumps up and down on my belly trying to wake me up.

6:15am PHO-KING TIRED
Enter the Slow Cooker
A few weeks later, I was contacted by the peeps at Crock-Pot® The Original Slow Cooker <- yes, they are insanely paranoid about me using their correct trademarked name, so much that they've given me very specific instructions 4 separate times on how to properly spell/mark their product names.) They sent me their new eLume Crock-Pot® Programmable Slow Cooker with Touch Screen Technology to test.
<- shiny, pretty and fancy. Oh crap, I forgot the ™ after eLume™.
It's the perfect size (6.5 quarts) for a big mean mama pot of PHO!!!
Oh yeah, baby! It solves my problem of paranoia when leaving stove on all night.
What I love about the eLume™ Crock Pot® is© its™ lighted™© touchscreen®™©. Just a light tap is all that you need and it's totally programmable from 30 minutes to 20 hours of cooking time. You can also set it to start cooking at a certain time, but when making my Crock Pot Pho Recipe, I don't recommend a delayed start time since we are working with raw meat bones.
How to make Crock Pot Pho
Whether you use the Crock Pot Pho method or the traditional stove top method, there are a couple of steps that you'll need to do before throwing it all in the Crock Pot or slow cooker. Namely, toasting the spices, grilling the onion/ginger and pre-boiling the bones. These aren't absolutely necessary steps…you'll still make great pho…BUT these extra steps will make the difference between good pho and pho-bulous pho.
Toasting the Vietnamese Pho Spices
You can buy Pho spices at most Asian supermarkets – you can buy the spices separately (coriander seeds, cloves, cinnamon, star anise, fennel and cardamom pod) or purchase them already mixed up in a package (which also includes a small mesh bag). The quality of these pre-mixed spices are just okay – but sometimes it's just convenient to pick up a bag, not to mention much cheaper if you don't already have many of these spices. A Pho spice pack will typically sell for $1-$3.
This day that I made the Crock Pot Pho, I used individual spices. I didn't have cardamom pod. So yes, if you are missing one of couple of the spices, it's okay. To get the best flavor from these spices, you'll toast them in a dry skillet.
Grilling Ginger and Onion
This is a totally optional step, but it really gives the ginger and the onion a deep, sweet, mellow flavor. When I'm making Pho the traditional stovetop way, I'll char them in the broiler. But with the crock pot method, I didn't want to use the oven at all. After toasting the spices (above) in a frying pan, I add a bit of oil and grilled the onion half and thick ginger slices.
Pre-Boiling the Bones
Knuckles, leg bones with lots of marrow are the best for making soup. The marrow will also make the soup rich and thick. The bones are pre-boiled for a few minutes on high heat to clean the bones and get rid of the nasty scum.
You'll bring a big stockpot of water to a boil on high heat. Add the bones and boil hard for 10 minutes. You'll see brownish scum rise to the surface. If you hadn't taken the time to pre-boil the bones, all that scummy stuff ends up in your soup.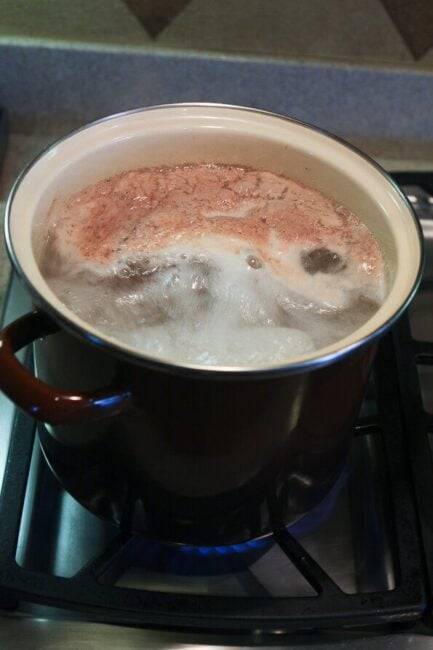 <– nasty pho-reaky scum
Drain, discard the scummy water and briefly rinse the bones.
Now you'll add the spices, ginger, onion and bones to the slow cooker.
Fill with fresh, clean, cool water about 1-1/2 inches below the rim. Set your slow cooker on low for 8 hours. I haven't tried this method on high, but I'm sure it would be just fine.
So let this cook during all day while you're at work or at night while you sleep and you'll be rewarded with the cleanest, best tasting pho soups ever. Because the slow cooker doesn't let the stock boil hard, it's safe, easy and convenient.
Here's what the stock looks like when it's been cooking for 8 hours on low. Notice that the level of the liquid is still pretty high. The low, even setting doesn't evaporate the precious liquid as much as a stove top can. The stock is strained before serving.
Other Pho Ingredients
I used different ingredients than my previous version of traditional Vietnamese Pho and I wanted to highlight them. Instead of using dried rice noodles, I used fresh rice noodles found at Asian markets, in the refrigerated section because all these need is a quick dip in boiling water. Very fast!
I also bought a package of Vietnamese Beef Balls (called Bo Vien Dan). There are all sorts of balls – beef, pork, chicken, fish, crab, and my favorite – beef tendon. They come frozen in a package and they are pre-cooked, so all you need to do is throw the frozen balls into the same pot of boiling water as you cooked your noodles in. Just boil for a couple of minutes until the beef balls are heated through. I like cutting these beef balls in half, so make them easier to eat. It's not so pretty trying to stick an entire beef ball in your mouth. Unless…you're like really into that.
***
***
[cft format=0]
Crock Pot Pho Recipe
This is a recipe for a 6.5 quart (or larger) Crock Pot. Any smaller really isn't that great - you won't get enough stock out of it...because the beef bones are really chunky and big. The thinly sliced meat for the bowls may be easier to slice if you freeze the chunk of meat for 15 minutes prior to slicing. You really want them as thin a possible. You can also do what I do - palm your butcher a $5 bill and he'll slice the meat for you on his fancy slicing machine.
Ingredients
For the Pho Stock:
4

pounds

beef bones

1/2

onion

4

inch

section of ginger, sliced

1

package

Vietnamese Pho Spices (or as many of these spices as you have: 2 cinnamon sticks, 2 teaspoons whole coriander, 1 teaspooon fennel, 3 whole star anise, 3 whole cloves, 1 cardamom pod)

9

cups

water

2 1/2

tablespoons

fish sauce or to taste

1

teaspoon

sugar
For the Pho Bowls:
16

ounces

fresh or dried rice noodles

1/2

pound

flank, london broil, sirloin or eye of round steak, sliced as thinly as possible.

11

ounces

Vietnamese beef balls, cut into half
For the table:
1-2

limes, cut into wedges

fresh herbs: cilantro, Thai basil, mint

2-3

chili peppers, sliced

2

big handfuls of bean sprouts

Hoisin sauce

Sriracha hot chili sauce
Instructions
Bring a large stockpot with water to boil over high heat. When it comes to a rolling boil, add the beef bones and boil vigourously for 10 minutes.

In the meantime, heat a frying pan on medium-low heat. Add the Vietnamese Pho Spices and toast until fragrant, about 2-3 minutes. Dump the spices to the empty Crock Pot or slow cooker immediately. Return frying pan to medium-high heat and add 1 tablespoon of oil. When the oil is hot, add the ginger slices and the onion half. Cook until the ginger is browned on both sides and the onion half is nicely browned and softened. Add the ginger and the onion to the Crock Pot or slow cooker.

When the bones have been pre-boiled, drain, discard water and rinse bones briefly to clean them. Add the bones to the Crock Pot or slow cooker. Fill the Crock Pot with fresh, clean, cool water to just 1-1/2 inches below rim, add the fish sauce and sugar. Cover and set the Crock Pot or slow cooker to cook on low for 8 hours. Taste and season with additional fish sauce if needed.

When you are just about ready to eat, you'll prep the rest of the ingredients for the Pho bowls. Bring a pot of water to a boil. Add the beef balls and cook until heated through, about 2 minutes. Remove the balls, keeping the water boiling and now cook the noodles according to package instructions. If you are using fresh noodles, all they need is a couple of minutes. Drain immediately.

Strain the stock with a fine meshed sieve. Discard the solids.

Line up 4 large bowls on counter. Distribute the noodles, beef balls and thin steak slices evenly amongst the bowls. Ladle the hot Pho stock into each bowl. The hot stock should cook the thin steak slices. Serve with lime wedges, fresh herbs, chili peppers, Hoisin sauce and Sriracha hot chili sauce at the table.
===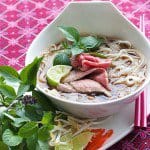 Vietnamese Pho Recipe (cooked the traditional, long, slow, stovetop method)
Vietnamese Chicken Pho Recipe (Pho Ga)