In conjunction with my podcast with Michael Ruhlman's
Ratio: The Simple Codes Behind the Craft of Everyday Cooking. And true to the book's goal, I didn't use a recipe to develop the Lime-Ginger Vinaigrette for the Sesame Seared Tuna. After a quick check in the refrigerator, I had one good key lime and a nub of ginger…so following Ruhlman's ratio for 3 parts oil to 1 part vinegar, I whisked together this concoction.
Yes, maybe you already know a vinaigrette's 3:1 ratio, but how about a ratio for Hollandaise, Pizza Dough, Crepe, Sausage, Brine, Custards, Caramel Sauce, Pound Cake, Biscuit Dough plus 22 more formulas? Know a ratio and it's like knowing 1,000 recipes.
Get Michael's book – you can buy a signed book (just tell him what you want inscribed in the book) directly from Michael Ruhlman or unsigned (slightly cheaper) from Amazon.
===
My steamy interview with Michael Ruhlman
Listen to my steamy podcast with Michael Ruhlman.
Watch Michael Ruhlman's video about his book, Ratio
===
Leiftheit Scale Giveaway
One of Michael Ruhlman's essential tools in the kitchen is his scale. I can't emphasize the importance of using a kitchen scale as different ingredients measure differently. Leiftheit has a wide range of kitchen scales, but I like this one the best:
. It's as thin as a magazine…sleek and small. I'm giving one of these away to a random commenter! To enter, just comment over at the post where I interviewed Michael Ruhlman.
===
In the meantime, enjoy my recipe for Sesame Seared Tuna with Lime Ginger Vinaigrette!
Step-by-step photos: how to make Sesame Seared Tuna
You should have 2 pieces of tuna, wasabi paste and a shallow bowl of sesame seeds. You don't have to have a mixture of black and white seeds, just one color will do, but you can see that the tuna looks so pretty with the mixture of sesame seeds. Pat the tuna very dry with paper towels:
Smear wasabi on both sides of the tuna. I love smearing wasabi ON the tuna, instead of having an overly-wasabi'd soy sauce mixture that you will find in most restaurants. Cooking with the wasabi paste on the tuna mellows out its sting. It just tastes better. Trust me. Use as much wasabi as you want:
Now season the tuna with salt and pepper. Personally, I like using sea salt: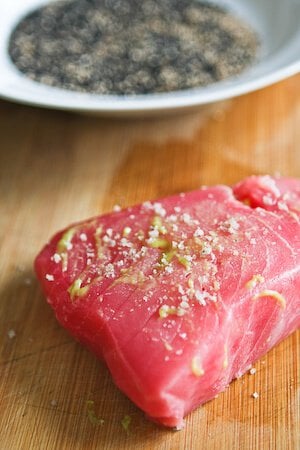 Now coat each side of the tuna with sesame seeds. Don't forget the thin sides! All sides should be covered:
Cook the tuna over medium-high heat. Super-high heat will burn the sesame seeds. Burnt sesame seeds taste bitter…and well…burnt. The white sesame seeds should be browned. This photo above is right before I pulled it off the pan. It was perfect.
Now, this is important. Don't overcook the poor fish. I like having the sides seared and the middle raw. However you like it, just don't overcook. You can take a knife and cut into the middle of the fillet to check on its progress.
The avocado oil is from my friends at Earthy.com – ooohlala! It's rich, buttery and a vibrant avocado-y green. I highly recommend it for salad dressing. If you don't have avocado oil, use olive oil instead.
Sesame Seared Tuna with Lime Ginger Vinaigrette Recipe
The ratio for a vinaigrette is 3 parts oil to 1 part vinegar. For the oil, you can use olive, vegetable, canola, grapeseed, etc. I used lovely, flavorful avocado oil. The vinegar can be balsamic, rice vinegar, white vinegar, lime juice or lemon juice. This makes an excellent appetizer!
Serves 4 as appetizer
3 tablespoons black sesame seeds
3 tablespoons white sesame seeds
2 pieces tuna fish fillet (about 1 pound)
1 teaspoon wasabi paste
1 tablespoon cooking oil
1 tablespoon freshly squeezed lime juice (or other vinegar)
1 teaspoon grated fresh ginger
3 tablespoons avocado oil (or other oil)
salt and pepper
2 large handfuls salad greens (optional)
In a shallow bowl, add the black and the white sesame seeds. Pat the tuna very dry. smear a bit of wasabi paste on both sides of the fish. Season the fish with salt and pepper.
Heat a frying pan over medium-high heat and add the cooking oil. When the oil is shimmering, carefully lay the tuna fillets in the pan, not touching. Cook for 2 minutes then flip the tuna. Cook 2 minutes, then flip the fillets to its side to cook 1 minute. Flip one more time to cook the other side for 1 minute so that you have a good sear on all sides. Please take care not to burn the sesame seeds. If the seeds start turning brown too quickly, lower the heat. Remove the fish to a plate.
In a small bowl, whisk together the lime juice, ginger and the oil. Season with salt and pepper to taste.
Slice the fish into thin slices and arrange on a plate. Drizzle some of the lime-ginger vinaigrette over the fish. Toss the remaining lime-ginger vinaigrette with salad greens, if desired.