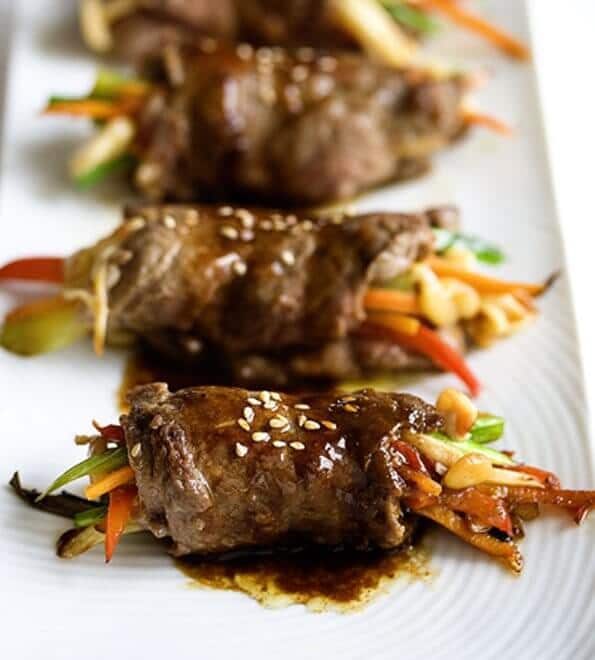 Tat-tat-taaaat-tat-tat-taaaat-tat! That, my friends, is the beautiful sing-song sound of Chef Martin Yan's cleaver as he chops bok choy. In fact, everything about Martin is musical, from the lyrical harmony of his Chinese accent (yes, it's real – I asked) to the way he rhythmically pulses the food processor. Brrrrrr-brr.brr-brrrrr.
I met Martin Yan last week at his special class held at Aprons cooking school, and it really was a childhood dream come true. When I was kid, I watched "Yan Can Cook." Back then, in the 80's, it was a big deal to me, not for the cooking aspect of the show, but because he was Chinese, with a thick accent, starring in his very own show on television. He created an entire brand empire around his kung fu-esque knife action and very funny, punny jokes.
But, putting showmanship aside, he gave the class very useful cooking tips:
Tsingtao beer is great for steaming mussels
If you;re running low on Hoisin sauce, just add a bit of soy sauce, sugar and Sriracha hot sauce to the bottle, close and shake to mix
Don't waste leftover bits of vegetables, seafood or meat -chop them up and simmer in canned chicken broth for an instant soup
Deep-fried chiffonade strips of bok choy leaves makes a crisp, nutty and sweet topping for a stir-fry
You know what though, I don't think I can fully express my admiration for the Yan man in words. I mean, this is the guy who's hosted over 2,000 cooking shows, authored 28 cookbooks, carves a chicken in 18 seconds flat and minces a garlic clove in a split-second, single-handed thwack. He's totally my kitchen super-hero and get this, he mentioned writing a blurb for the back of my cookbook! He showed me where Jackie Chan had blurbed the back of his book and called him a "man of perpetual motion." And yes, he is.
Oh, please excuse that whoosh of air. That's just silly me sucking up.
From "Martin Yan's China"
cookbook
To see Martin in action – watch a
video of him carving a chicken in 18 seconds!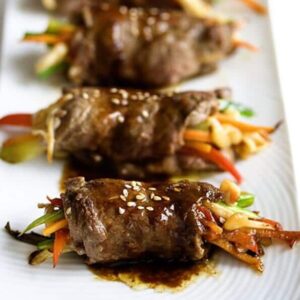 Asian Pan Seared Steak Rolls Recipe
Ingredients
FOR THE STEAK:
8

ounces

flank steak (4 inch x 6 inch piece) or 8 thin sliced sirloin

1

tablespoon

soy sauce

1

teaspoon

vegetable oil

freshly ground pepper
FOR THE SAUCE:
1

tablespoon

oyster sauce

1

tablespoon

Chinese rice wine or dry sherry

2

cloves

garlic, thinly sliced

1/4

cup

canned chicken broth
FOR THE FILLING:
1

tablespoon

vegetable oil

1

teaspoon

minced garlic

1

teaspoon

minced ginger

1

carrot, cut into 2 inch matchsticks

1/2

red bell pepper, cut into 2 inch matchsticks

2

ribs

celery, sliced thin on diagonal

1

tablespoon

soy sauce

1

teaspoon

sesame oil

12

chives, cut into 3 inches long

4

ounces

enoki mushrooms

2

teaspoons

vegetable oil

2

teaspoons

butter

1/4

teaspoon

sesame seeds
Instructions
Freeze steak for 30 minutes until partially frozen. Slice steak against the grain, on the diagonal, into 8 equally thin pieces. Use a meat mallet to pound each piece of meat to 1/8 inch thick. If using thin sliced sirloin, skip this step.

Combine marinade ingredients in a bowl and add meat slices. Let stand 15 minutes to 2 hours.

In a separate bowl, combine sauce ingredients.

To prepare filling, heat a wok or skillet over high heat. When hot, add vegetable oil, swirling to coat the sides. Add garlic and ginger and fry for 20 seconds. Add carrot, bell pepper, celery and stir fry for 1 minute. Add soy sauce, sesame oil and stir. Transfer to bowl and let cool.

To make the beef rolls, lay beef slices out with short side facing you. Equally divide chives, enoki mushrooms and vegetable mixture among the pieces of meat. Roll the beef up, over the filling and secure with toothpick.

Place a large skillet over medium-high heat. Add the vegetable oil and butter, swirling to coat bottom. When hot, add beef rolls, seam side down, not touching and pan fry for 1 minute, turn roll. Add sauce to the pan. Cover and simmer over medium heat until beef is just cooked through, 1-2 minutes. Remove toothpick, sprinkle with sesame seeds to serve.