In this authentic Chicken Fried Rice recipe, you'll learn:
Stir fry secrets to creating flavorful, delicate, authentic Chinese fried rice. No gumminess, no soggy fried rice here!
Simple marinade for any type of meat to add to fried rice.
Fried rice variations – make your own family favorite!
Shortcut to fried rice when you don't have leftover rice.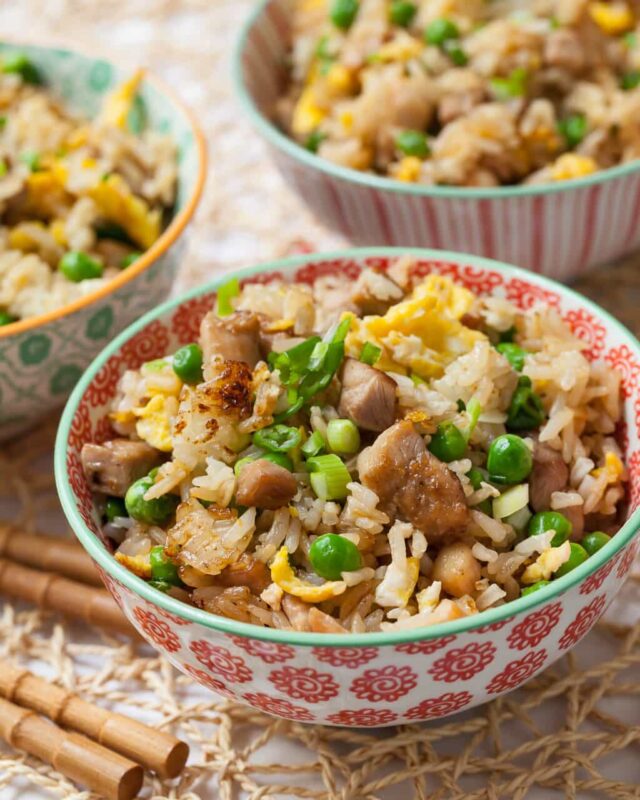 Authentic Chinese fried rice is so easy to make….but so easy to get wrong. Oftentimes, those attempting fried rice without learning just a couple simple tricks will end up with a goopy, glue-y, heavy mess. I'll show you the techniques for a restaurant-worthy, Chinese mom approved, Chicken Fried Rice.
How to make Chicken Fried Rice
What kind of rice?
Fried rice is made with leftover rice, that's been refrigerated (though I'll show you a shortcut later.) Leftover rice has had a chance to dry out a bit – which is a good thing – because we're adding ingredients and liquids (soy sauce) that will add moisture back into the rice.
If you used freshly cooked, steaming hot rice – and added more liquids and ingredients, it becomes gummy and sticky.
You can use brown rice, jasmine rice (popular in SE Asia), short-grain rice (popular in Korea and Japan), basmati rice, multi-grain rice. It's up to you – as long as it's already cooked and previously refrigerated. When we cook rice, we'll make a double batch, so that I have extra for fried rice later in the week.
Before you're ready to make the fried rice, wet your hands and use your fingers to break up the rice grains – so that each rice grain is separate. You can do this with a fork, but it's easier and faster to just use wet fingers to break up the clumps (rice doesn't stick that well to wet hands.) If you don't break up the clumps, you'll have a really tough time in the wok, trying to break them up with a spatula.
Rice shortcut
Shortcut: If you're hankering for some fried rice, but don't have leftover rice, do this:
Cook rice the normal way, but use 25% less water than normal. No need to be exact, just use a little less water.
After rice cooked, open lid immediately, spread out on a baking sheet (or large plate/tray that will fit in freezer.) Let all the steam escape.
Place baking sheet in the freezer, freeze for 30 minutes. Rice is now ready to use for fried rice. If rice completely frozen, you might have to let it sit out on counter for a bit to defrost.
The freezer will dry out the rice grains, just enough to make fried rice. It's not as good as day-old rice, but it will work in a pinch.
Marinate the chicken
Marinate your meat, whether you use chicken breast, chicken thigh — or turkey, pork, beef, shrimp — in a little bit of soy sauce, sesame oil and cornstarch. Optional is to use Chinese rice wine (or dry sherry) in the marinade as well. You can marinate the chicken for as little as 5 minutes or up to overnight in refrigerator.
Just a half-pound of meat, cut in very small pieces, like the size of a small dice, will be enough to feed 4 people. We love using a little bit of meat to feed a lot of mouths in Chinese stir-fries!
Why use cornstarch? The cornstarch thickens up the soy sauce so that it clings to the the meat.
Shortcut: use ground chicken, turkey, pork or beef. No slicing needed!
Other ingredients for Chicken Fried Rice
What else do you have in your refrigerator or freezer? We like using frozen peas or frozen diced mixed vegetables (no need to defrost, just use straight from freezer), chopped green onion and eggs. You can use pretty much any vegetable you want:
Diced: tomatoes, bell peppers, onion, shallots
Leftover: cooked broccoli (just give it a rough chop)
Minced garlic or grated fresh ginger
Julienned and then roughly chopped: fresh carrots, broccoli stems (peel first), cabbage, Napa cabbage, kale
Frozen: peas, diced vegetables
Shortcut item: a bag of broccoli slaw mix
Eggs
Have all your ingredients ready, at the stove. The stir-frying happens really fast!
Stir Frying Chicken Fried Rice
For the best fried rice, ingredients are added to the wok in batches, stir fried, then removed. They'll be added back into the wok at a later time.
In this recipe, we'll cook in this order:
Scrambled eggs, then remove
Chicken, then remove
Rice, then add in the eggs, chicken and peas
Why cook things separately? Because I want my eggs to taste like eggs, and my chicken to be perfectly cooked. If you throw everything in the wok all at once, it will taste like a mish-mash of everything. Also, each ingredient has a different perfect cook time – the eggs will cook faster than the chicken – cooking each item separately ensures that nothing is under or over cooked.
First, the green onion and eggs. Swirl a little oil into a hot wok. Throw in the green onions, give it a quick stir for 10 seconds, then add in two eggs. Scramble and cooked just until set, about a minute. Then scoop out onto a plate. (in the photos, we didn't use green onion.)
Give the wok a good wipe, no need to rinse.
If you're using other fresh vegetables that need to be cooked, do that now. Hot wok + a little oil + vegetable. Stir fry until just cooked through.
Cook the chicken
Heat the wok over high heat. When very hot, swirl in cooking oil. When oil hot, add in the marinated chicken.
Use your spatula to spread out the chicken into a single layer in the wok. Use all that surface area! Keeping the chicken in a single layer helps the chicken caramelize and cook nicely. Crowded chicken will result in little browning – the chicken will end up "steaming" instead of browning. Once it's in the wok, just leave it alone and give it time and space to brown.
Resist the temptation to mess with the chicken – just leave it alone. When you move the chicken around too much, it won't have time to brown.
Take a peek under piece of chicken. Browned? Now flip, stir and toss!
Then spread out on wok again. Let's let the other sides of the chicken brown.
Once chicken is nearly cooked through, turn off heat and remove chicken. If the chicken is only 80% of the way cooked through, that's perfect. We'll add the chicken back into the wok later to finish cooking. It's important that you don't overcook the meat.
Add the rice
Wipe the wok clean, if desired. Heat the wok again, on high and swirl a little more cooking oil in the wok. When hot, add in the rice.
Spread it all around the surface area of the wok, Use all that space! Spreading out the rice will help each grain of rice heat up all the way through. Just let it sit in the wok, undisturbed for a bit. If you keep stirring and tossing the rice, it won't have a chance to heat through. And, you'll be breaking the delicate grains of rice, releasing more starch, making a gummy mess. So, it's best to just let it be for a minute. Then, toss, stir and spread out again to warm through.
Finally, it's time to add back in the ingredients. Add the chicken:
scrambled eggs:
Frozen peas (they're still frozen, but will defrost perfectly at the end.)
Give it a toss:
Season with the soy sauce, black pepper and a little oyster sauce, if desired. Oyster sauce will add a little sweet/savory flavor to the fried rice. Personally, I love adding fish sauce, in addition to the soy sauce. It adds a ton of umami flavor without weighing down the fried rice.
Toss, spread the chicken fried rice out over the surface of the wok. The egg will finish setting, the chicken will finish cooking, the peas will defrost, and the liquid seasoning will help re-steam the rice. Toss again, spread out again. This action will also help the fried rice cook/heat through evenly.
Once the chicken fried rice is hot – it's done!
More Chinese Rice Recipes
Cauliflower Fried "Rice" with Chicken Recipe
Pineapple Fried Rice Recipe
Chicken Fried Rice Recipe
If you don't have a wok, use a large saute pan (like a frying pan, but with high sides) or even a large dutch oven. You need the high sides in a stir fry - so that ingredients don't spill out as you toss. Feel free to substitute the chicken with pork, turkey or beef. I also like using ground meat too.
Ingredients
1/2

pound

chicken meat

small dice (or use lean ground chicken)

2

tablespoons

soy sauce

divided

1

teaspoon

cornstarch

1

teaspoon

Chinese rice wine

or dry sherry - optional

1/2

teaspoon

Asian sesame oil

1

stalk green onion

chopped

2

eggs

1

cup

frozen peas

3

cups

leftover rice

grains separated (use wet fingers)

1

tablespoon

oyster sauce

or 1 teaspoon fish sauce

cooking oil

canola, peanut, vegetable
Instructions
In a bowl, mix together the chicken, just 1 tablespoon of the soy sauce, cornstarch, rice wine and sesame oil. Stir and let marinate while you proceed to next step.

Heat a wok over medium-high heat. When hot, swirl in about 2 teaspoons of cooking oil. Add in the green onion. Stir fry for 10 seconds. Add in egg and scramble briskly until the egg is just barely set. Remove egg to plate. Wipe wok clean.

Return wok to stove, turn heat to high. When hot, swirl in a little more cooking oil. Add in the marinated chicken and spread out all over the surface of the wok in single layer. Let cook for 1 minute, undisturbed. Flip and toss, spread out again and let cook for another minute. By now, the chicken should be NEARLY cooked through (depends on how big your chicken pieces are). Remove chicken from wok and set aside.

Return wok to high heat. When hot, swirl in a little more cooking oil, about 1 tablespoon. Add in the rice. Spread out over surface of wok and let cook, undisturbed, for 1 minute. Flip and toss, spread out again, let cook for 1 minute.

Add back into the wok, the chicken and eggs. Add in the frozen peas. Give it a good toss. Add in the remaining soy sauce, oyster sauce (or fish sauce) and freshly ground black pepper. Toss again and spread rice out over surface of wok. Let cook, 1 minute. Toss very well, spread out and cook for an additional minute. Taste the fried rice, and adjust with more soy sauce, if desired. Fried rice is ready when each grain of rice is heated through and hot, and the chicken is cooked through.
Nutrition
Calories:
364
kcal
Carbohydrates:
40
g
Protein:
20
g
Fat:
12
g
Saturated Fat:
3
g
Cholesterol:
124
mg
Sodium:
1134
mg
Potassium:
350
mg
Fiber:
3
g
Sugar:
3
g
Vitamin A:
1630
IU
Vitamin C:
16.8
mg
Calcium:
43
mg
Iron:
1.9
mg