With just 4 ingredients and 5 minutes, you can make your own salt scrub or sugar scrub. In this tutorial, you'll learn how to make salt scrubs and sugar scrubs:
The best base oil to use (it's related to winemaking!)
Why you should add liquid soap
What to choose: salt or sugar?
Best place to source the cute jars, spoons and oils
I was walking through a mall a few weeks ago and stopped in a popular bath and body goods store looking for a hand scrub to use in the kitchen. A pretty 14 ounce jar of salt scrub for $36.00!??? I could make a batch of the same for less than one dollar!
I gathered some friends and their daughters, and we hosted a salt and sugar scrub making party of our own.
Salt and/or sugar scrubs are great for exfoliation, moisturizing dry skin, and for aromatherapy. For cooks, it's perfect for getting rid of fishy smells on your hands and gives you a nice scrubby clean feeling. The oils in the scrub keep your hands from drying out after washing.
With your favorite essential oils, you can make a variety of fragrances. Perhaps a pink grapefruit-thyme salt scrub for the kitchen sink, a peppermint-vanilla scrub for the morning and a lavender-camomile scented sugar scrub for end of day.
How to make Salt Scrubs and Sugar Scrubs
The are only a few ingredients that you need to make your own salt scrub or sugar scrub:
Salt or Sugar
Base Oil
Essential Oil
Liquid Soap
You can keep the salt scrub or sugar scrub in a little bowl with small spoon at your sink, or package them in cute jars to store or give away as gifts.
Should I use Salt or Sugar?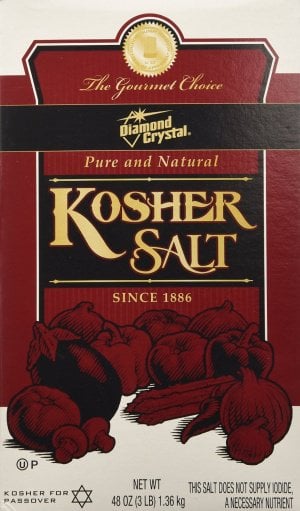 It's a personal preference! Sugar is smaller granules, with a smoother edge, great for sensitive or delicate skin. It produces a softer scrub. I like using sugar scrubs for my face and body.
Kosher salt crystals are larger, more irregularly shaped. This is great for hands, elbows and feet. Not recommended for face – the granules are too harsh for the face. Plus, if you get some on your lip, you'll taste the salt.
I recommend salt scrubs for the cook and gardener!
If you're looking for something finer than kosher salt, use Fine Sea Salt, which you can find at most supermarkets.
The Best Base Oil
You can really use any type of nut, seed or vegetable based oil that you like: olive oil, jojoba oil, almond oil….even vegetable oil. Different oils have different viscosities (thickness), which makes the oil feel different on your skin. Of course, there are also price considerations, but we'll talk about that later.
In my opinion, the perfect oil for salt and sugar scrubs is:
Affordable – some of the oil is absorbed by your hands, but most of it will go down the drain with the salt. Don't waste your money on expensive base oils!
Scent-free or just a slight natural scent – I want the essential oils to shine through.
Thin – thick oils are too sticky and greasy. Jojoba oil is amazing for your skin, but it is too heavy to use in large amounts for the salt or sugar scrub. Thicker oils are difficult to wash off, and your hands will end up being greasy instead of smooth and soft.
Low risk of allergic reaction – many people are allergic to nuts and nut oils. Since I'm making these as gifts, I want to make sure people don't have a bad reaction to the oil. For example, sweet almond oil is one of my favorites, but those allergic to almonds may also be allergic to the oil.
Other considerations (but not as important to me):
Cold-pressed or cold-expeller pressed – The best oils are cold pressed, made without any (or with little) heat or chemicals. Adding heat to oils during processing can harm the nutrient content. But we're not eating this oil, and as I mentioned before, most of it will be washed off. Cold-pressed oils are much more expensive.
Organic
With all these considerations, my choice is Grapeseed Oil.
Why Grapeseed Oil?
Grapeseed oil is a byproduct of the wine making industry. The oil is pressed from the spent grape seeds.
Price: Its relatively low price keeps the oil affordable. Walmart sells 24 ounce bottle for less than $6. I purchased a 68-ounce bottle of Grapeseed Oil for less than $10 at my local Smart & Final. The brand we purchased is called Pompeian.
Scent: Virtually no scent.
Viscosity: Very thin! One of the lightest base/carrier oils available. Grapeseed oil glides really well on your skin, and washes off quickly. It feels silky and light!
Good for the skin: According to Rodale's Organic Life.
You can get cold-pressed Grapeseed Oil, it is more expensive, but still very affordable. Here are some options:
Note on Grapeseed oil – it's great for cooking! It has a high smoke point (perfect for stir fries and other high-heat cooking). Make sure you get FOOD GRADE (the Now brand is not food grade, but the La Tourangelle and Pompeian brands are)
Other base oils to consider
Olive oil – inexpensive, but too thick and heavy.
Fractionated coconut oil – I've heard this makes a great base oil! Regular coconut oil hardens at room temperature and has a heavy scent. But fractionated coconut oil is scent-free, thin in viscosity, good shelf life.
Sweet almond oil, castor oil, jojoba oil, flaxseed oil – too thick and heavy.
Safflower oil – thin, inexpensive, scent free. I haven't used this oil before, but I've heard from friends that it would work just fine in scrubs.
Argan oil and Sunflower oil – light, but very expensive
Apricot Kernel Oil – not a bad choice, inexpensive, but thicker than grapeseed oil.
Choosing Essential Oils
I purchased this set from Plant Guru, which comes with 14 different essential oils. However, I'd recommend the Calily brand, which also comes with 14 oils, but double in size. If you like just one or two scents (and don't want to get a sampler), I highly recommend the NOW brand, great price and amazing quality for essential oils. I own the NOW grapefruit, orange and lavender scents. Make sure you double check the size – some bottles are 4 ounces!
Why Use Liquid Soap
If you've ever used a salt or sugar scrub that contains only salt/sugar and oil, you'll remember having greasy hands or needing to wash your hands with soap after the scrub. Water alone won't wash away enough of the oil.
That's why I like adding a little bit of unscented liquid soap to the salt or sugar scrub. The soap will help wash away just enough of the base oil to leave your hands soft, silky and NOT greasy.
My favorite liquid soap is Dr. Bronner's Pure Castile Soap. It's certified fair trade, organic, vegan, no synthetic detergents or preservatives. The family company has been making soaps for 150 years! I love their story.
The Baby, Unscented version of their soap contains double the amount of olive oil and great for sensitive skin. The solution is concentrated, so only a couple spoonfuls are needed in the salt and sugar scrub. You'll find so many uses for this stuff, including for your hair, pet, mopping and dishwashing! There are many sizes available.
Cute Jars and Little Spoons
Glass clamp lid jars make the perfect vessel. The lid is easy to open and is also secure enough that the oil won't spill out. We got a variety of sizes from Restaurantware – from tiny 1.7 ounce jar (great for party favors) to a larger 8.5 ounce. (Restaurantware provided me with a few of their jars and spoons for the photoshoot!)
Canning jars are fun to use, but I've never liked the 2-piece lid that is a pain to use. That silly lid keeps falling out lands on my tabletop or floor. If you use canning jars, make sure you get wide mouth jars, the regular jars have too small of an opening to scoop out the scrub easily. Small, squat jars with wide mouths make the best option.
Other places to look for cute jars: HomeGoods, Marshalls, Ross, Michael's. Sur La Table has the cutest honey pot that we also used – the lid has a little space for a spoon to stick out!
The 3.5″ bamboo spoons will scoop the perfect amount of salt scrub or sugar scrub. If you're making a ton of little jars for gifts, Restaurantware sells them in bulk at a great price. The spoons are reusable and sturdy. After you're done using them for your scrubs, you can use them for spices, sea salt, seasonings, chili sauce at the table.
If 100 spoons is too much, here are some palm wood spoons (though I think these are a little too small.) I've also purchased these mini wooden scoops (not really recommended – they are too hard to use for scooping in small jars.) An economical option are these compostable taster spoons – but they are thin and over time, the oil seeps into the wood.
My girlfriend had a couple of plastic gelato spoons, which looked really cute too!
Thank you for supporting Steamy Kitchen!
How to Make Salt Scrubs & Sugar Scrubs
Other items we used: Glass jars with clamp lids, small spoons or scoops, ribbon and tag for gifting.
Ingredients
1/2

cup

kosher salt or sugar

3/4

cup

grapeseed oil

3

tablespoons

castile liquid soap

12

drops

essential oil
Instructions
In a bowl, mix together all ingredients