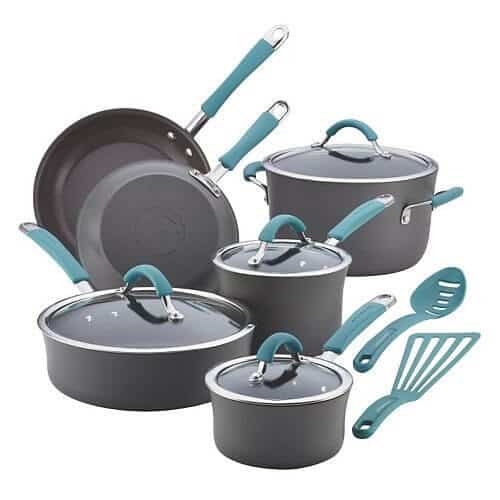 This is a review of the Rachael Ray Cucina Hard Anodized 12-Piece Cookware Set, including both PROs and CONs. Product was provided by Bellacor, an online home goods retailer. First time customers get 15% off, and if you also sign up for Ebates, you'll get an additional 5% cash back.
Rachael Ray Cucina Hard Anodized 12-Piece Cookware Set Review
A couple of years ago, we tested a different Rachael Ray cookware set (enameled porcelain with aluminum core) – and it performed so poorly that we refused to write about it. Here at Steamy Kitchen, we review a lot of kitchen products. We always write both PROs and CONs of each product, and only choose products that are worth writing about.
We had high skepticism when we first opened the box for the Rachael Ray Hard Anodized Cookware Set, but I'm happy to say that this is a product worth our time to talk about. Sure, there are features we don't particularly like about the set, but there are many things we are raving about.
What's it made out of?
The Rachael Ray Cucina Hard Anodized Cookware is made with hard anodized steel by Meyer Corporation, one of the world's largest cookware companies (they also own Anolon, Circulon, Ruffoni).
The hard anodized aluminum offers nonstick surface inside and outside with quick, even heating. The stainless steel handles offer a durable silicone covering for heat protection. The lid is shatter-proof glass, with the same rubber handle.
What's in the set?
1-qt. Saucepan with lid
2-qt. Saucepan with lid
3-qt. Saucepan with lid
4-qt. Saucepot with lid
3-qt. Saute' Pan with lid
6-qt. Stockpot with lid
8.5-in. Skillet
10-in. Skillet
Slotted Spatula/Turner
Slotted Spoon
PRO: So many lids! Some cookware sets only come with limited lids that can be used for different pots. But that means if I'm cooking 2 dishes at once, they have to share a lid.
Long, Grippy Handles
PRO: The silicone rubbery handle allows you to pick up the cookware without oven mitts or a kitchen towel. I love that the handles are loooonger than most cookware for stability and balance. Plus, people with larger hands will appreciate the length of the handle.
PRO: Lightweight. Only 1 hand is needed to lift and move the skillets and pans, even when full of food.
CON: The rubbery handles are only oven safe to 350F. I wish it was at least 400F! If I'm searing chicken and then finishing dish in oven, my usual temperature is 350F, but I'd like a little more wiggle room for temp.
Glass Lids
PRO: Glass lids gives me full visual access to what's going on in the pot or pan. I'm a control freak, and lids that are opaque drive me nuts! I'm constantly opening lid, letting all that heat escape just to see what's happening. The Rachael Ray cookware set also has the rubbery coating on the lid handle, so no need for clumsy oven mitts to open lid.
This little pot
CON: This Rachael Ray Cucina Hard Anodized 12-Piece Cookware Set has one little, itty bitty pot that I think is just too small. You can cook rice for one person, vegetables for 2 people or warm up a can of chicken noodle soup. This is a good pot for cooking for just 1 person.
Dishwasher safe
PRO: Dishwasher safe.
Good pot
PRO: I love the stockpot size. Generous enough for boiling pasta without bubbling over. The saute pan (it looks like a frying pan with straight, high sides) is also a perfect size – the sides are deep enough that you could even do a stir-fry for 2 people in the saute pan without spilling ingredients.
These utensils
CON: They're uncomfortable to use, so-so quality.
Let's cook an egg
A little spray olive oil and an egg.
Even with the smallest spritz of oil, the egg slides easily.
Oh, look! I flipped an egg without a spatula! Sorry I couldn't get an action shot. It's hard flipping an egg and photographing at the same time!
Egg slides right off.
PRO: Passed the egg test.
Good Housekeeping likes it, too
Good Housekeeping gave it 4 1/2 stars out of 5
"We found that the Rachael Ray Cucina Hard Anodized cookware seared steaks to evenly-browned perfection. You'll also find this line both easy to use and a cinch to care for: The silicone-covered stainless steel handles stay cool to the touch throughout cooking and the nonstick pans are dishwasher safe. This cookware set is available with red, orange, or blue handles."
Price is right
Bellacor offers the 12 Piece Rachael Ray Cucina Hard Anodized cookware set for $179.99. If blue is not your thing, it comes in an orange color as well.
Rachael Ray 12- Piece Cucina Hard Anodized Cookware Set Giveaway