Get ready to get relaxed! Steamy Kitchen is doing a giveaway for a heated Shiatsu deep foot massager!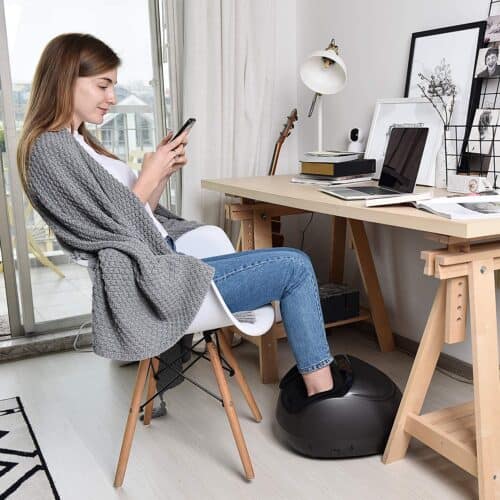 Massage the feet, relax the whole body. RENPHO foot massager machine, equipped with rotation ball, rolling stick, heating and offers a deep kneading Shiatsu foot massage

Like a professional foot massage. The ergonomic design provides a comprehensive and comfortable massage. 3 kneading intensities can be adjusted to personal preference. The soothing heat function can be controlled independently.

Simple, hygienic, healthy. The touch panel of this foot massager machine is easy to control using your foot. Removable washable cloth in the foot chambers helps keep a clean and healthy environment.

Fits most people. With its enlarged foot rooms, RENPHO foot massager can accommodate most foot sizes, up to men size 12.

A great gift. Everybody needs a daily foot massage. Get it for yourself or your friend. Using the foot massager 30 minutes daily improves the health of the body.
Shiatsu Therapy with Heat and Squeeze
The RENPHO foot massager is ergonomically designed for maximum comfort. It offers a deep-kneading Shiatsu massage, heated, squeeze massage. It can improve the blood flow, relieve chronic foot pain from plantar fasciitis, and help with neuropathic foot numbness.

Foot massage feels good not only because you'll feel your muscles relax, but also because the massage increases the release of hormones in your body that create relaxation and a sense of calm, and decreases the release of hormones that keep you tense and stressed.
Experience a simple and convenient foot massage
Adjustable massage intensity: Adjust your massage intensity to your individual preference, giving you a unique personal massage experience.

Additional settings: Adjust squeeze intensity and optional heat to create your own personalized massage program.

Replaceable and washable cloth cover: The detachable cloth cover can be unloaded by simply pulling the zipper. Cleaning is easy.

15/30 minutes timer: Automatically shuts off after 15 or 30 minutes.
Soothing Heat therapy
RENPHO Foot massager comes with a heating function. If you suffer knots in your feet in particular and want to get rid of them, a heated foot massage is a much better option.
Foot reflexology
This foot reflexology chart shows the acupressure points on the feet soles and their link to organs. Massage therapy and foot reflexology both help improve circulation around the body.
Massaging your feet the right way can help ensure that your blood flows swiftly around your body and reaches all of the areas that need it.
Thank you for supporting Steamy Kitchen!
Starting your Amazon shopping at this link helps our small family business! We get a small commission from Amazon and it helps keep this site running free. Thank you! Jaden
RENPHO Foot Massager Machine Giveaway
Enter the giveaway.