We are excited to be giving away one FoodSaver Vacuum Sealer Machine! You can save so much food and money by using the Vacuum Sealer Machine. You can meal prep, save leftovers, and store produce in the fridge to keep it fresh for up to weeks later instead of spoiling in days.
FoodSaver V2244 Vacuum Sealer Machine for Food Preservation with Bags and Rolls Starter Kit
Stretch your dollar: Meat preserved with the foodsaver system in the freezer can last up to 3 years and still taste fresh, flavorful, and freezer-burn free. Prep-ahead meals, leftovers, and produce stored in the fridge will stay fresh up to weeks later instead of spoiling in days
Easy lock and latch: 1 handed operation lets you easily lock the lid with a simple turn compared to other competitive units that require considerable force with 2 hands to close and lock the lid
Seal wet and dry items: No need for multiple modes; The patented removable drip tray will catch any overflow liquid and is dishwasher safe, making this kitchen appliance easy to clean and maintain
NRTL Tested & Certified Product: All Foodsaver appliances are ETL or UL certified by Nationally Recognized Test Laboratories (NRTLs) for compliance with applicable Product safety test standards; Safety is our number 1 priority
Compatible with fresh handheld sealer & other accessories: Attach the handheld sealer with the accessory hose included with your machine to start preserving food in the refrigerator and pantry with FoodSaver zipper bags and fresh containers; Other optional accessories include regular and wide mouth mason jar sealers and bottle stoppers for wine and oil bottles
This vacuum sealer is the number 1 vacuum sealing system! We love FoodSaver because it keeps food fresh up to 5x longer compared to ordinary storage methods. There are LED light indicators that guide you through the vacuum sealing process so its easy to operate. Just press the vacuum and seal button to remove the air that causes freezer burn and spoilage.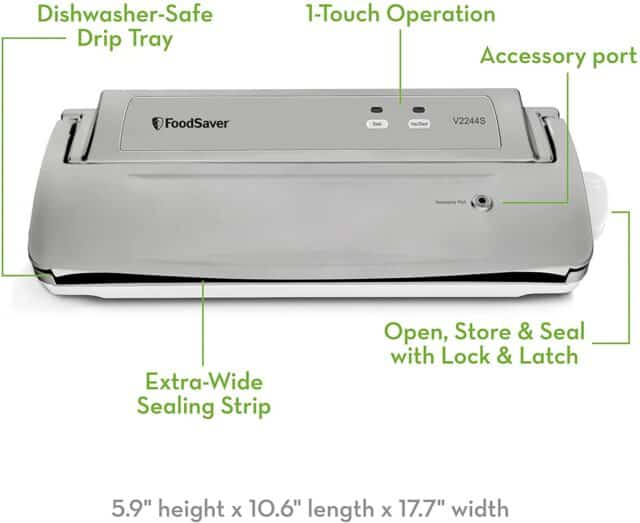 It even has a dish washer safe drip tray for easy clean up. It has a sleek and compact design so it takes up limited space and can be easily stored in your cabinet with other appliances.
Use your FoodSaver system to prep meals for the week for yourself or your whole family. It's also great for sealing up the ingredients you need to blend ultra-fresh smoothies, like bananas, mangoes, or blueberries.
Thank you for supporting Steamy Kitchen!
Starting your Amazon shopping at this link helps our small family business! We get a small commission from Amazon and it helps keep this site running free. Thank you! Jaden