Steamy Kitchen Update
Hello !
Helllooooo, my friends! This past week has been full of indulgences. If I'm gonna stay at home, forgo my favorite restaurants, miss cancelled hockey games, and give up walks on the Las Vegas strip….then I deserve to spoil myself (you do, too!)
Tres leches cake, sour cream & cheddar chips, Pistachio Pistachio ice cream from Ben & Jerrys, and a big bag of Twizzlers. All mine.
Duke got spoiled, too. I'm not going to detail all the treats (ahem, bites of ribeye steak) he's been given, because I think she gets my email newsletters, too.
In conclusion, both Duke and have have gained some weight.
Have you gotten a little bit "fluffy" during these crazy times staying at home too?
-Jaden
Chinese Shrimp Stir Fry Recipe
This 15 minute Chinese Shrimp Stir Fry recipe will teach you authentic stir-fry method. It's quick easy and delicious! This Asian shrimp stir fry recipe is one dear to my heart as it is one of the first recipes my mom taught me how to cook! Succulent shrimp, slathered in a delicious soy, ginger and garlic sauce in only 15 minutes? What's not to love! Try the recipe here.
MY FACE MASK SMALL BUSINESS
I'm down to my last 500 face masks in inventory! If you haven't gotten yours yet, please give us a try! Our masks are made in the USA, 100% cotton, have adjustable loops and include 2 free filters.
We manufacture them in Las Vegas, and I create the designs. And yep, I ship them out myself, Duke is my supervisor (woof!)
Buy 2 get 1 free + free shipping (use code FREEMASK)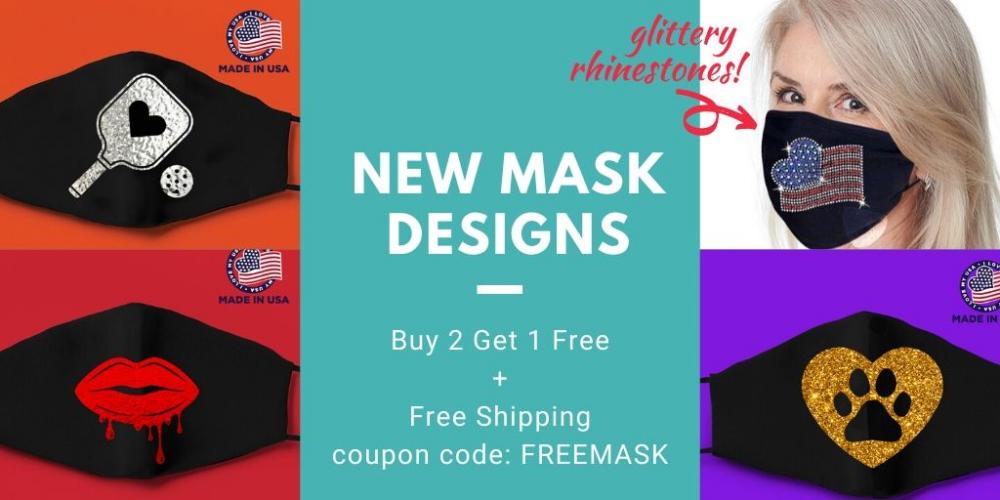 STEAMY KITCHEN CURRENT GIVEAWAYS
NEW GIVEAWAYS!
– Vacos Security Camera + Solar Panel Giveaway
– FoodSaver Vacuum Sealer Giveaway
-TaoTronics Professional Deep Tissue Massager Giveaway
THIS WEEK'S WINNERS
Congratulations to our week's winners :

Walmart $10 Gift Card Instant Winners
Jeffery C. from Carson, CABrenda H. from Flemington, PA
Target $10 Gift Card Instant WinnersJane K. from Tampa, FL
Richard R. from Lansing, MI
Whole Foods $20 Gift Card Instant WinnerBarbara R. from Essex, CT
MEET THIS WEEK'S WINNERS!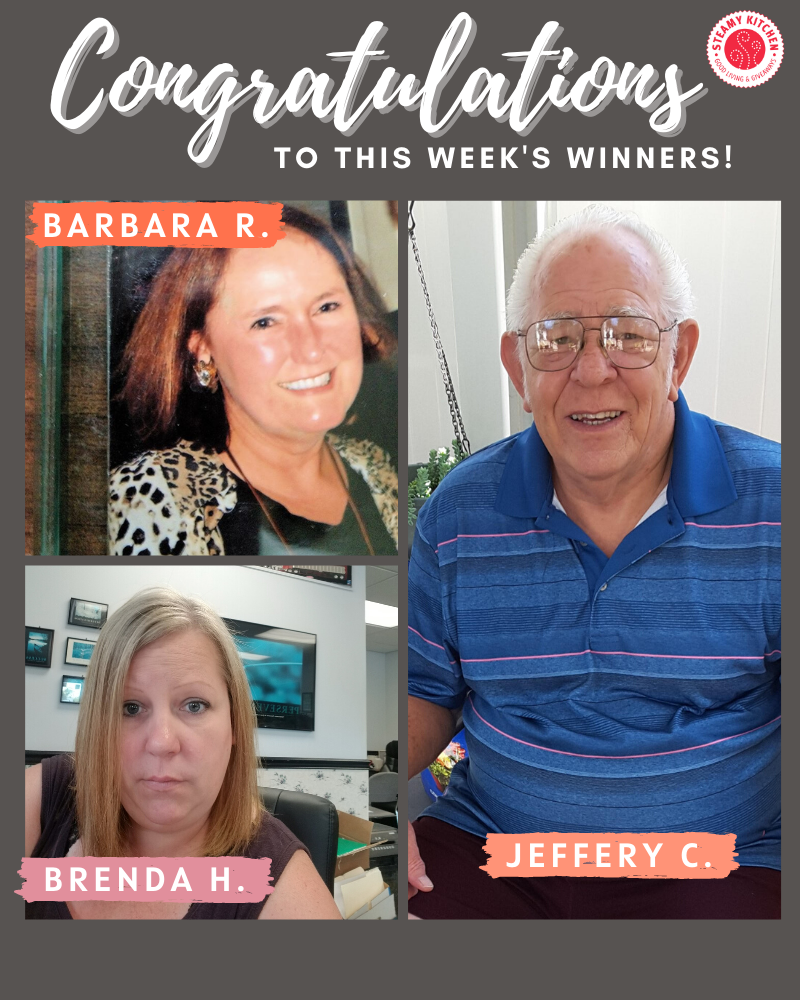 NEW:
ENTER THE GIVEAWAYS
– Vacos Security Camera + Solar Panel Giveaway
– FoodSaver Vacuum Sealer Giveaway
– TaoTronics Professional Deep Tissue Massager Giveaway
ENDING SOON:
– Insignia 43″ Smart LED Fire TV
– Masterbuilt Tabletop BBQ Grill
– Acer Chromebook Laptop
MORE:
– Kodak Dock Portable Photo Printer
– Aicok Cold Pressed Juice Extractor
– Bose SoundSport Wireless Earbuds Giveaway
– Hello Sunshine! $500 Cash Giveaway
-GoPro HERO 7 Giveaway
-Intex Explorer 2 Person Kayak
– 20 Winners for 10$ Walmart Gift cards
– Hestan CopperBond Saute Pan ($279)
– Instant Set Up Tent
– Foot Massager Machine
-Dyson Ball Floor Vacuum
-Amazon Gift Card Instant Win
– $100 Nordstrom Gift Card Giveaway
– Keurig Cappuccino and Latte Maker Giveaway
– BarkBox 6 Month Subscription Giveaway
– Zojirushi Coffee Maker Giveaway with Guest Jee Choe
– CuisinArt AirFryer Convection Oven Giveaway – DrinkMate Review and Giveaway
– ThermoWorks Thermapen Giveaway
– Kuhn Rikon Wok Skillet Review and Giveaway
– Target Gift Card Instant Win Game
– CuisinArt Pure Indulgence Ice Cream Maker Giveaway
– Acer 15.6″ HD ChromeBook Laptop Giveaway
– Apple Watch Series 3 Giveaway
– Apple iPad Giveaway
– Swarovski Ruby Red Necklace Giveaway
– Blink XT2 Security Camera Giveaway
-Starbucks Instant Win Game
– Acer Chromebook Spin 11 Giveaway
– Anolon Teak Salad Serving Set and Dressing Maker Review and Giveaway
– Apple Gift Card Instant Win Game
– Kotai Gyuto Chef Knife Review and Giveaway
– Canon Powershot SX420 Digital Camera Deluxe Accessory Kit Giveaway
– Vitamix Explorian Blender Giveaway
– Key Smart Clean Box Giveaway
– Mr. Steak Review and Giveaway
– Whole Foods Instant Win
– Garmin Running Watch Giveaway
– Fire HD 10 Tablet Giveaway
– Prestige Knives and Pans Review and Giveaway
– Galaxy Tablet Instant Win Game