Chinese Shrimp Stir Fry Recipe
This 15 minute Chinese Shrimp Stir Fry recipe will teach you authentic stir-fry method.
Secret to crisp-crunchy, perfectly cooked shrimp
Flavor-packed Chinese "holy trinity" of garlic, ginger, green onion
Add other ingredients, like snow peas, bell peppers, mushrooms
My Mom speaks Cantonese, Mandarin, Hakka and conversational English. I grew up in the USA, and while I can understand her Cantonese, my exclusive speaking language is English. Mom will speak to me in Cantonese and I'll respond in English!
But, the love language between my Mom and me is all about food. We share recipes with each other, swap cookbooks and cook for each other. This Asian shrimp stir fry recipe is one of hers, and it's one of the very first recipes she taught me how to cook.
Chinese shrimp stir fry dishes come together very quickly. From start to finish, it only takes about 15 minutes. It's the easiest stir fry recipe and so tasty with soy sauce and oyster sauce together. The aromatics include the "Chinese Trinity" – garlic, green onion and ginger.
How to Stir Fry Shrimp
There's a technique that I use in all of my stir fries – the protein (shrimp, in this case) is seared on both sides first and then removed from the pan. The shrimp isn't cooked all the way through yet, but it's got a really nice crunchy sear. You'll finish cooking the shrimp at the end of the stir fry.
This method does a couple of things:
1) Protein sears at high heat. Searing provides flavor. (boiled shrimp vs. grilled shrimp)
2) The aromatics – ginger, garlic, green onion burn easily – they need to be cooked at medium heat.
So, cooking the protein vs. the aromatics separately allows each and every ingredient to cook perfectly at their own temperatures. The shrimp is added back into the pan at the end to finish cooking. All of the ingredients are at their perfect prime of flavor and texture, and never overcooked.
Make It Low Carb!
To make this Asian Shrimp Stir Fry Recipe low carb, substitute the soy sauce for Coconut Aminos. This
three-pack on Amazon
includes a Garlic Sauce and Teriyaki Sauce that is great for Whole 30 diets. Instead of the Oyster Sauce in the recipe, substitute with the Coconut Amino Teriyaki sauce. It's not going to taste the same, but the Coconut Amino products are low glycemic.
Video: Garlic Ginger Shrimp Stir Fry Recipe
Some of my favorite tools for stir fry
I love this wok! It comes with a lid that allows you to peek in and see what's going on in the wok.
Super easy way to mince garlic. Add a clove or two and twist.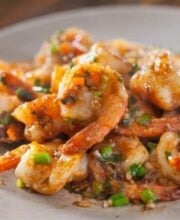 Shrimp Stir Fry Recipe with Garlic & Ginger
Other vegetables that you can easily add to this recipe: snow peas, canned straw mushrooms (halved), canned baby corn (cut small pieces), fresh bean sprouts, red bell pepper (julienned), julienned carrots. If you add more ingredients, increase the amount of seasoning and garlic/ginger/green onion.
Course: Main Course
Cuisine: Chinese
Servings: 4 people
Calories: 190 kcal
Ingredients
2 tablespoons oyster sauce
2 tablespoon soy sauce
2 tablespoons fresh cilantro minced (optional)
2 teaspoons cornstarch
1 pound shrimp peeled and deveined (tails left intact optional)
2 tablespoons cooking oil divided
3 green onion chopped (white and light green parts)
2-3 garlic cloves finely minced
2 teaspoons grated fresh ginger use microplane grater
Instructions
In a small bowl, combine oyster sauce, soy sauce and cilantro and set aside.

Pat the shrimp very dry with paper towels. In a medium bowl, add shrimp and cornstarch and toss to coat.

In a wok or large saute pan over high heat, add half the cooking oil and swirl to coat the bottom of the pan. When the wok is very hot, add the shrimp in a single layer and cook partially until one side is nicely seared, about 1 minute. Flip and sear the other side of each shrimp, about one more minute. They don't need to be cooked all the way through yet. Remove them to a plate and set aside.

Turn the heat down to medium and let wok cool off a bit to prevent the aromatics from burning. Add the remaining cooking oil and add green onion, garlic and ginger and stir fry for a minute until fragrant. [If you are using other vegetables, like snow peas, add them to the wok now and stir fry for a minute or until the vegetables are bright in color and crisp-crunchy]

Pour in the sauce mixture and add the shrimp back into the pan. Stir fry for another minute or so until shrimp is cooked through. Serve immediately.
Nutrition Facts
Shrimp Stir Fry Recipe with Garlic & Ginger
Amount Per Serving
Calories 190 Calories from Fat 72
% Daily Value*
Fat 8g12%
Cholesterol 285mg95%
Sodium 1385mg60%
Potassium 134mg4%
Carbohydrates 2g1%
Protein 24g48%
Vitamin A 105IU2%
Vitamin C 6.8mg8%
Calcium 174mg17%
Iron 2.8mg16%
* Percent Daily Values are based on a 2000 calorie diet.