1. Steamy Kitchen Buddha Bowl Update
YAY! The beautiful Buddha Bowls are arriving in your kitchens! Every day, I'm getting glowing emails from my friends who have ordered their very own Buddha Bowl.
Here's a lovely note I got from Marusia:
"Just received my Buddha Bowl & I was so excited to open the parcel.
It's gorgeous, so beautifully crafted by your artisan. I love it!!!! It's just the perfect size & I am dying to try it out with one of your delicious Buddha Bowl recipes."
(Thank you Marusia!) We've been using our bowls everyday, they get used in the microwave, washed in the dishwasher and serves our healthy, flavorful Buddha Bowl recipes.
Learn More About Buddha Bowl (and order your own!)
Steamy Kitchen Buddha Bowl Mission

We help home cooks, like yourself, to fall in love with your leftovers and everyday cooking with Buddha Bowls Recipes, so you can stop wasting uneaten food and unused groceries.

We all know we hate throwing out food, leftovers or unused produce that we just don't know what to do with. Our main mission with our Buddha Bowls is to inspire you with ideas on how to revive your leftovers, roast up remaining produce, add a flavor packed sauce and build incredible multi-dimensional and well balanced dishes!
2. Shrimp and Avocado Buddha Bowl with Creamy Cilantro Sauce Recipe
Here's the formula for a Buddha Bowl recipe:
Bed of grain or greens + Lots of healthy vegetables + Any protein + Yummy sauce + Fun crunchy topping
Have you been wanting to transform that bag of frozen pre-cooked shrimp that's been sitting in your freezer? Hold the shrimp cocktail sauce! We got something better in mind!

In this recipe for our Shrimp and Avocado Buddha Bowl with a Creamy Cilantro Sauce, we show you the simple steps from taking simple frozen shrimp and transforming it into a well-balanced, perfectly seasoned dish! Simply layer fresh rice or greens, your choice of vegetables, creamy avocado, and keep your shrimp simple or spice it up!

Top your bowl with a beautiful drizzle of creamy cilantro sauce and finish it with crispy tortilla strips! Learn how to build your own bowl here!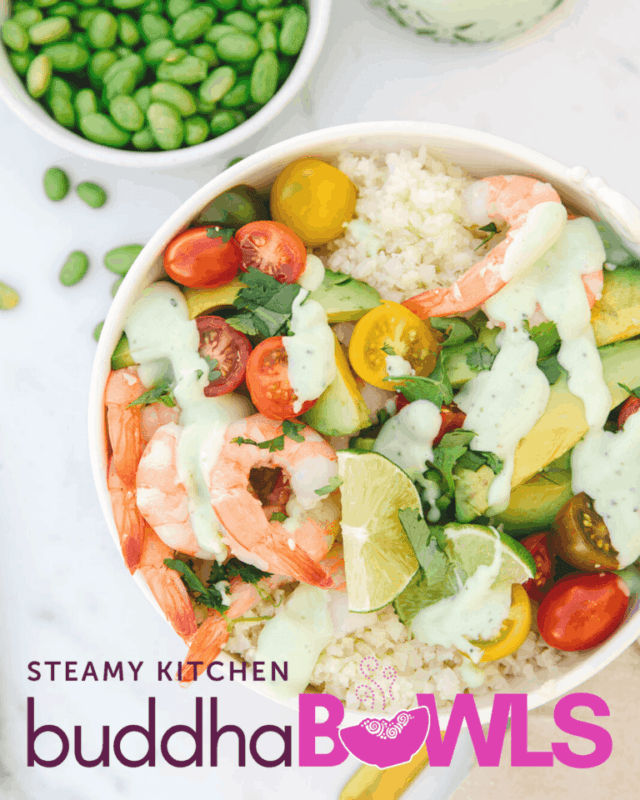 STEAMY KITCHEN CURRENT GIVEAWAYS
NEW GIVEAWAYS!
– $100 Magical MasterCard Giveaway
– ILIFE V3 Robot Vacuum Giveaway
– Strata Men's Golf Club Set Giveaway
– LinenSpa Cool Gel Memory Foam Giveaway
THIS WEEK'S WINNERS
Congratulations to our week's winners!
– Amos Humphrey from Palmyra, ME who won the Authentic Swarovski Elements Crystal Ruby Red Necklace Giveaway
– Elizabeth Maher from Calgary, AB who won the Thermopen Giveaway
– Linda Pattay from Newport ME who won the Blink XT2 Outdoor/Indoor Smart Security Camera Giveaway
– Pamela Third from Vancouver, BC who won the Kuhn Rikon Wok Skillet Giveaway
– Eric Wright from Duluth, MN who won the Apple Ipad Giveaway
Barnes and Noble $10 Gift Card Instant WinnerHannah Conley from Madison, WI
Starbucks $10 Gift Card Instant Winner
Kathryn Nechvatal from Maricopa, AZ
Catherine Gosart from Keller, TX
Apple Itunes $10 Gift Card Instant Winner
Bo Yoo from Los Angeles
Barbara Fleming from Wyomissing, PA
Nordstrom $10 Gift Card Instant Winner
Kim White from Crystal Lake, IL
Macy's $10 Gift Card Instant Winner
Rodney Meeks from Bastrop, LA
MEET THIS WEEK'S WINNERS!
NEW:
ENTER THE GIVEAWAYS
Best Buy $100 Gift Card Giveaway
M3 Pro Massage Gun Review and Giveaway
Island Bamboo Pakkawood Spoons Review and Giveaway
Drinkmate instaFizz Review and Giveaway
ENDING SOON:
– Acer Chromebook Spin 11 Giveaway
– Anolon Teak Salad Serving Set and Dressing Maker Review and Giveaway
– Kotai Gyuto Chef Knife Review and Giveaway
– Canon Powershot SX420 Digital Camera Deluxe Accessory Kit Giveaway
MORE:
– Vitamix Explorian Blender Giveaway
– Key Smart Clean Box Giveaway
– Mr. Steak Review and Giveaway
– Whole Foods Instant Win
– Garmin Running Watch Giveaway
– Fire HD 10 Tablet Giveaway
– Prestige Knives and Pans Review and Giveaway
– Galaxy Tablet Instant Win Game
– Vacos Security Camera + Solar Panel Giveaway
– FoodSaver Vacuum Sealer Giveaway
-TaoTronics Professional Deep Tissue Massager Giveaway
– Japana Paring Knife Giveaway
– Sweet Savory Spicy and 50 Grocery Gift Card Giveaway
– Sifely Keyless Door Lock Giveaway
– Macy's Instant Win
– VISA $100 Gift Card -New Format Giveaway
– Insignia 43″ Smart LED Fire TV Giveaway
– AeroGarden Indoor Herb Garden Giveaway
– Black and Decker Tool Set Giveaway
– Barnes and Noble Instant Win Game
– Dream Big $500 Cash Giveaway
– Recliner Massage Chair Giveaway
– Gysker Telescope Giveaway
– $100 Target Gift Card Giveaway
– $100 Amazon Gift Card – New Format Giveaway
– Snaptain Drone Camera Giveaway
– Apple Airpods Giveaway
– Vinci Electric Citrus Juicer Giveaway
– TRX Suspension In-Home Training System Giveaway
– Pohl Smitt Bread Baker Machine Giveaway
– Rockland 3 Piece Luggage Set Giveaway
– Spread Positivity PayPal Instant Cash Game
– Dyson V7 Cordless Vacuum Giveaway
– GoPro Hero 7 Camera Giveaway
– Acuma 6 Speed Stand Mixer Giveaway
– Wealthy Walmart Instant Win
– $100 Grocery Gift Card
– RCA Stainless Steel Fridge
– Toshiba 32 Inch HD Smart Fire TV
– Nordstrom Gift Card Instant Win
– Best Buy $100 Gift Card Giveaway
– M3 Pro Massage Gun Review and Giveaway
– Island Bamboo Pakkawood Spoons Review and Giveaway
– Drinkmate instaFizz Review and Giveaway
– Sephora Instant Win