Hi Steamy Kitchen family and welcome to Spring into Love 7 days of Giveaways! Today is Day ONE and in celebration of LOVE, the last day and grand finale will be on Valentine's Day.
I am SO excited to have you here with us again for the next 7 days to share some very special and sparkly prizes!
Over the next 7 days we will be revealing new (sparkling) prizes every single day, specially chosen for Valentine's Day! If you like anything shiny, elegant, sparkly or expensive, this giveaway series is for you!
Meet Effy Jewelry
Effy Jewelry is a luxury American jewelry company founded by Effy Hematian. The Effy company has been designing and manufacturing jewelry in the US for over 3 decades! Effy is a favorite jewelry brand in Macy's, Nordstrom and often found in luxury travel boutique stores on luxury cruises and resorts!
Effy uses more than 150,000 carats of precious gemstones each year and maintains the highest standard in manufacture excellence and integrity. Their wide range of beautiful necklaces, rings, earrings and bracelets are unique and of incredible quality!
Image Credit: www.effyjewlery.com
How This Stash of Amazing Jewelry Got In My Hands
Back in January (or maybe it was even earlier….ugh this entire year has just been a blur), I purchased a lot of over 100 pieces of the gorgeous Effy jewelry at liquidation prices.
The local Sears in Las Vegas was shutting down, and they were just clearing out all of their inventory of jewelry. So, I purchased the entire lot, thinking, "Oh, I can create an online discount jewelry store!"
The Effy fine jewelry is absolutely stunning with diamonds, rubies, garnets, sapphires and other precious stones. This is a very well-known brand (check out their stuff!) that's sold at Macy's Nordstrom's, Sak's Fifth, and high-end cruise ship jewelry stores.
We spent two months photographing the jewelry, building the online store and creating a business plan. Right when we were ready to launch….Covid happened.
Shakes fist in air…."curse you, covid!!!"
I just didn't feel right launching a jewelry store when people were getting laid off left and right. So, I just put the project on hold, waiting for a better time.
But, that better time hasn't come yet, and all this beautiful jewelry is just taking up space in my safe deposit box at the bank. AND…I lost my enthusiasm for being a jewelry store retailer.
SO….my team came up with the idea to just give it away. Yup….all of it. All $167,380.00 worth of jewelry.
FAQ's…Because I Know You're Curious:
Yes, the jewelry is authentic. The original Effy tags with retail prices are on each piece. The Effy jewelry was purchased directly from Sears, one of the largest retailers of genuine authentic Effy jewelry, and we have a receipt from Sears.
Am I really giving away this jewelry? YESSSSS….and I can't wait to see the happy faces of our winners!
Are you REALLY giving away $167,380.00 worth of jewelry? Ugh, that sounds like a lot of money, doesn't it? $167,380.00 is the full retail price of all the pieces. I purchased the jewelry at the liquidation prices, so I only spent a small fraction of that.
Why are you giving away the jewelry? I've been publishing Steamy Kitchen for FOURTEEN YEARS!!! We've hosted giveaways since day one, and started with very small items, like cookbooks and little kitchen doo-dads. Over the years, and especially the past 8 years, we've made giveaways/sweepstakes a big part of our business strategy. Our income comes from advertising on the website (I know….everyone hates ads….but it's what funds the prizes.) Do I think I'll make my money back from giving away the inventory of jewelry? Probably not….but we do make plenty of money from the rest of the website, and this year has been pretty darn good for us. It seems that Covid has forced everyone to stay home, cook and have a little fun entering sweeps on SteamyKitchen.com. This year has been very good to us, and we'd love to share the good fortune and good prosperity flow.
How do we know if we've won? Every single one of our giveaway winners are listed here. We announce new winners each week in our weekly newsletter, and also in a weekly blog post. Many (most) of our winners provide us with a smiling photo that we publish so that you can see real people won real prizes. We email winners directly (make sure you add hello@steamykitchen.com in your contacts, and drag our newsletters out of "promos" folder and into your "inbox" so that you don't miss our emails!
Day ONE Prize!
About the Effy Pink Topaz Earrings
The first prize is a pair of beautiful Effy Pink and Sterling Silver Earrings! If you love the color pink, these earrings will add the perfect pop of color to your look. (Or guys…this makes a beautiful gift for a lucky lady in your life!)
Details to Know About This Piece
Metal: Sterling Silver

Stones: Pink Topaz

Value: $599 USD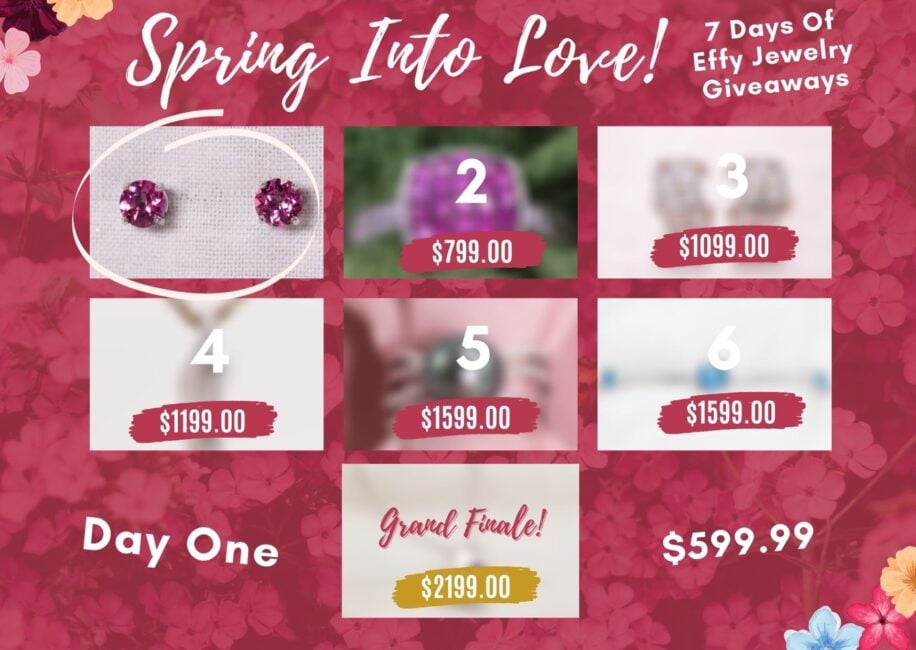 Enter the 7 DAYS OF GIVEAWAYS DAY ONE
Enter Below.