Happy Friday Steamy Kitchen! Spin to instantly win the Spring Flowers Instant Win Game. You have the chance to win 1 of 4 prizes for your garden or to start growing your own.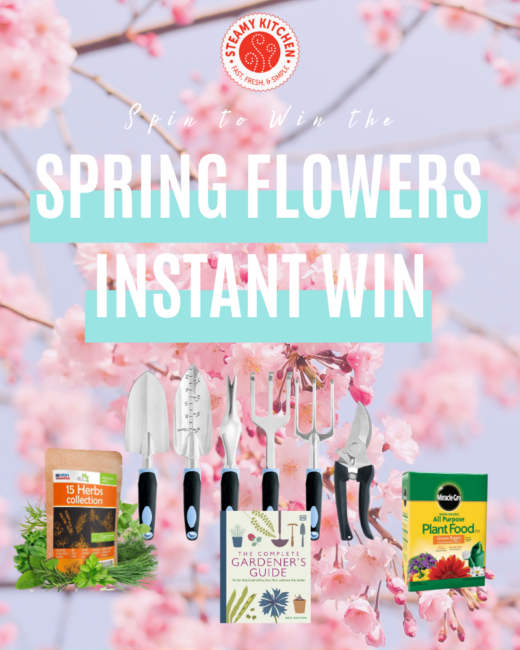 15 Culinary Herb Seeds Pack
15 Most Popular Culinary Herbs – we have selected the most popular herbs with the pack – Italian Basil, Parsley, Cilantro, Mint, Chives, Thyme, Oregano, Tarragon, Dill, Marjoram, Rosemary, Sage, Summer Savory, Lemon Balm, Arugula. So you can finally stop buying flavorless dry herbs and start growing aromatic fresh herbs yourself.
The Complete Gardener's Guide
Choose plants that will thrive in your space. Design a border for year-round color. Grasp different pruning techniques. Discover how to protect your veg patch from pests. Make the best compost. Delve into this concise, practical encyclopedia to find all the ideas and advice you need to create a spectacular, thriving garden.
Wanyi Garden Tool Set
There are 6 gardening pieces, including shovel, rake, weeder, spatula, field cultivator, pruning shears, durable traditional suit. Suitable for many tasks, including pruning, digging, weeding, loosening the soil, aerating, transplanting, etc.

An ergonomic soft handle, made of high-quality TPR material, can reduce the pressure on the wrist and hand. Reduce hand pain and fatigue when digging, weeding, planting and cutting.
Miracle-Gro Plant Food
For big, beautiful Miracle-Gro results, plants need water, sunlight and nutrition to flourish throughout the season. Miracle-Gro Water Soluble All Purpose Plant Food is safe for all plants, guaranteed not to burn when used as directed, and starts to work instantly.
Spring Flowers Instant Win
Spin to win below.