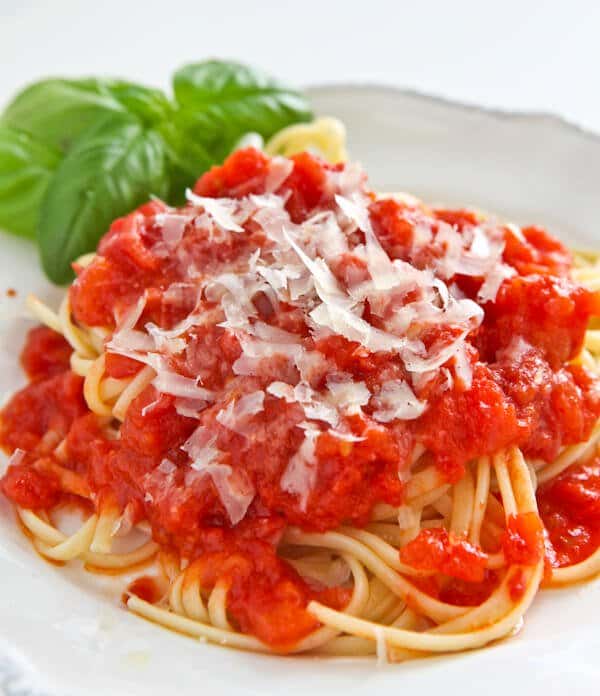 I recently had the pleasure of meeting, cooking and dining with Marcella and Victor Hazan at their home in Florida.
At 87 years old, Marcella Hazan is a legend in the culinary world, having influenced millions of Americans on the art of Italian cooking.
Of all recipes, I think this is simple Tomato Sauce is what she's most famous for.
Read my post and see photos of my visit with Marcella and Victor Hazan.
Marcella's Tomato Sauce: 3 ingredients
Four, if you count the pasta as well.
1 whole onion, one 28-ounce can of whole, peeled tomatoes (from San Marzano if you can find them), 5 tablespoons of butter and pasta of your choice. I used salted butter, which let me omit the added salt to the sauce (and I also salt my boiling pasta water too)
Place the butter, onion and tomatoes (I've roughly chopped the tomatoes first) into a pot and simmer uncovered for 45 minutes.
Until it looks like this, where droplets of fat float freely from the tomato:
Remove the onion and discard if you must (but secretly, I enjoyed it with a little salt and pepper)
This is what tomato sauce is all about!
Serve over pasta.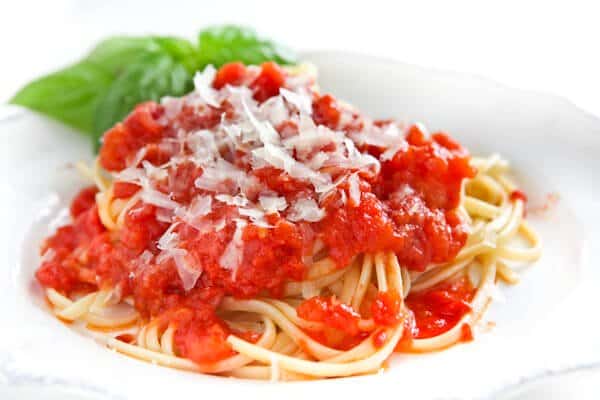 Victor and Marcella sent me home with a gift of custom made Italian sausage by Paul Bertolli:
And so we grilled them outside…but a little boy was impatient and couldn't wait for me to finish my photoshoot.
After I scolded him for grabbing the sausage with his hands before dinner was served, I turned around to get the other plates dished up.
And caught him….
in the act…
of super-fast slurping…hoping not to get caught…
look at that slurptastic action!
Marcella Hazan's Tomato Sauce with Onion and Butter Recipe
recipe adapted from Essentials of Classic Italian Cooking by Marcella Hazan
I used salted butter and also heavily salted the boiling pasta water, so I didn't add any additional salt to the sauce. Taste and adjust with more salt if needed.
One 28-ounce can whole plum tomatoes (San Marzano, if you can find), tomatoes roughly chopped with their juices
5 tablespoons salted butter
1 medium yellow onion, peeled and halved
Heat a heavy, medium saucepan over medium heat. Add all of the ingredients and bring to a simmer. Turn the heat to low to keep a steady simmer. Cook for 45 minutes, or until droplets of fat float free of the tomatoes. Stir occasionally. Discard the onion. Serve over cooked pasta.