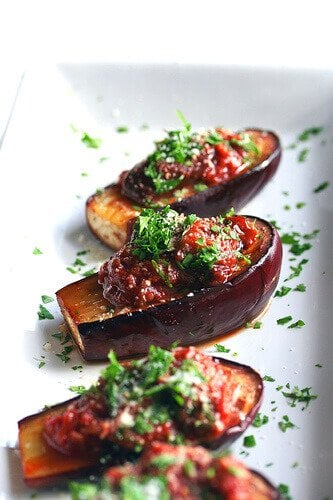 Look what I found at the market yesterday! These were so darn cute, about 4 inches in length – I just had to take some of these bright, shiny baby aubergines home with me. Eggplant season generally starts in June, but one of the perks of living in Florida is that we get produce a little earlier in season due to the warmer weather. The babies were practically begging to be roasted as an appetizer. I just so happened to have a jar of Sicilian Caponata, which is a relish of chopped eggplant, tomatoes, capers and olives, all magically blended into a sauce perfect for pastas, quick bruschetta, or even eating straight out of the jar (me, guilty).
I simply sliced the baby eggplants in half lengthwise, put them on a roasting pan, drizzled olive oil and in the oven at 375 degrees. 10 minutes later, I checked on them. Perfect timing! I then brushed a little more olive oil on top and set the broiler on high for 2 minutes to get a little more carmelization on the top.
Serve a quick sprinkling of sea salt, a spoonful of Caponata, chopped parsley and freshly grated Pecorino Romano.
The eggplant is dreamy, delicate and sweet. One bite and the velvety flesh just melts into your mouth. Since they haven't matured, they do not have any of the bitterness that the adult variety contains. No need to salt to extract the bitter compounds. These babies were just the perfect size for a finger food. Their indigo skins looked so perfect on a white platter!
Can you imagine serving these cute things wearing the perfect hostess apron?! (HUSBAND click on this link)
You don't have Caponata? Try these toppings: -Pesto sauce with chopped parsley, roasted pinenuts and shaved parmesan -Chunky marinara sauce with chopped basil -Slices of roasted bell peppers and good olives -Diced tomatoes with a garlicy Tzaziki sauce. Top with chopped, fresh dill -Crispy fried basil leaves (deep fry the leaves) -Whipped mashed potato mixed with curry powder Do you have any other topping suggestions?