Happy Monday Steamy Kitchen, today we are giving away ONE Juice Extractor that can help you get on the track to better health! This Juice Extractor does not blend food together, but rather extracts all of the juices, leaving out the pulp and giving you the most concentrated vitamins.
Aicook Juicer Extractor
Health gurus – extracts up to 26% more juice and 36% more vitamins and minerals than other juicers. Only A few seconds, you can drink a cup of juice with little pulp and foam.

Big timesaver – 3" Wide Feed fit whole fruits & vegetables, without slicing and chopping, completely Liberate your hand. Reducing prep time to get the delicious juice.

3 speed design – "p" To the fastest speed, "I" Low speed, "II" Fast speed. 3-Speed control Maximizes juice yield from soft, leafy greens and hard fruits. Diy fresh and delicious juice for you and your family.

Easy to clean – equipped with a special brush to make cleaning more easier and faster and can be rinsed directly with water. All materials that come in contact with food are Bpa-Free.

Safety protection – prevent the juicer from operating without the cover locked into place. Overload protection automatically shutting the machine down when it senses that the machine is overloaded.

Equipment upgrade – a small-sized machine that is perfect for the home and kitchen, with a large-capacity slag bucket, recipes. And non-slip feet to prevent the machine from vibrating.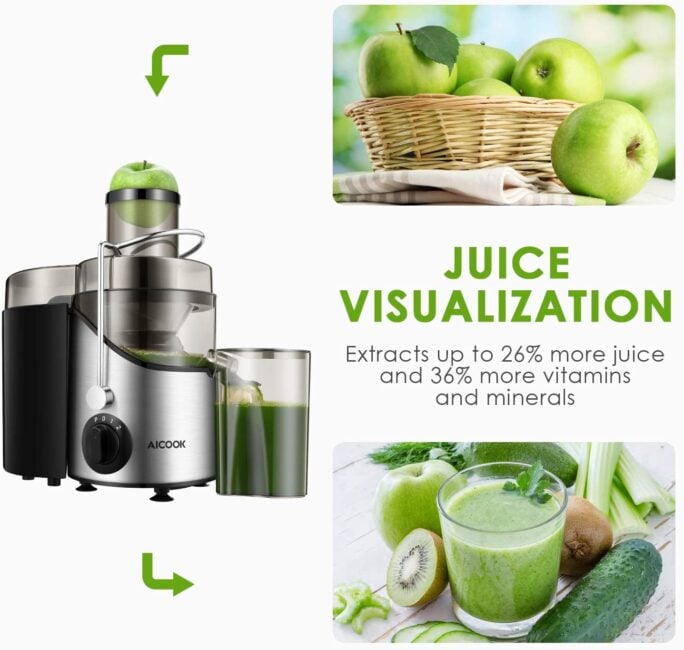 There is an inductive switch inside the product, it is necessary to properly install the machine and lock the safety arm to activate the sensor switch and start the machine. It's also security protection.
There are a ton of different juicing recipes that you can make for a tasty refreshing drink or juices you can make to get you fill of vitamins and minerals from foods you would never eat raw (like kale or beets). We are going to share our favorite juice combos!
Jaden's Juice Combos
The Green Machine
Kale, green apple, cucumber, and a lemon or lime. Juice all of these green ingredients together for a a blend of green juice high in vitamins A, C and K.
The Unbeetable Combo
Beet, lemon, ginger, apple! This juice combo is great for your body if you need a boost of fiber and iron.
Citrus Sunrise
Grapefruit, orange, pineapple and mint. This is a refreshing combo that will help you get your vitamin C and antioxidant intake in the morning!
Juice Extractor Giveaway
Enter the giveaway below!