Cooking Chinese for the Olympics! This is the 2nd recipe in the series…see the end for links
Oh…and there's a contest in the middle of this post!!!
***
Last fall, my parents treated Scott and I to a 10 day group tour around China. Our first stop was Beijing, and first thing I noticed was how clean the city was. I literally could eat off the streets, as there was an entire team of sanitation engineers whose sole job was to scrape gum off the streets and sidewalk. I'm so not kidding – they wore white gloves and could scrape even crusty, 2 week old Bubbalicious in one quick motion.
You could see the entire city was gearing for its big Olympic moment: sleek buildings, sporting stadiums and even beautiful parks were being quickly erected and created almost overnight. There was hardly any traffic for a city of over 17 million and in addition to the gum scrapers, workers were polishing the guard rails that lined the interstate.
But no tricking this smart rat! I knew our tour's itinerary, including restaurants, shopping, sightseeing and even driving path was carefully planned and regulated by the government. I was half afraid to turn my head around and look out the back window of the tour bus, for fear that the set façade would be replaced by the daily regular.
Well, no matter…I mean, how can I blame Beijing? For if you come to my house for dinner, you'd find last night's crumbs swept under my rug and mounds of dirty laundry shoved into closets too.
In the next couple of weeks, I'll be sharing many of my favorite Chinese dishes, so that you're not stuck just ordering take out from your local Chinese restaurant. But today, I want to teach you the secrets of a light, flavorful Chinese stir fry.
Ancient Chinese Stir Fry Secrets (at home)
Restaurant kitchens have extremely high powered stoves, flames that jump so high that your eyebrows will singe just standing in the doorway. At home, especially with electric stovetops, we just can't get that kind of heat. To compensate, you've got take the time to let your wok or pan get super hot and the best way to judge whether it's hot enough is to hold your hand 6 inches over your wok. The moment you start feeling some serious heat, it's ready. Seriously, though, don't try to be all macho and stuff, if it's hot enough for you to say, "hot!" just pull away.
The second trick is to sear your meat or seafood first, remove from the wok, then cook the vegetables, and then returning the meat or seafood back to the wok towards the end of the stir fry. If you don't, you'll end up steaming your meat in the vegetable juices instead of frying it. You want each individual ingredient of a stir fry to sing on its own, instead of becoming a soggy, heavy, mish-mash.
The last trick is a tough one. I know it's a gut reaction to constantly keep poking, prodding and stirring during a stir fry (which is essential in a massively hot restaurant wok), but resist the urge when you're frying meat or seafood. When you first put your meat in the wok, spread it out so that the pieces are not touching and use all available surface area. Now, step away! Let the meat have a chance to sear. If you keep messing with it, the protein never has a chance to develop that wonderful carmelization and you'll end up with mushy meat.
In this Stir Fried Shrimp, Eggs and Peas dish, you'll practice all three of these secrets. You'll let the oil heat up before adding the shrimp, spread out the shrimp so that they don't touch and just let it sear. Once cooked, you'll remove the shrimp and add it back in when the eggs are almost set. This will give you a light/firm/crisp/crunch/springy shrimp – a sure sign that you've cooked the shrimp properly.
STOP! I need a word or two that elegantly describes the texture of perfectly cooked, fresh shrimp. It's the feeling in your mouth when you bite into the shrimp – "light/firm/crisp/crunch/springy" just doesn't capture it quite right. There is a Chinese word for it (to not give Chinese speaking advantage on this contest, I'm not going to tell what that word is) – but I can't find the right English words to match. The first person to come up with the best word or phrase wins a $25 gift certificate to Amazon.com!!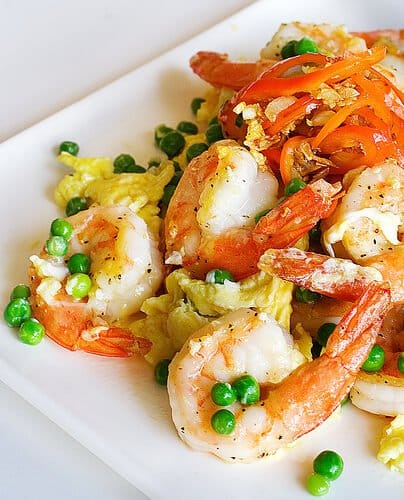 I always have a bag of frozen peas/carrots (and in this case just peas), some frozen shrimp and eggs on hand. When I'm cooking Chinese food and need just one more dish to make the meal complete, this is one of my go-to dishes.
In this recipe for Stir Fried Shrimp, Eggs and Peas, I've chosen to fry the chilies and garlic separate from the eggs and shrimp, using it as a topping. This is because my kids are eating this dish too – and they can pick the parts where the chilies are not touching.
I know you've been taught not to burn garlic, as it can be bitter and ruin the entire dish. But in this case, the garlic is fried to a crisp – it provides a wonderful texture. Since it's a TOPPING – and not the base of the dish (i.e. I'm not cooking the garlic first and layering ingredients/flavors on top of the garlic) – the very slight bitterness is a welcome, especially nestled against the chili pepper's sweet heat.
Stir Fried Shrimp, Eggs and Peas
1/2 pound raw shrimp, shelled and deveined and patted very, very dry
1/4 teaspoon kosher salt
freshly ground black pepper
1/2 teaspoon cornstarch
1/2 teaspoon sesame oil
1 teaspoon finely minced garlic
1 large mild chili (anaheim, Hungarian wax), thinly sliced
1/4 cup frozen peas, thawed
4 eggs, beaten
3/4 teaspoon kosher salt
cooking oil
in a bowl, combine shrimp, salt, pepper, cornstarch and sesame oil, let sit at room temperature for 10 minutes to marinate.
In a wok or large saute pan over high heat, add 1 tablespoon cooking oil, swirling to coat the wok. When the oil is very hot (hold your hand 6″ above the wok surface), add the shrimp (the shrimp should sizzle loudly upon contact) and spread out around the cooking surface. Let fry, untouched for 1 minute.
Flip shrimp and fry for an additional minute, or until cooked through. Remove the shrimp from wok to a plate, leaving as much cooking oil in the wok as possible.
Keep the heat on high, add the garlic and sliced chilies and fry until fragrant and the garlic is crispy, about 30 seconds. Remove from wok to a small dish and wipe the wok clean with paper towels. Return the wok to high heat and add 1 tablespoon of cooking oil. When the oil is hot (a drop of egg should sizzle immediately), pour in the eggs and gently stir for 1 minute, until almost set but still a little runny in the middle. Season the egg with salt and add the shrimp and the peas to the wok and stir to mix well until the eggs are completely cooked through. Dish to serving plate and top with the fried garlic and chilies.
***
Other great Chinese dishes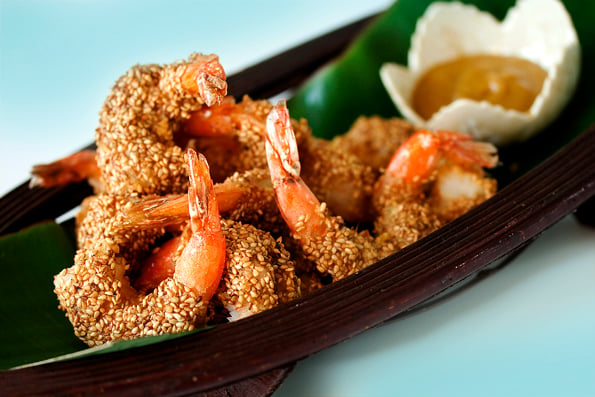 Sesame Shrimp with Honey Mustard Sauce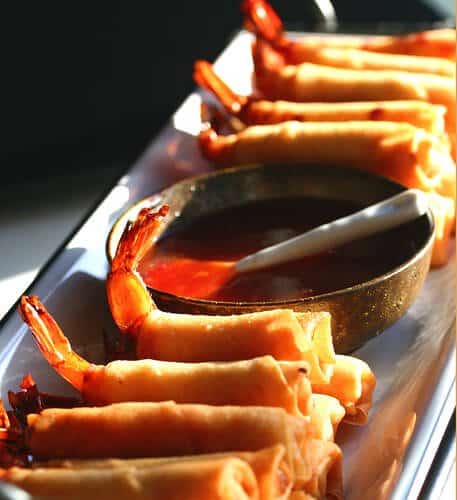 Shrimp and Mango Firecrackers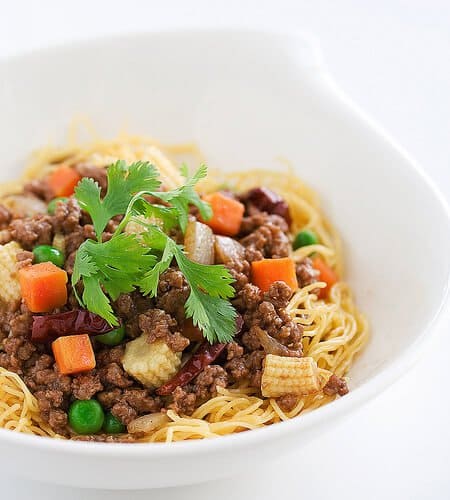 Ground Beef with Beijing Sauce Over Noodles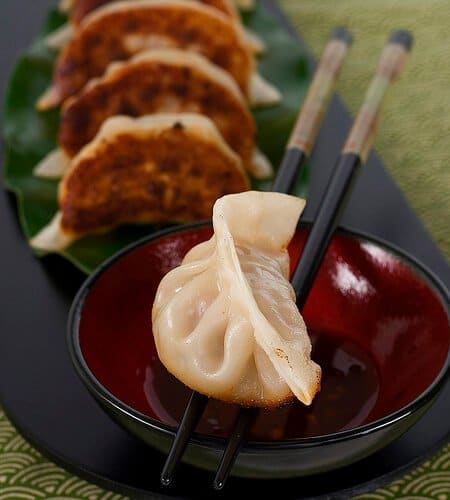 Pan Fried Shrimp and Pork Potstickers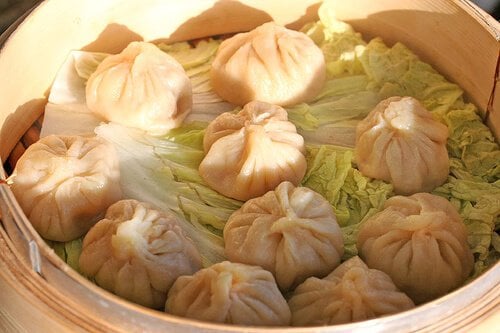 Xiao Long Bao – Steamed Shanghai Soup Dumplings
Wonton Noodle Soup