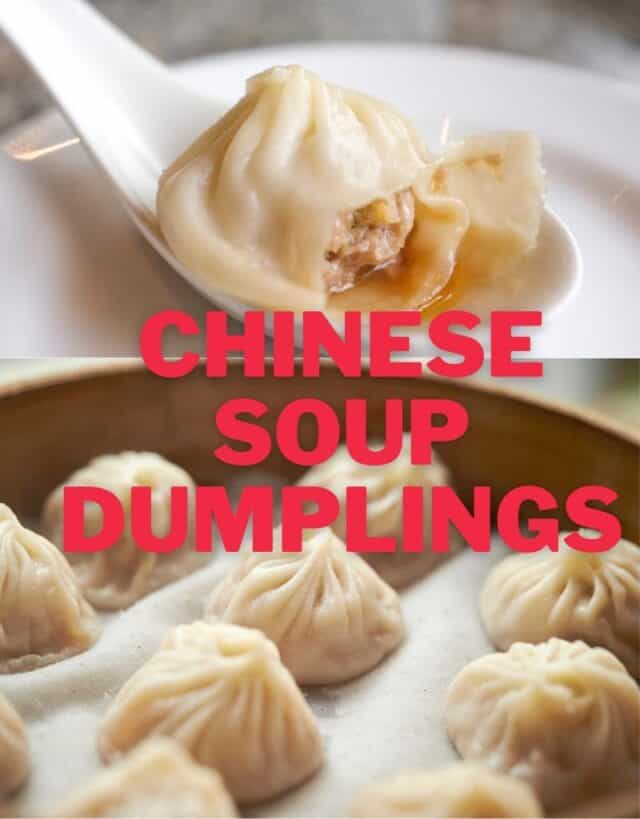 Xiao Long Bao is one of the most famous Chinese steamed dumplings, but one of the most time-consuming to make from scratch.
Inside the dumpling are little pockets of gelatinized broth made from chicken, pork and cured ham. When you steam the dumpling, the broth gelatin melts. We'll show you how to make authentic Xiao Long Bao, from scratch….from the broth to homemade wrappers.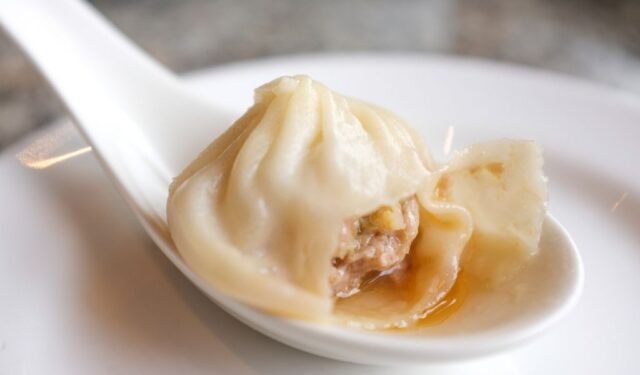 But first, a little humor:
Beginning of Foreplay
Aromatic chicken, pork bone and cured ham broth set & cut into shimmering ribbons of translucent gelatin:
Cut into cubes they look like jewels:
Are you hungry yet? The little dumplings are begging to be nestled between your lips.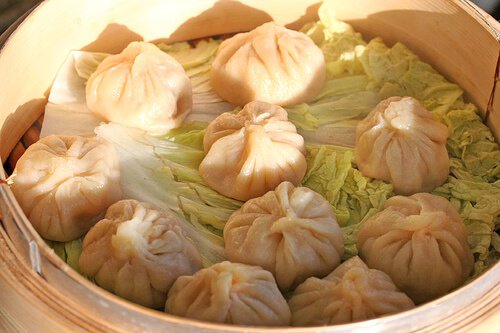 See the steam? The sun was just starting to come down as we began our feast. Do you see the spicy Sriracha "Rooster Cock Sauce" seducing you from behind?
Don't be shy, I'll hold your hand and walk you through it.
Pick up one of those wooden soup spoon and a pair of chopsticks. Gently lay down one of those tender, juicy, dumping so that it drapes seductively in your spoon. Glide the warm wooden spoon towards your mouth, let your lips lightly brush against the nipple of the dumpling. Slowly move down and take a little nibble on on of the folds of the skin. Let the wisps of steam escape out and caress your upper lip and the tip of your nose. Surrender to the aromatic symphony of the filling tickling your senses. Ok, now go ahead, slowly bite into it. An explosion of rich, steaming, hot juice oozes into the groove of your tongue, dribbling down the side of your chin, and you try to catch any escaping broth with your spoon. No, don't just stop at one…go ahead, take another one.
Don't you feel deliciously alive?!
How to make Xiao Long Bao Recipe
While I typically specialize in easy, fast Asian recipes – this is not fast and easy. So I'll give you fair warning that this does take time to make. It took about half a day to prepare the soup, chill & set with agar-agar, prep the filling, make & knead the dough, cut out dough circles, wrap, and steam.
Hot Water Dough for Xiao Long Bao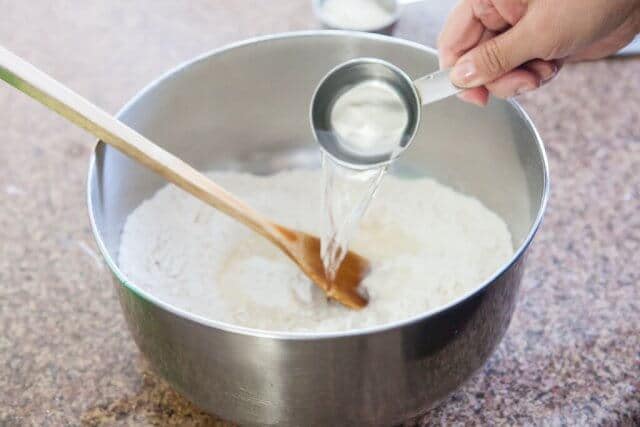 Dumpling wrappers made from scratch start with "hot water dough," which is a combination of using just-boiled hot water and cold water.
The boiling hot water partially cooks the dough & forms gluten better, resulting in a soft, stretchy, pliable and very easy to work with and do multiple pleats. The dough rolled beautifully, but it was still very strong and held the filling without breaking. When you add the hot water, take a pair of chopsticks and use that to stir vigorously to get the gluten going. How vigorous? Well, the best way to describe is to show the dough who's boss and slap the dough around!
After a couple of minutes of all that slapping, add the cold water, stir more.
Kneading Dough for Xiao Long Bao
When I am making anything that involves flour and kneading, I always use 90% measurement of flour than what the recipe calls for initially. The reason is that I can always add more flour if needed – its very simple to do that and very simple to knead the additional flour in by hand.
However, if you have too much flour, it is very difficult to add more water to the dough. I also measure out the flour by weight, not by cups, as everyone measures a little different and ingredients may settle in the measuring cup a little different.
So, I initially use 90% of the flour and reserve the remaining 10% on my counter to incorporate bit by bit as I knead. This ensures that I never use too much flour. Your counter should be floured, so that the dough doesn't stick to the counter.
While you are kneading, if the dough is very sticky, add 1T of flour at a time. Sprinkle some on top of the dough, some on the counter – and knead to incorporate the new flour thoroughly. It feels right when its slightly tacky, but not sticky. The dough should come together beautifully in a nice, smooth, round ball. Let it rest (you'd be tired too if you were slapped around). When you poke it with your finger, the dough should slowly ease back into position.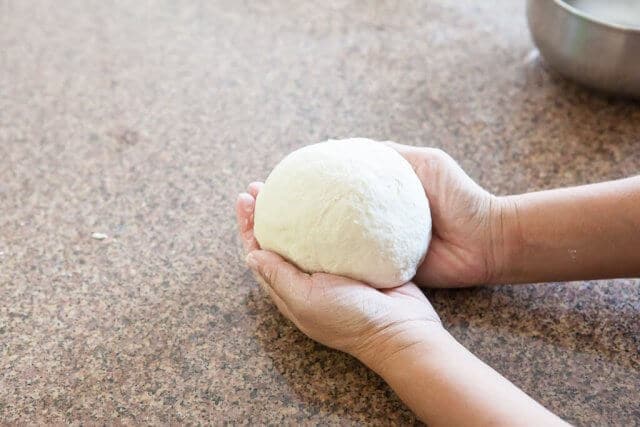 Pleating Xiao Long Bao
Master Xiao Long Bao pleaters pleat lightening fast. And, they pleat the dumplings with one hand. I just don't have that kind of talent!
Each dumpling was a little different based on how well I managed to get my fat fingers out of the way on the last fold.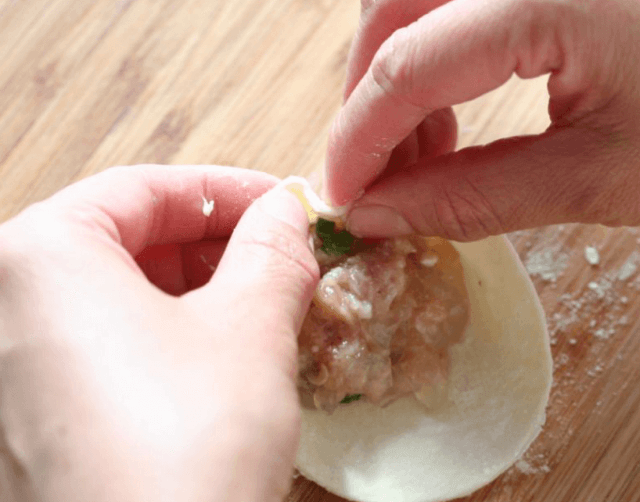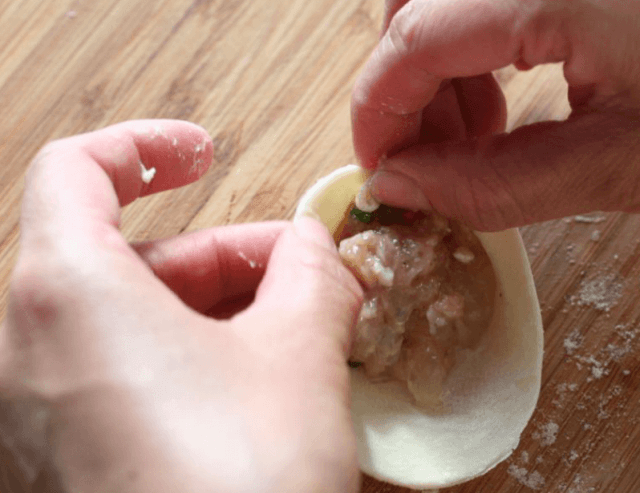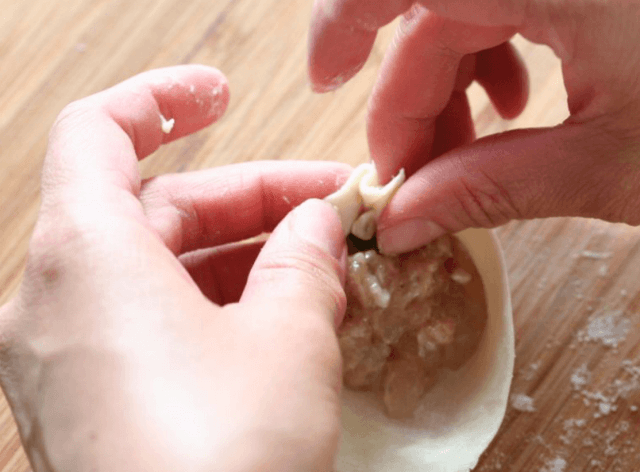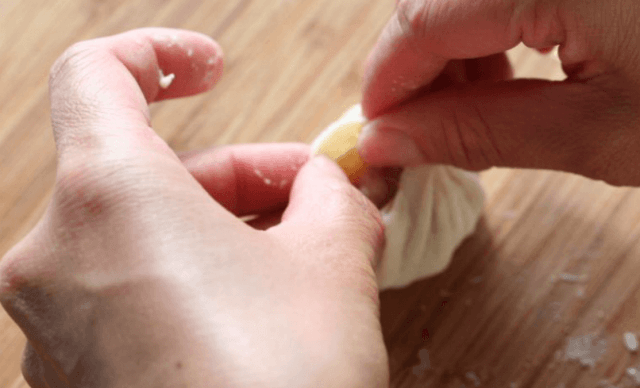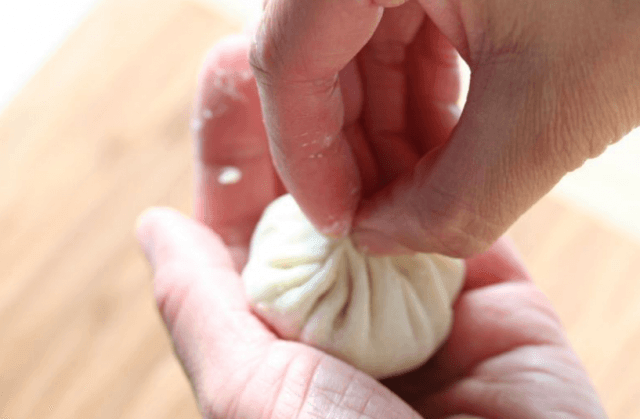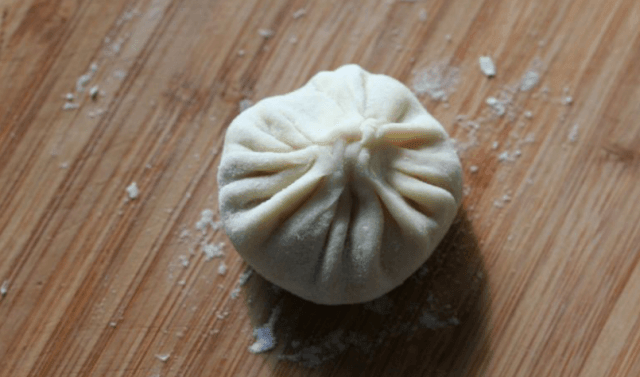 Get all you need to make your authentic Chinese Soup Dumplings
I love this Chinese Soup Dumplings Set from Amazon. It even comes with the special ingredient , Agar Agar, you need for successful dumplings.
It has all you need to make the perfect dumplings at home or a great gift for the chef in your family!
AUTHENTIC CHINESE COOKING TOOLS – Become a master dumpling maker and expand your kitchen line up with a bamboo dumpling steamer, dough roller, and specialty stuffing wooden spatula.

GET THE SPECIAL INGREDIENT – Discover the secret of how liquid broth is enclosed inside a dumpling. Agar agar powder is a popular ingredient in Chinese food, that serves as a natural vegetable gelatin obtained from red algae.

MAKES PERFECT COOKING GIFTS – Traditionally called xiao long bao (pronounced shau-long-bow in Mandarin), these tiny purses of hot, savory soup are comforting and delicious. This specialty kit delivers all the tools they need to make mouthwatering dumplings at home.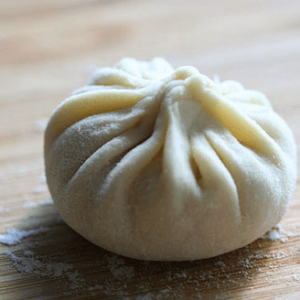 Xiao Long Bao Recipe (Chinese Soup Dumplings Recipe)
Makes about 40 dumplings. The soup gelatin recipe is enough to make 2 batches (80 dumplings total). You can freeze leftover gelatin for the next time you make Xiao Long Bao. Or double the dumpling filling and wrapper recipe to make a total of 80 dumplings.
Ingredients
FOR THE SOUP GELATIN
2

quarts

water

2

pounds

chicken bones

wings/back/neck

2

ounces

Virginia Country Ham

or cured Chinese ham if you can get it, cut into 4 pieces

1/2

pound

pork belly

or fatty cut of pork

1

inch

piece of ginger

sliced into 4-5 ginger "coins"

2

stalks

green onions

cut into 3" pieces

2

large garlic cloves

smashed with side of your knife

2

teaspoons

Chinese rice wine

or dry sherry

1

tablespoon

unflavored gelatin or powdered Agar Agar
FOR THE FILLING
1

pound

ground pork

1/4

pound

shrimp

shelled, deveined and minced finely

3

stalks

green onion

finely minced

2

teaspoons

sugar

2

tablespoons

soy sauce

1

teaspoon

kosher salt

1/4

teaspoon

white pepper

1/2

teaspoon

grated fresh ginger

use microplane grater

1

teaspoon

Chinese rice wine

or dry sherry

1/2

teaspoon

sesame oil
FOR THE HOT WATER DOUGH
400

grams

all-purpose flour

3/4

cups

boiling hot water

1/4

cup

cold water

1

tablespoon

cooking oil
FOR THE DIPPING SAUCE
1

tablespoon

sambal

hot chili & garlic sauce

1/4

cup

black vinegar

1/4

cup

soy sauce

1

teaspoon

sesame oil

2

inch

piece of fresh ginger

peeled
FOR STEAMING XIAO LONG BAO
Instructions
FOR THE SOUP GELATIN
In a large stockpot, place all of the ingredients EXCEPT the gelatin/agar agar. Bring to boil, reduce heat and simmer for 45 minutes, uncovered. Use fine meshed strainer to remove the scum on surface. Taste, and adjust with salt, if needed. The ham is salty, so you might not need additional salt.

Measure out 4 cups of the broth (you'll only use 4 cups of broth...reserve any leftover to use in future soups) and pour into a medium saucepan and bring to a almost a boil.

Turn heat off and stir in the gelatin or agar agar. Whisk until all powder is dissolved. Pour broth into an 8x8 baking dish (size really doesn't matter. if you have a few plastic containers, use those instead. remember how you used to make jello?) Refrigerate until set, about 3-4 hours. (I stuck mine in the freezer after the first hour because I got impatient...it only took 2 hours for mine to set)

When the gelatin is set, use a fork to criss-cross the gelatin to break into very small, 1/4" pieces. Alternatively, you can carefully cut into small cubes. Reserve about 1 1/2 cups of the soup gelatin. Freeze any remainder for future use.
FOR THE FILLING
In a large bowl, combine and mix all of the ingredients, including the 1 1/2 cups of soup gelatin.

Stir to incorporate gelatin evenly throughout. Refrigerate until ready to use.
FOR THE DOUGH
Put about 90% of the flour in a large bowl. Pour about a third of the hot water in the flour. Use a wooden spoon to stir vigorously. Add more hot water. Stir more. Add the last bit of the water and stir vigorously until the dough begins to form. Add all of the cold water and oil. Keep stirring vigorously. Stop when you can't stir anymore.

Dust counter with the remainder 10% of flour. Place dough on floured surface, use your hands to knead the dough for 8 -10 minutes, until it becomes soft, smooth and bounces back slowly when poked with your finger. Cover with plastic wrap and let it sit for 30 minutes.

Divide the dough into 4 equal pieces. Take one piece (cover the remaining 3 pieces with plastic wrap) and roll it into a long log, about 1-1/4" diameter. Using pastry scraper or knife, cut dough into 10 pieces. Work one dough ball at a time, keep the remaining covered with plastic wrap.

Roll one of the balls between your palms to get a nice, round, smooth ball. Using a rolling pin, roll it out flat to about 3" round. OPTIONAL: Roll dough to slightly larger than 3" round, then use 3" round cookie cutter to create a nice, even circle. No cookie cutter? improvise with empty tin can.

**Note, you may need more flour as your are rolling out your dough. I always keep the counter dusted and a small pile of flour nearby so I can quickly nudge some over if I need it.




Fill with 1 tablespoon of filling, pinch pleat all the way around. Repeat with rest. Make sure that you cover any dough that you aren't currently using and cover the dumplings with a towel to prevent drying.
FOR THE DIPPING SAUCE
Shave the ginger - Use your sharp paring knife to get a flat surface on one of the long sides. With a vegetable peeler, cut thin strips along the long side of the ginger. Use knife to further cut the strips into super-thin slices. This way, you get the full flavor of ginger in your sauce + the crunch of the little strips of ginger as you eat without tough, fibrous pieces of ginger.

Whisk together the ingredients in a bowl with the ginger. Serve with Xiao Long Bao dumplings.
STEAMING THE DUMPLINGS
Separate the leaves of Napa cabbage. Cut away and discard the tough, thick stem that curves up.

Fill steamer with 1 layer of Napa cabbage leaves. Steam over medium heat for 2 minutes to warm up the steamer and to soften cabbage. Place dumplings on the cabbage leaves, leaving 1 1/2" space between each dumpling. Steam for 12 minutes. Serve in bamboo steamer.
Notes
Nutrition values are for each dumpling.
Nutrition
Calories:
78
kcal
Carbohydrates:
7
g
Protein:
4
g
Fat:
3
g
Saturated Fat:
1
g
Cholesterol:
16
mg
Sodium:
154
mg
Potassium:
53
mg
Vitamin A:
10
IU
Vitamin C:
0.3
mg
Calcium:
8
mg
Iron:
0.7
mg