I subscribe to multiple cooking magazines, their glossy photos serve as my "look book" for dinner ideas. But my favorite section actually has no photos, the "dear editor" letters from readers revisiting a favorite food memory and pleading to weasel the recipe from the restaurant chef.
Magazine editors and test kitchens take a complicated chef's recipe, "home cookitize" for us mere mortals and scale down the servings for a family table.
On a trip to Los Angeles earlier this year, I met up with friends Matt, Adam, Gaby, Jenny, Rachael, Rachelle and Lucy at Nirvana Restaurant in Beverly Hills. Of the dozens of dishes that came flying in from the kitchen, this was my favorite – a dish they call "Dal Nirvana".
It's a creamy lentil dish perfect over basmati rice or mopped up with naan flatbread.
But the best part is that this is the original recipe from the restaurant, just scaled down to feed a family of 4 instead of 80 customers. No need to simplify, just good home-style recipe.
The mighty lentil may be one of the small beans, but sure packs a nutritional punch. While these are not the same lentils used in traditional Indian Dal Makhani dish, this is what you might find in your supermarket – and will work fine in this recipe.
These are brown/green lentils: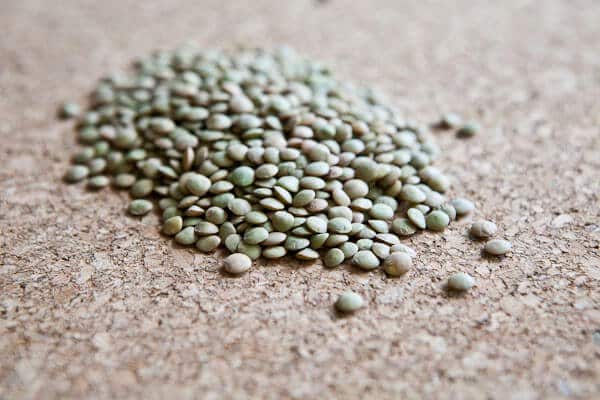 But I prefer the smaller black "caviar" lentils.
The lentils are cooked for about an hour in tomato puree until soft and tender.
Stir in the cream.
And stir to mix well.
Sprinkle with cilantro and serve.
Indian Dal Nirvana (Dal Makhani)
Serve with basmati or naan flatbread.
Ingredients
1

cup

dry lentils

6

ounces

canned crushed tomato (or tomato puree, but not tomato paste)

1

tablespoon

grated fresh ginger

1

tablespoon

minced garlic

1

teaspoon

cayenne pepper (or less depending on your spice preference)

1

cup

water

4

tablespoons

butter

1/8

teaspoon

salt, more to taste

freshly ground black pepper

1/3

cup

heavy cream

2

tablespoons

minced fresh cilantro
Instructions
In a large sauce pan, add the lentils and fill with water to cover by 2 inches. Bring to a boil. Reduce heat and simmer for 10 minutes until the lentils open and are tender. Drain the water from the lentils and return the lentils to the pot.

Stir the lentils around in the pot mashing some of them against the pot to break open. Add the crushed tomato, ginger, garlic, cayenne pepper, water, butter, salt and pepper.

Cook for 1 hour until the dal is thick. Make sure to check the pot periodically to make sure the water does not cook out.

Stir in cream, garnish with minced cilantro.
Other Dal Recipes
Dal Makhani – A Lifetime of Cooking
Dal Makhani – Hooked on Heat
Dal Makhani with no cream – Cooking and Me
Cauliflower Dal – Fat Free Vegan Cookin
Dal Palak – Apartment Therapy
Red Lentil, Spinach, Feta Salad – Perfect Pantry
Masoor Dal – Sailu's Kitchen