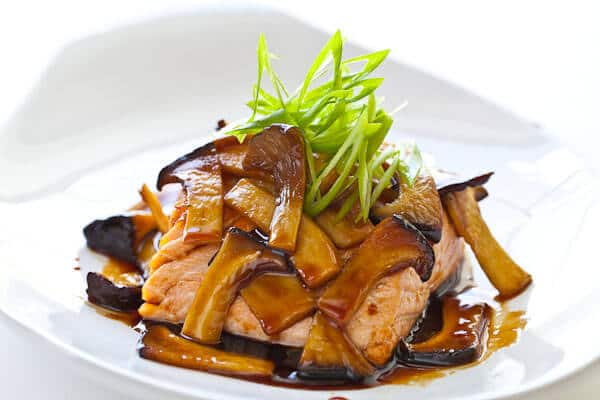 The people who sell you ready-made teriyaki sauce are ripping you off! Not only is it expensive, but the taste of the bottled stuff is flat, chemically and too-sweet.
The secret is, teriyaki sauce is really only 3 ingredients. Sure, you can get all fancy and put more, like sesame seeds, a little grated ginger and garlic. But plain and simple, teriyaki sauce is equal parts sugar, sweet cooking wine (mirin) and soy sauce. Though, if you're like me, and prefer a less-sweet version, I use a lot less sugar.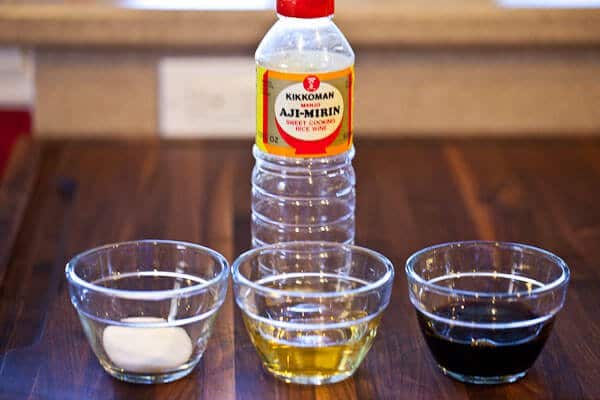 Mirin is Japanese sweet rice wine. It's not the same as Chinese rice wine, nor is it rice vinegar. Mirin contains sugar mixed with rice wine and is an essential ingredient to everyday Japanese cooking. You can find mirin in Asian grocery stores and I've seen them in most regular grocery stores in the "Asian" or ethnic section.
To make a Teriyaki sauce, just bring all three ingredients to a simmer until all the sugar dissolves, about 1 minute. That's it!
Now, if you want to add some sauteed mushrooms to that, even better.
I'm using Hokto's King Trumpet Mushrooms, which are big, meaty mushrooms. Substitute with any type of fresh mushrooms – I've even used crimini mushrooms.
Saute the mushrooms – once they are softened, pour in the teriyaki sauce. Simmer for another minute, and it's ready to pour over your grilled salmon, grilled steak or just poured over steamed rice.
Teriyaki Mushroom Sauce with Grilled Salmon
Ingredients
4

6 oz salmon fillets

salt and freshly ground black pepper

12

ounces

fresh king oyster mushrooms or fresh shiitake mushrooms, sliced

1 1/2

tablespoon

cooking oil, separated

1

stalk

green onion, thinly sliced (optional)
For the Easy Teriyaki Sauce:
1/4

cup

soy sauce

1/4

cup

mirin (Japanese sweet rice wine)

2

tablespoons

sugar (or more if you like a sweet teriyaki)
Instructions
To make the Easy Teriyaki Sauce, whisk all the sauce ingredients in a small sauce pan and simmer on low for 3 minutes, until the sauce has thickened slightly.

Brush salmon fillets with 1 tablespoon of the cooking oil, season with salt and pepper. Heat a frying pan over high heat. and cook for 3-4 minutes on each side, until just cooked through. Remove the salmon to a plate to let rest..

Return the frying pan to the stove on medium-high heat. When hot, add the remaining 1/2 tablespoon of cooking oil. Add the mushrooms and saute for about 2 minutes. Reduce heat to low and add the teriyaki sauce, let simmer for 1 minute. Serve the teriyaki mushrooms on top of the salmon. Garnish with green onion, if desired
Notes
Use the basic teriyaki sauce for anything you wish. For Gluten Free - use GF soy sauce. Mirin is gluten-free. The King Trumpet Mushrooms are from Hokto Kinoko, I develop recipes for them!