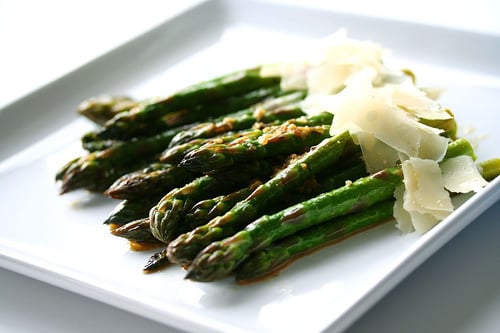 I'll admit, I have been caught up in the whole slow-cooking trend lately. Most of my slow-cooking has yielded succulent and tender results, like Tropical Island Salmon and Baby Back Ribs with Asian Orange Ginger Glaze, and yes, I've also had a couple of disasters. One night, I decided that we'd have an entire meal cooked sllllooowwwww. What a stupid idea. I'm not the most patient sort – and when I get bored (i.e. waiting in the kitchen with absolutely nothing to do except wait for the food to cook sllloooowwwwly….I end up doing my nails to pass time and then totally forget about the food in the oven.) The slow cooked filet mignon was so horrible that my husband had to officially ban me from cooking steaks for the remainder of the decade.
Somehow, I managed to transform expensive filet mignon steaks into very expensive hockey pucks.
Not even a jackhammer could get through those babies. But please, please don't let my self-diagnosed Attention Deficit Disorder stop you from trying this) Thank goodness that the slow-cooked asparagus came out delicious…allow me to take a little moment of your precious time an introduce you to slllooooowww butter braised asparagus. Once you try this, you'll wish for another full season of asparagus to come around. Gently cooking asparagus will give you melt-in-your-mouth stalks, yet still retaining the bright green color and all of its pure flavor. Top it with shaved parmesan and sea salt to create a luxurious dish.
Slow Butter Braised Asparagus
Ingredients
A bunch of asparagus, hard part of stalks cut off

1

teaspoon

of minced shallots and/or garlic

2-4

tablespoons

of butter (depends on how much asparagus you have)

sea salt

squeeze of lemon

shaved parmesan
Instructions
Heat a large saute pan over medium heat. Add butter. When butter hot, add shallots/garlic, turn heat to low and fry until fragrant. 2. Add asparagus, cover with a tight-fitting lid (important -if lid isn't tight, the steam escapes, you can try using a thin dishtowel under lid and fold ends up over the top of the lid to create a nice seal).

Cook on low for 10-12 minutes, depending on how soft you like your asparagus. If your asparagus can't all fit in one layer in your pan, stir a couple of times during the cooking process. After 8 minutes, take a peek. I usually can tell by cutting part of the stalk with a butter knife and adjust my cooking time.

If it looks like the pan needs more butter, feel free to add another tablespoon in, or just throw in a tablespoon of water.

When cooked to your liking, remove asparagus, pour the butter/shallot/garlic mixture over, sprinkle with sea salt, a squeeze of lemon and top with shaved parmesan.