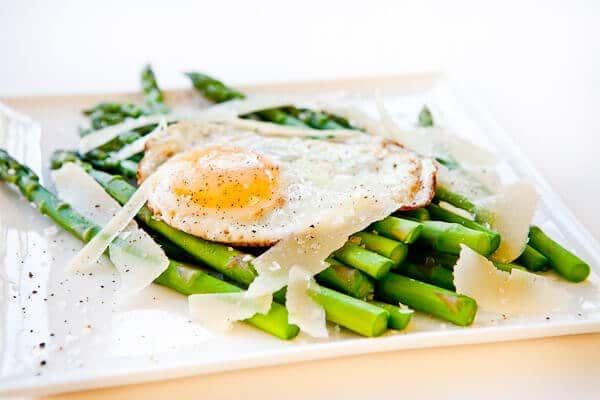 This is an impressive dish that really only takes 10 minutes of your precious time to put together. But – there are 3 things you have to get right in this recipe to earn the title of "impressive".
Okay, so well….there are only 3 ingredients:
Perfectly crisp-tender asparagus (no overcooked, smushy, soggy spears of sadness)
Perfectly fried egg, sunny-side up with still-runny yolk….
…..and crisp edges
Hand-shaved good quality cheese (please, no cheese from a can)
This is a great recipe as a side dish for dinner or brunch even. If you cook your egg just right, when you break into the egg, the golden yolk pours out and slowly coats the asparagus spears.
The best way to have perfectly cooked asparagus is to start with good quality spears. After you cut or snap off the tough end of the stalk, the bottom-ends of the spear should look like this:
See how milky translucent the center of the bottom is? It should not be dried or hollow. The tips of the asparagus should be tight, firm and closed, like a brand new artist's paint brush.
If the tips look all frayed like a 3-year old tried to paint the floor with them (ahem, lady with the undisciplined boy at the grocery store this morning)…. well….then I advise you to pass.
Asparagus with Fried Egg and Parmesan Cheese Recipe
Feel free to add more eggs to the recipe and also to use butter in place of olive oil.
Ingredients
1

bunch asparagus, tough ends trimmed

2

teaspoons

olive oil (or butter)

1

egg (or more)

Parmesan cheese

salt

freshly ground black pepper
Instructions
In large frying pan, bring 1 inch of water with a large pinch of salt to boil. Lay asparagus in pan, cover with lid and cook for 2-4 minutes (depending on thickness of spears) on medium heat until just tender. Drain and plate asparagus on serving plate.

Wipe frying pan clean. Heat the olive oil over medium heat . When hot, add egg(s) to pan and fry 2 minutes. Turn heat to low, cover pan and cook an additional 1-2 minutes until egg whites cooked through. Slide eggs on top of asparagus.

Season with salt and pepper. Shave Parmesan cheese on top with vegetable peeler.