Here's a gift you can make in an afternoon! These very simple kitchen towels are made with quilt quarters (bundles of color-coordinated fabric already-cut), terry cloth fabric and decorated with a few yo-yo's that even your kids can make.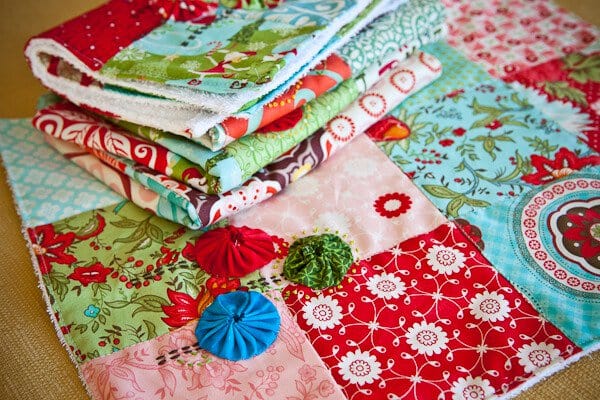 The boys and I made these towels to give as Christmas presents to their teachers and some of our friends (uh oh, I hope they aren't reading this post).
If you can sew a straight line, you can make these towels! So don't feel like you have to be a quilter or good sewer…hmm, that word doesn't look right….sew-er to create hand-made kitchen dish towels. I'll walk you through it, step by step.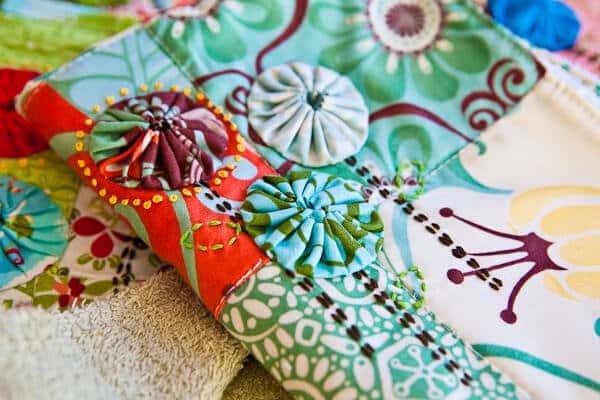 The basic design came from Seams to Me book by Anna Maria Horner, but I've made the pattern much simpler and cut out many of the steps so that my kids could help me (and honestly, I'm not a great sew-er)
I love the terry cloth back, it just makes the towel more useful (pet peeve are dish towels that aren't absorbent enough to dry my hands or dishes!). The terry cloth is just a few dollars per yard at the fabric store.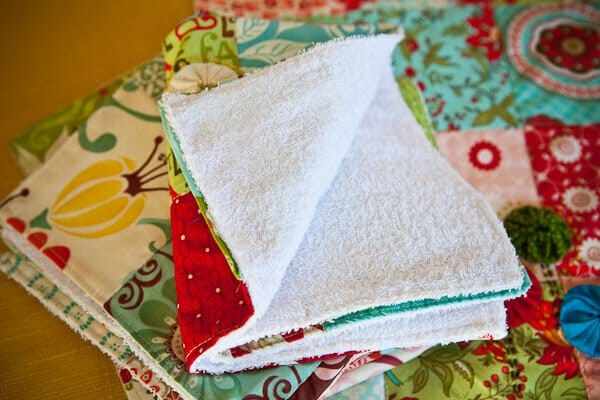 How to Sew Kitchen Hand Towels
Here's what you need:
1) terry cloth fabric (from your local fabric store, sold by the yard) 1 yard will make about 6 towels.
2) bundle of quilt quarters called "Charm Packs" (charm packs are color or design coordinated fabrics that are conveniently pre-cut in squares) or you could use fat quarters
3) green, brown, yellow embroidery floss
4) a fat needle with big hole (big enough for the embroidery floss to go through)
5) a regular sewing needle.
6) embroidery hoop (not shown in photo)
OPTIONAL: the plastic yo-yo maker. You can make yo-yo's without the plastic doo-hickey.
The kitchen towel is made with 3 squares wide and 4 squares long, so lay out how you want your towel to look. Though with coordinated charm packs, it's pretty simple and the towel will look good no matter how the squares are laid out.
Now we'll sew them together. Start with 2 squares right sides together.
Pin them.
Sew 'em together on one side.
You'll sew your 3 strips of 4 squares each just like this. Before we sew the strips together, let's iron the seams.
My mother-in-law taught me that ironing the seams in alternating directions (instead of opening up the seams and ironing) creates a stronger seam.
It's time to sew the rows together. . Lay row 1 over row 2, right sides together and pin together. Make sure that the seams that you've just ironed are laying flat. I like pinning on the seams so that they stay flat. Sew.
Now I've got 2 rows sewn together! Time for the third row.
And here you go.
Iron the seams again so they lay flat.
Turn it over and iron the right side too.
There. The squares are all done. Now it's time to embellish with yo-yo's and embroidery if you want.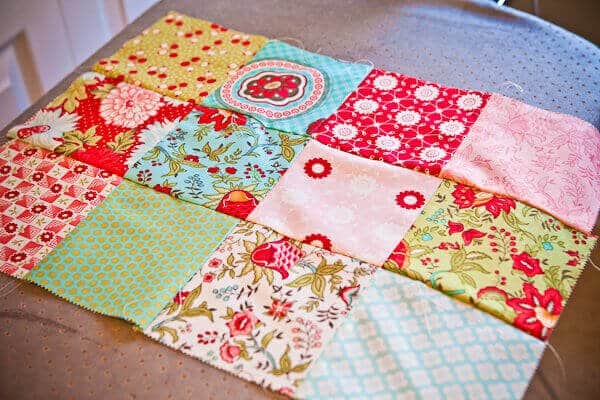 I've picked out 3 colors for my yo-yo's. How to make Yo-Yo's.
Place the yo-yo's where you want them. These will be your flowers. We'll embroider a brown stem, green leaves and some pretty french knots around one of the yo-yo's.
Hand-sew the yo-yo's on the fabric. Use little stitches and go all the way around, remember these towels have to withstand the washer and dryer!
To make the yellow french knots, I like using an embroidery hoop to keep the fabric taut, but it's totally not necessary. Thread your big eyed needle with the embroidery floss. Come up through the fabric.
Hold the needle right near where the floss emerges. Use your other hand to wrap the embroidery floss around the needle 2 or 3 times. Do this as close to the fabric as possible. Hold the floss taut with your hand – don't let go!
Now you'll go back into the fabric, right next to (but not into) the hole you came up from. Keep that left hand holding the floss!
While you pull the needle and thread through, make sure you are still holding that floss taut!
And there you go – a french knot.
Go all the way around!
Embroider the stems and leaves.
Done!
Okay, now it's time to sew the fabric to the terry cloth. Pin right sides together.
Sew 2 long sides and 1 short side. Turn so that right sides are now on the outside. Looks like it's like a pillow case! These would make cute pillows too….
Press.
Fold under, pin and press the remaining edge 1/4″
Sew the remaining edge together at 1/8″ seam allowance.
Try to keep that stitch even and straight. After you've sewn that open edge together, keep going! go all the way around the towel's edge at 1/8″ seam allowance. This helps keep the towel strong and the fabric from tweakin' after use and washings.
Last step is to sew over each row. Just sew right on the seam line.
Both directions.
Just stop your needle and skip over the yo-yo and embroidery section.
So that it looks like this:
Beautiful hand-made kitchen hand towels. We made a few of them with Christmas charm packs.
***
What else can you make with yo-yo's? Christmas Tree Ornaments!