Last week was my good friend's birthday and like me, she popped out kids back to back, 16 months apart, which meant we both had the same momentary lapse of judgment. Date nights are rare events, not because we're lame, married, boring people, but that trustworthy sitters are really hard to come by. The good ones, i.e. kids with no arrest record, know that they're in high demand, thus can play the game of extortion and can charge as much as a car payment and require a 20% tip.
Even a bigger deal is when we want to double-date with my friend and her husband. The planning started 2 weeks ago, going back and forth on a suitable date, scoring a sitter each, keeping our children quarantined in a bubble so that they wouldn't catch any dreadful diseases, and of course collecting every bit of loose change into a jar just so we could afford a good night out without having to turn dish-washing tricks in a restaurant kitchen to pay for our meal.
We chose a fancy steakhouse in Sarasota, because when you go through that much of an ordeal to prepare for the big night, you really want to make sure that odds are you'll eat better than at Steak 'n Shake.
I ordered the surf and turf hold-the-bernaise-hold-the-bacon 6 ounce fresh lobster with 2 superb, prime grade, filet mignons. Drumroll…please….the filets arrived flaccid, with a lowercase f.
The waiter even bragged about their 1,600 degree broiler that could sear an entire herd of buffalos in 4.6 seconds. Sadly, that signature steakhouse charred crust did not come with my turf. But the filet was buttah tender, cooked spot-on medium rare, so I would have felt silly sending it back. Plus, having the chef put the crusty sear on the filets would have cooked them too done for my tastes.
Unfortunately, the service was even worse, having lost our waiter for 25 minutes between courses. He was probably couldn't resist but grab the busboy and go out on a joyride in our smoky blue, sexy Hyundai minivan.
Let's look at this from an economic standpoint. Just for our portion, $200 for dinner + $5 parking + $5 gas + $50 babysitter = $260. And, if you remember high school econ, it's only fair that I calculate opportunity cost too. For $260, I could have gotten new floor mats and a Disney antenna danglebobber for my minivan.
***
I would love to have a stovetop hot enough to produce that expensive steakhouse quality sear on my steaks. With just a home stovetop and prime going for $24 a pound (eeek!), I'm perfectly happy with the choice grade on sale at the supermarket. With a lush sweet and sour tomato onion sauce topping, eating at home tonight felt even better for the pocketbook and my stomach.
Pan Seared Steak with Sweet and Sour Tomato Onion Sauce is an oldie favorite that I've had many times in western style Hong Kong cafes in the U.S. The steak usually comes on a sizzling platter with a sweet and tangy tomato and onion sauce.
Pan Seared Steak with Sweet and Sour Tomato and Onion Sauce
2 tablespoons cooking oil (peanut, canola or vegetable)
Four 1 1/4 inch thick steaks, cut your choice, at room temperature
salt and pepper to season steaks
1 whole onion, sliced
1 tablespoon minced garlic
2 whole tomatoes, cut into 8 wedges each
Sauce (whisk in small bowl)
1 tablespoons ketchup
1 1/2 tablespoons unseasoned rice vinegar (or white vinegar)
1/4 cup water
2 tablespoons sugar
1 teaspoon soy sauce
Heat a large skillet over high heat until a bead of water sizzles upon contact and immediately evaporates. You want that pan super hot to get the best sear on the steaks as possible. Add just 1 tablespoon of cooking oil to the pan and let the oil heat up.
While the pan is heating, brush the remaining 1 tablespoon of cooking oil on each side of the steaks. Season with salt and pepper and carefully lay them in the hot pan, not touching. Cook for 3-4 minutes per side or until you reach your desired level of doneness. Instant read thermometer should read 120F at the center of the steak for medium-rare.
Remove steaks to a plate and tent loosely with tin foil. Return the skillet to medium heat. You should still have some oil left in the pan. Add the garlic and onions to the pan and cook for 2 minutes. Push the garlic/onions to one side of the pan and add the tomato wedges. Cook the tomatoes 1 minute.
Add the sauce mixture and simmer until slightly thickened and the tomatoes and onions are nicely coated with the sauce.
Now you'll have to taste and adjust – how sweet and how sour is a personal preference, plus your tomato may be juicy sweet or a bit acidic. (Make sure you taste a bit of the tomato too)
Too puckery acidic? Add 1/2 teaspoon of sugar
Not sour enough? Add 1/4 teaspoon of rice vinegar
Need a little more salt? Add 1/4 teaspoon of soy sauce
Sweet and Sour too strong? Add 1 tablespoon water
Pour the sweet and sour tomato onion sauce on top of steaks.
Yields 4 servings
***
Other great recipes for your Olympics party!
My sister-in-blog RasaMalaysia's gorgeous Sweet and Sour Pork!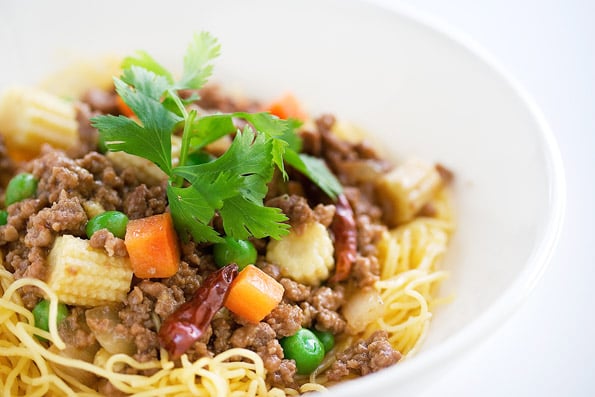 Ground Beef with Beijing Sauce Over Noodles
Stir Fried Shrimp, Eggs and Peas + Stir Fry Secrets
Pan Fried Shrimp and Pork Potstickers
Wonton Noodle Soup