For the first time in my life, I feel like I am "all the things" that I dreamt of being. Well, maybe not *all* but certainly I think this season of my life will make the highlight reel.
I'm strong
Genuinely happy
Thriving
Loving
Capable
It took many, many months of feeling out and getting used to my new rhythm and season of life.
It's like learning a new song that you like.
After a few listens, you start pick up the catchy bits of the lyrics.
A few more times, you can sing along with the chorus and, if you're like me, garble some of the verses ("Money for nothin' and chips for free").
One day, you find yourself walking in to the beat, your steps in sync with the drum beat or bass rhythm.
Hello, 49….I like your groove.
Have you been in your own groove lately or out of tune? I would love to know! ♪
For those a little disconnected from that inner rhythm, when is the last time you turned on your favorite song?
The one that you cannot help yourself but move along and sing to the second it comes on!
I encourage you to play a song this week that sparks that irresistible joy and to give yourself the chance to dance – yes, I said dance!
The opportunity and small gift to yourself to move your body, dance and let go, even for just one song.
This is a wonderful small challenge to reconnect this week!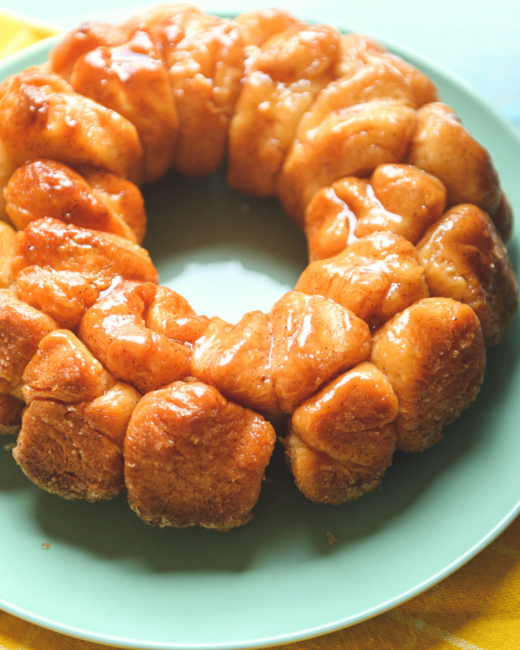 Recipe of the Week:
Monkey Bread in The Microwave
Monkey bread is something I used to always make my kids as a treat.
It took time to prepare, especially when making the dough from scratch and was doused in the most delicious cinnamon sugar mixture. I'd like to say we all have time to do that, but the reality is, we don't!
Instead, learn how to make this quick microwave monkey bread recipe that is done in under 10 minutes.
Yes, really!
Jaden's Weekly Tip:
How to stop bananas from ripening too fast:
Speaking of monkeys – let's talk bananas!
There are a few simple ways to avoid your bananas from ripening too fast!
1. Keep them in a bundle and away from other fruits, preferably hanging up!
2. Wrap the stem of the bunch with plastic wrap. Since bananas release ethylene gas through their stems which leads to ripening, wrapping them will help minimize this.
Have a great week, get grooving, make some monkey bread, have fun and see you Friday!
With love,
STEAMY KITCHEN CURRENT GIVEAWAYS
NEW GIVEAWAYS!
– Target $100 Gift Card Giveaway
– Vacos Security Camera Review and Giveaway
THIS WEEK'S WINNERS
Congratulations to our Week's Winners:
Nancy Marker from Sacramento, CA won the Outdoor Multi Use Fire Pit Giveaway
Matty Millet from Miami, FL won the Kyvol Epichef AF60 Air Fryer Review and Giveaway
Lyvona Perry from Cocoa, FL won the Ekrin B37 Massage Gun Review and Giveaway
Congratulations to our Week's Instant Winners:
Donna Bartsch from Fort Saskatchewan, AB won the $10 Amazon Gift Card Instant Win Game
Lisa Luckey from Windcrest, TX won the Kitchen Gadget Instant Win Game
Joseph Kornokovich from Cambridge, OH won the Peace and Love PayPal Instant Win Game
Liza Ellis from Bronx, NY won the Jaden's Monthly Favorites Instant Win
William McKinney from Minneapolis, MN won the Sustainable Summer Instant Win Game
Lisa Luckey from Windcrest, TX won the Kitchen Gadget Instant Win Game
Michael Coovert from Paducah, KY won the Starbucks Gift Card Instant Win Game
Joseph Kornokovich from Cambridge, OH won the Peace and Love PayPal Instant Win Game
NEW:
– Target $100 Gift Card Giveaway
– Vacos Security Camera Review and Giveaway
ENDING SOON:
– VIP ROOM: Apple Ipad Giveaway
– Kodak Instant Camera Giveaway
– $100 AirBnb Gift Card Giveaway
MORE:
– VIP ROOM: SunSHINE Jewelry Giveaway
– Electric Knee Massager and Heater Giveaway
– Automatic Pet Feeder Giveaway
– VIP ROOM: KitchenAid Mixer Giveaway
– Greenworks Lawn Mower Giveaway
– Igloo Iceless Cooler Giveaway
– VIP ROOM: MasterCook Barbecue
– Singer Sewing Machine Giveaway
– Costco $100 Gift Card Giveaway
– VIP ROOM: Effy Sunshine Giveaway
– Elliptical Machine Giveaway
– Walmart Gift Card Giveaway
– VIP ROOM: Smart TV Giveaway
– Indoor Herb Garden Giveaway
– Juice Extractor Giveaway
– VIP ROOM: Effy Sunshine Jewelry
– Hamilton Beach Grill Giveaway
– $100 Gift Card Dinner On Us Giveaway
– VIP ROOM: Wine Cooler Giveaway
– Rice Cooker Giveaway
– Precision Cooker Giveaway
– Crab and Pineapple Rice Recipe and Giveaway
– VIP ROOM: Arctic King Freezer Giveaway
– Bread Maker Giveaway
– Paddle Board Giveaway
– ThatBlanket Review and Giveaway
– VIP ROOM: Dyson Vacuum Cleaner
– Korean BBQ Grill Giveaway
– Rowing Machine Giveaway
– VIP ROOM: Toshiba Microwave
– Matchaful x Willa's Oat Milk Review and Giveaway + Matcha Recipe!
– Zest Energy Tea Review and Giveaway
– VIP ROOM: Toshiba Microwave
– Matchaful x Willa's Oat Milk Review and Giveaway + Matcha Recipe!
– Zest Energy Tea Review and Giveaway